TREC is a file type generated by Camtasia Recorder which is only playable on Camtasia. So, if you plan to play TREC files on Windows Media Player or other digital gadgets, you must firstly convert it to common formats like AVI for its compatibility with most Microsoft products and its relatively lower hardware requirement for your mobile phone. In this article, I will, in details, recommend you a powerful TREC to AVI converter that will help you get it done with ease.

by Michael
How Is TREC File Generated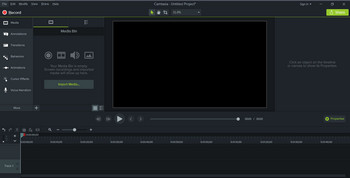 Camtasia 9
TREC is the abbreviation of TechSmith Recording File. TREC is an exclusive file format generated by Camtasia - a screen capture and video editing software. When finishing a segment of video capture, the file will be automatically saved as TREC. Since TREC is a proprietary file type for Camtasia 9, you cannot open and play this kind of file on common media players, not to mention on those portable devices. However, it can be done once TREC is converted to those common formats like AVI and MP4. There are 2 ways to help you convert TREC files as follows.
How to Convert A TREC File in the Best Way
Part 1. Use Camtasia's Inner Editor to Convert to MP4
Firstly, Download and launch the program of Camtasia 9. Choose "File" on the left top, and in the drop-down list click on "Batch Production". Press "Produce with Watermark"and next add the TREC file you want to convert. Then, preset the MP4 file format and resolution. At last, decide the output file's location and click on "Finish".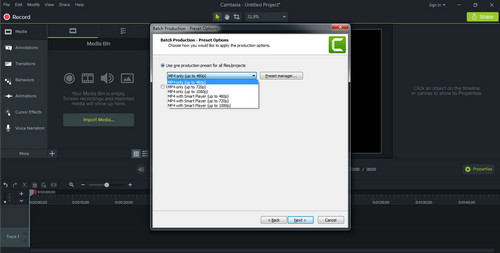 TREC to MP4 Conversion
Free download the best TREC to AVI converter to transfer your videos to portable devices
Part2. How to Convert TREC to AVI and Other Formats
Camtasia can only help you transfer TREC to MP4 with no more formats to choose from. So, if you need an AVI file or that of any other types, you must use some kind of third-party software to help you finish this job. HD Video Converter Factory Pro must be the best lossless conversion software compared with its counterparts. It owns the fastest conversion speed and high video compression ratio which save you both time and space. The powerful editing function also exists to help you decorate your video file and improve its output quality. It contains over 300 formats, codec and devices for you to set as output as well.
TREC-AVI Conversion
Step 1
Download and launch HD Video Converter Factory Pro. Click on "Add Files" on the top left and stream the MP4 file which is from TREC to the interface. Next, decide a location for the output file at the bottom side.
Tip: Batch conversion is available as well.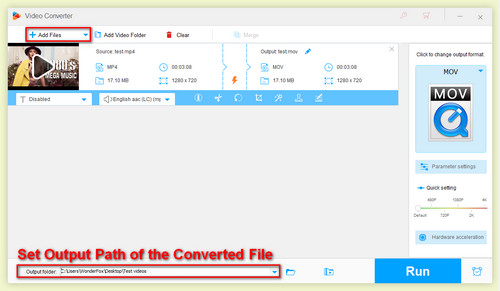 Transfer TREC to the interface
Step 2
On the right, click on "Output Format". In the new page, Select the section of "Video" and then find the icon of AVI then choose it as the output format. But of course, you can also convert TREC to MP4 and other common video and audio formats.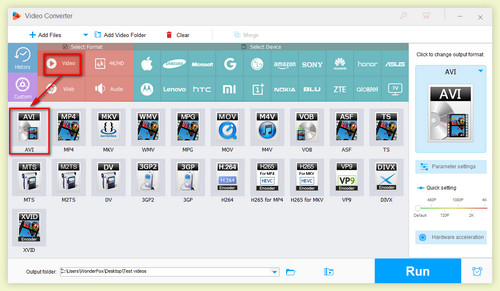 Select 1 output video format
Step 3
Click on button "Run" to launch the conversion.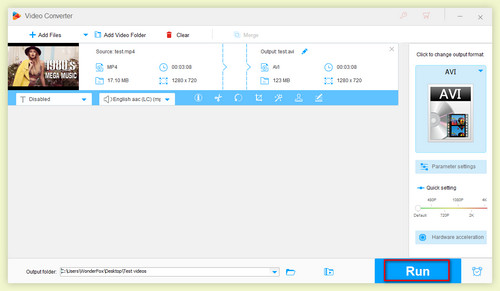 Start conversion
How to Control Video Quality by Yourself
You can do more things with HD Video Converter Factory more than video and audio conversion. Here is another main function.
After "Step 2" above, click on "Settings" on the lower right side. Then you will see a full page of video parameter options which provides with the function to change resolution, create 60fps playback, increase bit rate and adjust aspect ratio. You can use all of these function to improve video quality.
Now, please download the HD Video Converter Factory Pro to complete your jobs.
More Practical Features That May Help You
Compressing any kinds of video and audio files with more than 50% compression ratio.
Joining several videos to make a single successive one.
Trimming your videos and adding post effects for modification.
Downloading movies from main-stream video websites.
Making an enchanting ringtone for your smart phone.
Adding subtitles to your video files.