Before anything else, you should know that DivX is a private company that has developed the famous DivX codec, and if a device wants to play DivX-encoded files, it will need a license from the DivX company. For many years, Samsung has partnered with DivX to bring support for DivX video playback on Samsung consumer electronics devices, like Samsung TVs. But since 2018, Samsung has stopped using the DivX technology, and TVs released that year and later are not DivX-certified and cannot play back DivX videos.
You can find out whether DivX is supported on your Samsung TV by viewing the product manual on the official Samsung website or you can check if there is a DivX Certified® logo on the product. If your TV has not been certified, you need to find a new way around this. And the easiest solution is to convert DivX to a Samsung TV-supported format, such as MP4 H264/AAC. Don't worry. In the next part, we will show you a simple, fast method to convert and play DivX on Samsung TV in detailed steps.
Step 1. Add Your DivX Files
Run WonderFox HD Video Converter Factory Pro on your PC and enter the "Converter" module. Next, click "Add Files" to add your DivX or other unsupported video files. You can also drag files here directly.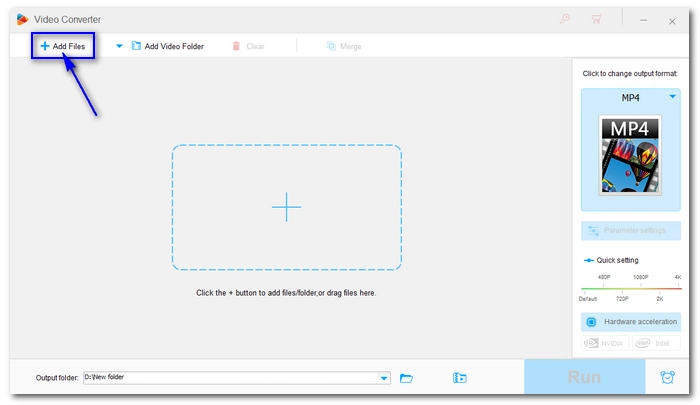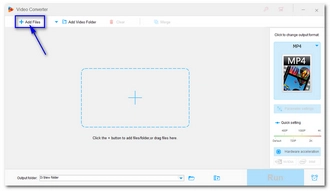 Step 2. Choose a Samsung TV-friendly Format
On the right side of the program, click on the format image to open the output format page. Then, find the "Samsung" option and choose your target Samsung TV profile. Or you can head to the "Video" section and choose "MP4" or "H264" as the output format straightly.
Tips. In the "Parameter settings," you can edit the selected profile settings, such as the video codec, audio codec, resolution, bitrate, frame rate, aspect ratio, volume, etc. By the way, if you choose MP4 as the export option, make sure that the video codec is H264 and the audio codec is AAC.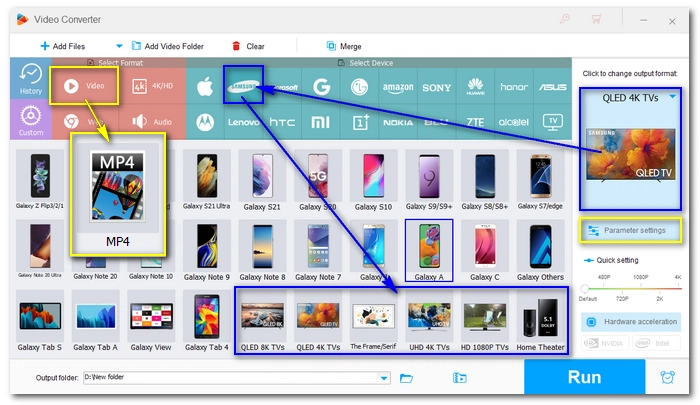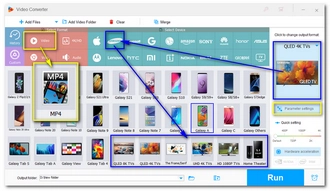 Step 3. Convert DivX to Play on Samsung TV
Finally, set an output folder at the bottom of the converter and hit "Run" to start the conversion. When the conversion is over, you should be able to play the videos on your Samsung TV without any problem.
Also Read: Samsung TV AVI Playback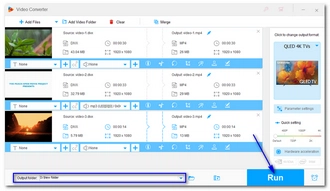 In fact, DivX isn't the only format unsupported by Samsung TV. You could also fail to play back MP4, MKV, and other files on Samsung TV because of unsupported formats and codecs. However, with the Samsung TV converter in the last part, you can easily fix this kind of issue by converting the unplayable files to formats supported by Samsung TV. It has successfully helped users to solve the Samsung TV MP4 issue, Samsung TV MKV issue, and Samsung TV HEVC issue. It can also deal with the audio codec problem to help you fix the Samsung TV DTS issue. Of course, there are other solutions besides converting the files, such as setting up a Plex server to stream media to the Samsung TV. Yet for the easiest and most high-quality video playback, converting files is hands down the best option. Download Download the converter software to start your conversion now!