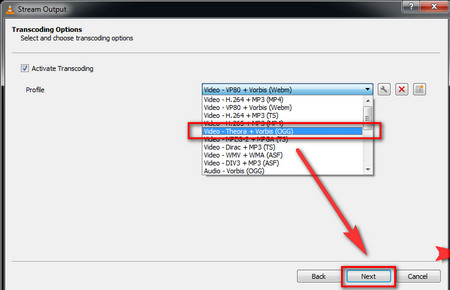 VLC transcoding RTSP streams
Step 4. Set the "New" destination as "HTTP" > Click "Add" > Type "/stream" in "Path". Thus the address of the output stream will be the IP address of "your native server/stream". Click "Next" to proceed.
Step 5. Transcode RTSP video stream to HTML5 supported video codec, Video-Theora+Vorbis (OGG), then click "Next".
Step 6. Check the output media codec at "Generated stream output string", make sure vcodec=theo and mux=ogg, manually modify otherwise. At last, click "Stream".
Step 7. Now it's time to embed RTSP stream in web page. Keep VLC running for constantly transcoding, embed RTSP stream HTML5 webpage

tag and it's done.