Because Windows Essentials 2012 (which contains Windows Movie Maker) is no longer available for direct download and not supported by Windows 10, you can choose to directly download Windows Essentials 2012 from the official archived link:
http://web.archive.org/web/20170112124505/http://wl.dlservice.microsoft.com/download/C/1/B/C1BA42D6-6A50-4A4A-90E5-FA9347E9360C/en/wlsetup-all.exe
Related read: How to Download Windows Movie Maker for Windows 10
Click to next image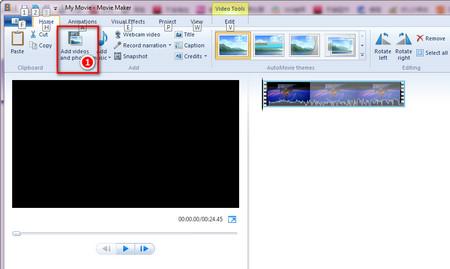 Pre-set Video Rotation Filter
After you installed and launched Windows Movie Maker, find the Add videos and photos button and click it.
In the Windows Explorer, find the video you want to rotate. As soon as the video is imported, click Rotate left or Rotate right to modify the orientation of the video.
Lastly, click the blue folder-shaped button in the upper-left corner. In the sub-option list, slide and hover your mouse on Save movie > Recommended for this project to rotate video in Windows 10 via Windows Movie Maker.