Common Causes of A Damaged MOV File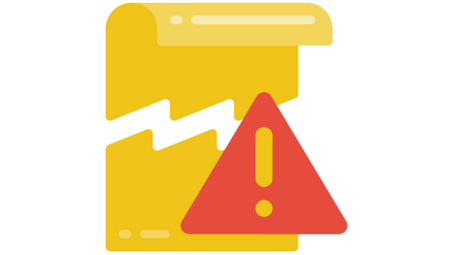 1. Network interruption causing incomplete downloads
2. Broken MOV file header
3. Inappropriate compression
4. Malware or virus infection
5. Disrupted transfer
6. Sudden power loss while recording
For cause 1, you just need to re-download the MOV video again. And for the rest, you can have a go at the following three methods.
Solution 1. How to Fix Corrupted MOV Files With VLC?
The renowned VLC is more than just a media player but also a downloader, converter, screen recorder, as well as video editor. Still, it can do more than you think and this time, it could serve as a MOV repair tool to help repair damaged MOV files. And here are two options to have MOV videos repaired with VLC. Let's see how it works: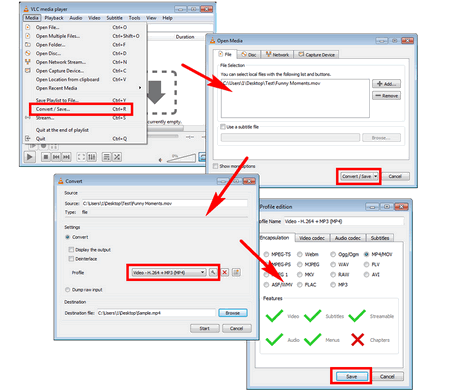 Option 1. Repair Corrupted MOV File Directly With VLC
Step 1. Install and launch the VLC media player. On the top menu bar, click on Media > Convert / Save or use hotkey Ctrl + R.
Step 2. Under the File section of the Open Media window, click on + Add... to load your MOV file and then press Convert / Save at the bottom.
Step 3. In the Convert window that appears, select your preferred codecs from the profile list and continue to edit the profile by clicking the spanner icon. When you are done, click Save.
Step 4. Set a destination path and press Start.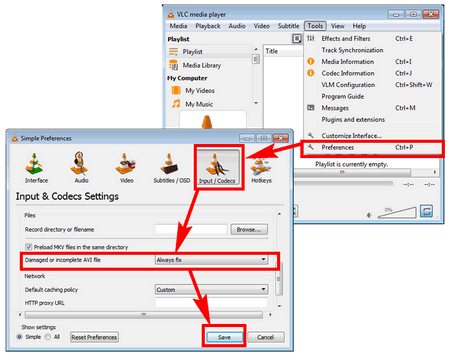 Option 2. Change MOV to AVI for VLC Auto Fix
Step 1. Open VLC, go to Tools on the top menu bar and select Preferences. (Or use hotkey Ctrl + P to open Preferences)
Step 2. In the Simple Preferences window, navigate to Input / Codecs. And in the Files setting, select Always fix next to Damaged or incomplete AVI file. Then click Save at the bottom right.
Step 3. Make a copy of the original MOV video and rename its extension to AVI. Then open AVI with VLC.
Solution 2. How to Repair MOV Files Via QuickTime 7?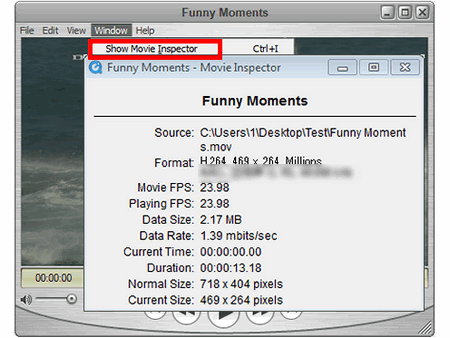 QuickTime 7 player can fix slightly corrupted MOV files automatically, and if the file is severely damaged, the player will show a black screen error message. You can go through the following steps to check the properties of the corrupted file and look for the exact error code online for further help.
Step 1. Install and run QuickTime 7 player on Mac or Windows. Then open the damaged MOV video with this player. (You'll get a black screen error if the player can't open your MOV file)
Step 2. Go to the Windows > Show Movie Inspector, it will show you the details of the metadata of the MOV file.
Solution 3. How to Repair MOV File Free Using Online Converter?
Online Converter is primarily a service offering free online conversions for a wide range of file formats, but it also provides a video-repairing feature to repair MP4 files, as well as MOV, 3GP, and M4V videos. Below is the tutorial of how to use it to fix MOV file: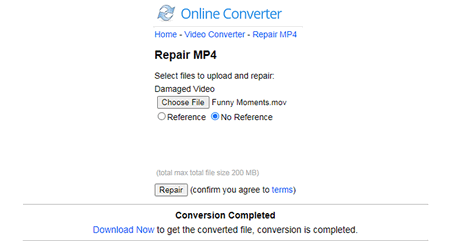 Visit https://www.onlineconverter.com/repair-mp4, and upload your damaged MOV file to this site. You can further upload a similar good video (playable and from the same device as the damaged video) as a reference video. If you do not have a reference video, switch the option to No Reference. Then click Repair. Once the conversion completed, it will show you the repaired result. You can download the result only in MP4 format.
Note: This tool does not support encrypted or protected video files and the upload limit is 200M.
Summary
If none of the above-mentioned methods solves your problem, you can turn to a professional MOV repair tool, like Stellar Repair for Video, Remo Repair MOV, and Yodot MOV Repair. They have made themselves stand out for a reason.
Thanks for your reading and hope this article could be some help to you!