The Brief Introduction of Pandora Radio
Pandora is also known as Pandora Media or Pandora Radio, which is an American music streaming website. People can create their own music stations according to their interests, search for stations that cover all of the top songs in the "Country" genre, or give thumbs down and thumbs up to express their feelings. Nevertheless, not everyone likes its radio-style and Pandora also has its own shortcomings, for example, only people located in United States, Australia, and New Zealand can access this site because of the strict region restrictions. Therefore, more and more people prefer to look for a better Pandora alternative. In recent years, many music streaming sites have been coming out rapidly, such as SoundCloud, MixCloud, YouTube Music, Bandcamp, etc. So we have selected 5 best alternatives to Pandora in the following post. If you are a music lover, be sure to follow the introductions bellow.
You Can Also Read: MakeMKV Alternatives | Alternatives to Windows Media Player | WatchSeries Alternatives | SoundCloud Alternatives | ConvertXToDVD Alternatives
Introduction of the Top 5 Alternatives to Pandora
1. SoundCloud : https://soundcloud.com/discover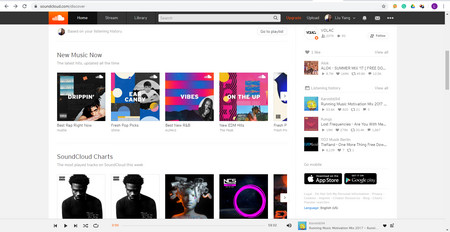 SoundCloud - the best Pandora alternative
When talking about the music streaming website, you might first come up with the SoundCloud music sharing site. As the excellent one among many music sharing platforms, SoundCloud covers lots of free and paid music and allows you to upload your original music on this platform to share with the public. Through visiting this site, you can find the top music artists, playlists, latest music and SoundCloud will recommend artists you might know or music genres you are interested in. What's more, SoundCloud also offers a comment area where you can express your views or feelings about the music you are enjoying to make a close relationship with artists. Last but not least, many free SoundCloud music tracks are available for download there.
2. YouTube Music: https://music.youtube.com/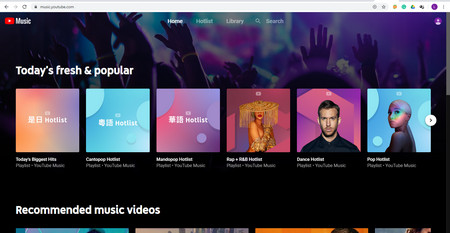 YouTube Music
Now, let's move to the second Pandora alternative - YouTube Music. This service was launched by Google for answering some requirements from YouTube community and it is a submodule belonging to YouTube website. As a music and video sharing platform, YouTube music is the same as other common music streaming sites. It permits you to upload music to share with friends and artists are also able to customize their music by combining music tracks into one playlist. Apart from these features, YouTube Music also allows you to listen to live performances as well. If you have a professional music downloader, you may as well try to download music from YouTube.
3. Amazon Music: https://www.amazon.com/gp/dmusic/promotions/PrimeMusic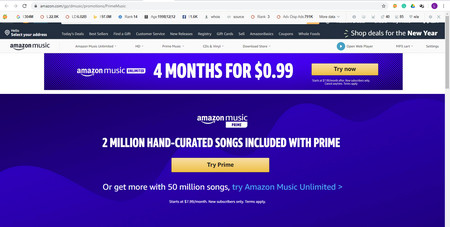 Amazon Music
Do you know the Amazon subscription gives you an opportunity to access to millions of music tracks without ads? This alternative collects lots of movies, television shows, and music for your entertainment. Supposed that you are looking for a Pandora alternative but skeptic about the subscription for Amazon, you can try its 30-day free trial version on your browser, Windows, iOS, Android or MacOS to enjoy different music in their music database, then make a final decision.
4. iHeartRadio: https://www.iheart.com/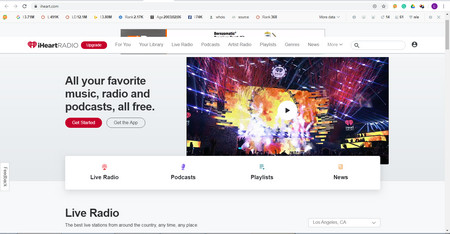 iHeartRadio
iHeartRadio is one of the music streaming websites like Pandora and has been running since 2008. This site builds a music recommendation and gathers all kinds of music, live radio, podcasts, playlists and news for users. One can access to iHeartRadio content on the browser, mobile apps, as well as some game consoles. Furthermore, iHeartRadio also gives users a chance to make their personalized music radio stations by choosing music from the collection of artists and songs, and iHeartRadio integrates Facebook and Twitter to assist users to share their feeling. If you are in the United States and fond of listening to music on music radio, this Pandora alternative is suitable for you.
5. GrooveShark: https://groovesharks.org/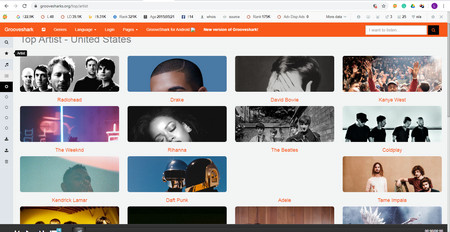 GrooveShark
GrooveShark is the last Pandora alternative I recommend, which is a big music streaming site that offers all the features of other music sharing websites including songs, playlists and user followings. In this website, users can search for their favorite music according to music genres or artists, or input music keywords into the searching box on the top-right of the webpage. However, there is a copyright controversy because GrooveShark offers a music upload option for users. This feature was designed to allow users to post their creative music but this action infringes on the original music copyright. If you are only looking for some sites similar to Pandora for enjoying music, GrooveShark is a nice option.
At last...
Although Pandora Radio is a great music sharing site, there are still some drawbacks. With the development of the Internet, there are numerous music sites like Pandora, yet what is the best alternative among these alternatives to Pandora? By introducing the 5 music sharing sites above, I trust you can choose an optimum Pandora alternative for listening to music.