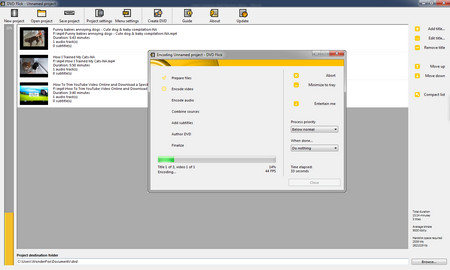 Open Source DVD Copy with DVD Flick
1. DVD Flick
Download Address: https://www.dvdflick.net/download.php
DVD Flick is a simple yet powerful open source DVD maker compatible with Windows 2000 Professional/Vista/XP/7. It enables you to compose videos, audio tracks, and subtitles into a playable DVD movie file and burn it to DVD with the help of ImgBurn. DVD Flick supports virtually all common types of video files and offers 6 impressive menu styles for your selection. It also enables you to add additional subtitles and audio tracks. All kinds of feasible settings and options are built in the open source DVD burner software. For example, you can easily edit each title of the DVD movie, set the burning speed, playback mode, DVD video standard format, and so forth. The software is easy to handle, clean and has no adware.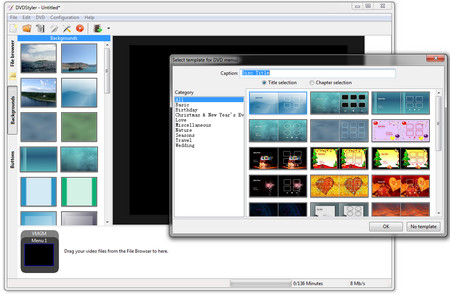 Open Source DVD Authoring Tool – DVDStyler
2. DVDStyler
Download Address: https://www.dvdstyler.org/en/downloads
DVDStyler is a cross-platform open source DVD creator available on Windows, Mac, and Linux. With DVDStyler, you're able to create personalized DVD movies using your imagination as it not only offers various menu templets but also enables you to design menu. You can place buttons, texts, images and other patterns on the menu screen, customize font/color, and also import a picture as background. DVDStyler supports AVI, MOV, MP4, MPEG, OGG, WMV, and other file formats and is capable of burning videos in multiple formats. You can add audio tracks and subtitles to the DVD movie you burn. Another extra feature is that it will help you make photo slideshow.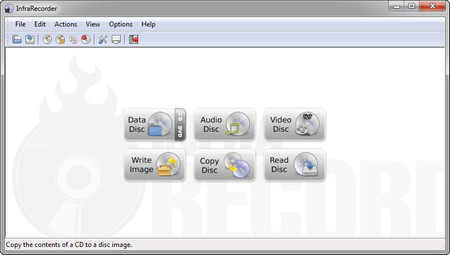 Open Source DVD/CD Burner Software - InfraRecorder
3. InfraRecorder
Download Address: http://infrarecorder.org/?page_id=5
InfraRecorder is lightweight open source DVD/CD burning software for Windows system. It can create custom data, audio, and mixed files projects and burn them into a DVD/CD disc for backup and create ISO image. It also supports disc images (ISO, BIN, CUE) to DVD disc conversion as an open source ISO burner, make disc copies, erase rewritable discs, import session data from multi-session discs and add more sessions to them, save data tracks to WAV, MP3, WMA, OGG, and ISO, and offers other features. InfraRecorder is useful for both new hands and experienced users.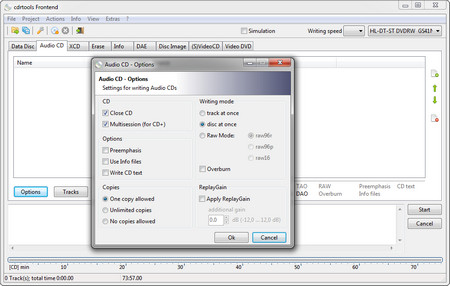 Open Source CD Burner
4. Cdrtfe
Download Address: https://cdrtfe.sourceforge.io/cdrtfe/download_de.html
Cdrtfe is open source DVD burning software for Windows and it also offers a portable version. This program can write data discs (CD, DVD, BD), Video DVDs, XCDs, and (S) VideoCDs, make CD discs from audio files in WAV, MP3, FLAC, and OGG, create ISO image from DVD disc and files, extract audio, and burn Video_TS folder to Video DVD. Meanwhile, it supports the multiple-writing task simultaneously and for multiple languages. But it has been a long time since the last update of Cdrtfe and the open source DVD creator can be a little sophisticated for the newbie.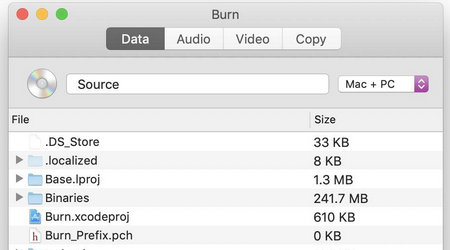 DVD Burner for Mac
5. Burn
Download Address: https://burn-osx.sourceforge.io/Pages/English/home.html
Burn is a good open source DVD burner for Mac OS X. It gives a simple way to burn DVD while offers various advanced options like changing file permissions, the disc icon, file data, and so forth. It will help you create data DVD, audio DVD, and video DVD with ease, copy a disc and use a disk image to recreate disc. You are also free to set the needed quality and size for the DVD content.