Why Does MP4 Compressor Prosper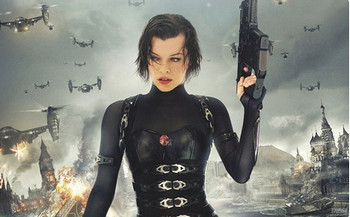 The newest movie
Along with the popularity of superb collections of various digital devices and video players, people tend to download YouTube videos and movies of MP4 or other formats such as 4K and HD and carry with themselves on the way to work or a long trip. But here comes the problem. The mobile phones or pads are getting lighter and more portable but the storage space of them is becoming more and more insufficient because it can't really catch up with the size increase of high-quality videos nowadays. Some of those HD or even 4K videos may take 1G to 2G space and there is little room left available for users. So...Now you see it is extremely urgent for us to find a way to save space on our portable devices.
Are you having frequent questions like "How can I enlarge my digital storage? How to compress MP4? What should I do with the tiny space? So many wonderful movies come out every week but my memory card is full, what to do?" Fortunately, a super savior comes to terminate all of the problems, that is WonderFox HD Video Converter Factory Pro - the best mp4 compressor.
Free Download: compress any video with best quality preserved.
How to Make MP4 Smaller?
Here I am going to illustrate how to reduce MP4 file size within only 3 steps with this intuitive and simple converter.
How to Compress Mp4 with the Recommended MP4 Shrinker within 3 Steps
Step 1. Import MP4 Videos
Select Converter to open the compressor and click Add File or put the MP4 video onto the interface by dragging directly and then click the triangle icon on the bottom to define your file path and directory.
Up to 10, batch conversion is available as well for you to compress several videos simultaneously and meanwhile you can remove all of the videos you have chosen by clicking Clear button on the right top of the interface.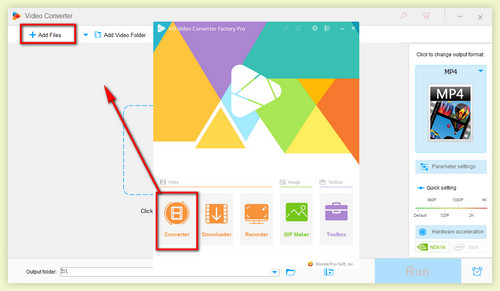 Add your MP4 file
Step 2. Compress MP4
Click Parameter Settings and then you will see several parameter options including Encoder, Frame Rate, Bit Rate and Resolution. You can decrease resolution and bit rate or preset the latest encoder to optimize your compressor in order to compress MP4 in an more efficient way. (The latest encoder like H265 and VP9 work better at the compression rate than H264 in downscaling MP4)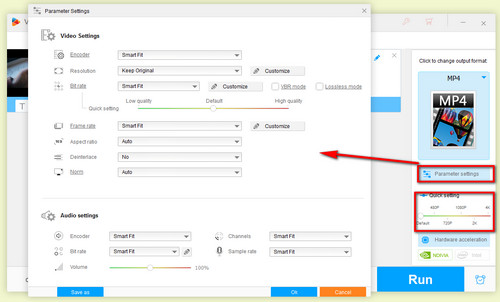 Adjust the parameters manually
Step 3. Choose Advanced Codec
You can also click Output format to expand the list and select H265 or VP9.
As an alternative step, you can drag the slider on the lower right side to decide what resolution to take.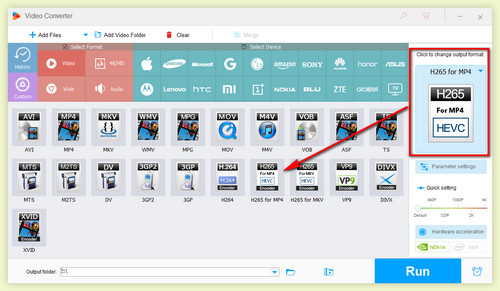 Choose the newest encoder
Step 4. Export the Video
Click Run to finalize the process.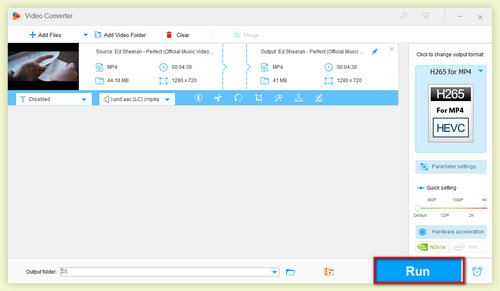 Export the video
What Makes HD Video Converter Factory So Special?
Digital Technology is developing so fast that researchers soon develop MP4 compression technology to solve this problem. And nowadays there are various sorts of MP4 compressors on market and indeed they make the situation better to some degree but meanwhile there exist many disadvantages and defects that annoy users in the course of compression
For example, Clipchamp-a popular online MP4 video compressor, is able to compress the MP4 file to 60% the size of their original one but its preparation and analysis before compression is definitely a time-consuming job which may take several minutes and meanwhile the conversion speed is rather slow that also takes several minutes and moreover it has no editing function to customize your video. However, with the emerging of HD Video Converter Factory, all of these problems are gone. With the fastest speed and highest compression rate, MP4 files can be compressed more than 50% smaller within only tens of seconds. You will no longer worry about the decreasing space on your iPhone or tablet. You can download as many movies as you want. During a long travel alone in an isolated car you will never feel bored or tedious anymore after reducing MP4 file size on your tablet. This is where HD Video Converter Factory works perfectly out and surpasses all of its competitors!
But at last, the main reason for people to buy is its cheapest price!
Related Functions of the MP4 compressor to Save Your Space even Further
1.  4K to HD and SD to HD are supported.
2. Not only can you compress MP4 files but also you can downscale other formats that are supported by this compression software such as MOV, MKV,AVI,MP3 and so on.
3.More than 500 formats and devices for you to convert your videos into.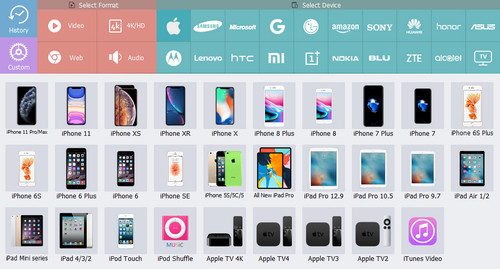 A superb collection of devices
Now, please download the HD Video Converter Factory Pro to complete your jobs.
Other Main Features of HD Video Converter Factory Pro
Various media formats, optimized profiles for 300+ hot devices.
Convert MP4 to SWF and vice versa.
Download videos from YouTube and freely customize your video image.
You can merge several videos together to create a successive one.
50X faster conversion speed is supported.
An internal video editor is available( clip, crop, effect)
Feel free to set your video or audio parameter such as resolution and volume.
You can customize your own cell phone's ringtone by using Ringtone Studio.