An important thing to note before converting mono to stereo is that we cannot get a true stereo effect from mono audio. What we create from mono audio is dual mono or pseudo stereo, which means that the sound from both audio channels is the same. That said, changing mono to stereo can still be useful, as some platforms don't accept mono audio. If you're using a mono device, mono audio will only come out from the left earbud, which is uncomfortable. To avoid this annoyance, it is necessary to make mono audio stereo.
In the following article, we will show you how to convert mono to stereo in three different methods. Read on!
If you have no or little knowledge of audio conversion or you want a quick solution, you need this audio converter – WonderFox Free HD Video Converter Factory. It is one of the best free audio converters that will easily convert mono to stereo in simple clicks. And the output quality is good. Moreover, it can downmix 5.1 to stereo, stereo to mono, cut and merge songs, and change audio formats. This program supports all mainstream audio formats like MP3, AAC, WAV, FLAC, OGG, WMA, and so on. Now, free download free download this mono to stereo converter and follow the steps below to turn mono into stereo.
Step One. Import the Mono Audio into the Converter
Launch WonderFox Free HD Video Converter Factory and open the Converter. Click "+ Add Files" to import the mono audio into the converter. Or you can drag and drop the file into this program directly.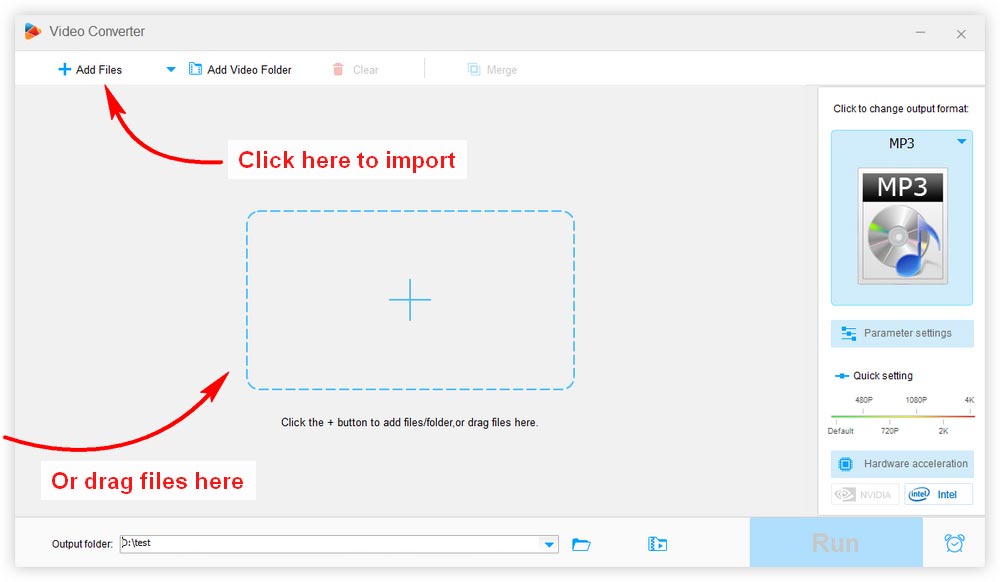 Step Two. Select an Output Audio Format
On the right side of the workspace, click on the format image to select an output audio format. It is suggested you choose the same audio format as the original one.
Tips. This program can also convert video audio from mono to stereo. Just drag your file into the conversion list, select the video output format, and move to the next step.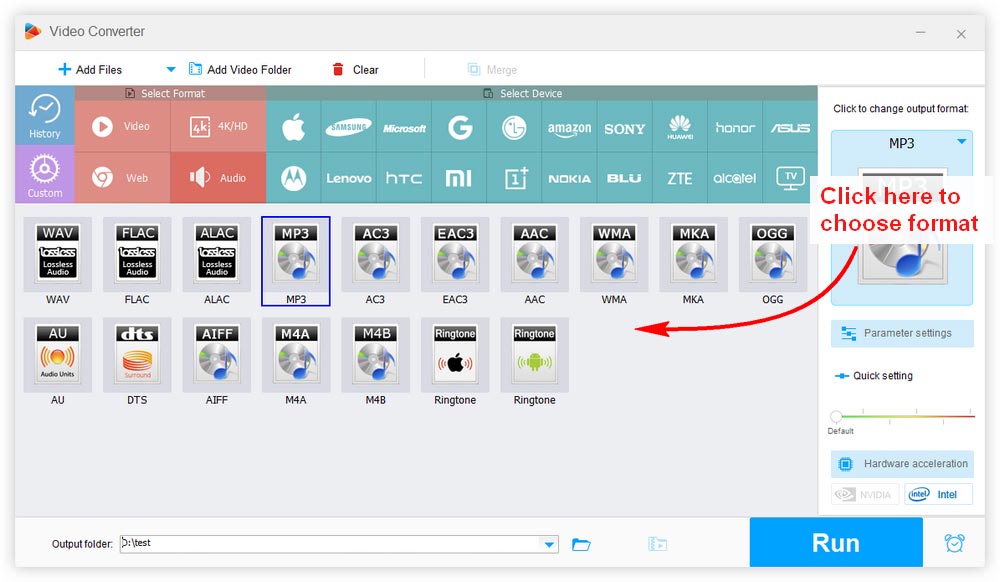 Step Three. Convert Mono to Stereo
Under the format image, click Parameter settings and navigate to Audio settings. Hit the Channels box and select "2 Channels Stereo". Then click "OK." When all is ready, hit "Run" to start turning mono to stereo. And your stereo audio will be ready in seconds.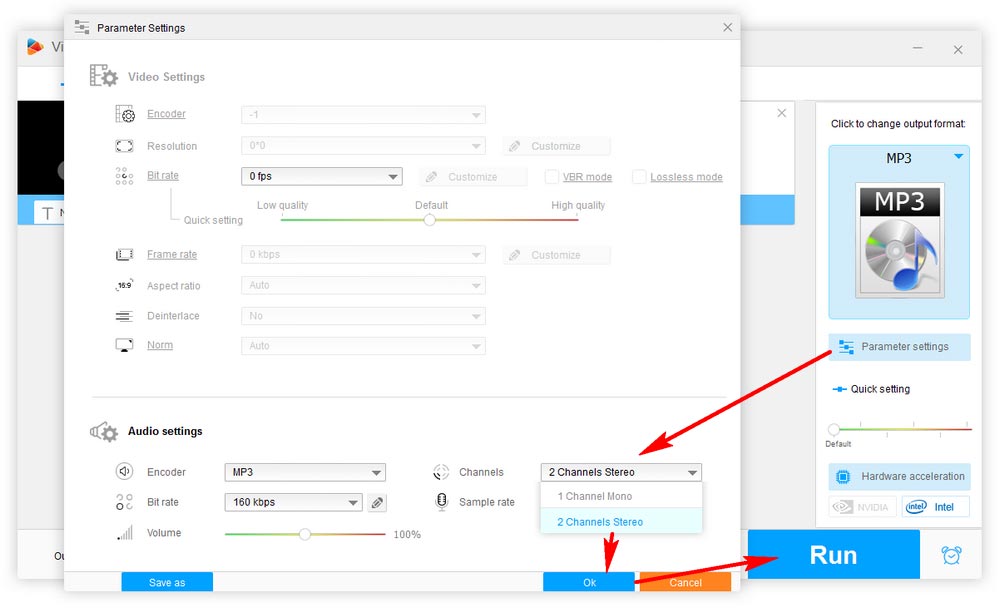 The second way to change mono to stereo is through Audacity, an open-source, cross-platform digital audio editor that is best suited for a person with some knowledge about audio editing and recording stuff. Follow the instruction below to make mono into stereo with this program:
1. Visit the official site https://www.audacityteam.org/download/ and install the latest Audacity to your PC.
2. Run Audacity and click "File" > "Open..." ( Ctrl + O) to import the mono audio into the program. You can drop the file into the workspace as well.

3. On the bottom-left corner of the mono waveform, click "Select." Then go to the top menu "Edit" > "Duplicate" (Ctrl + D) to make a copy of the audio. Now you have two mono tracks.
4. Go to the upper audio track and click the inverted triangle to open the menu. Then select "Make Stereo Track." Now you have a stereo-pair in which the upper track is the left channel and the lower track is the right channel.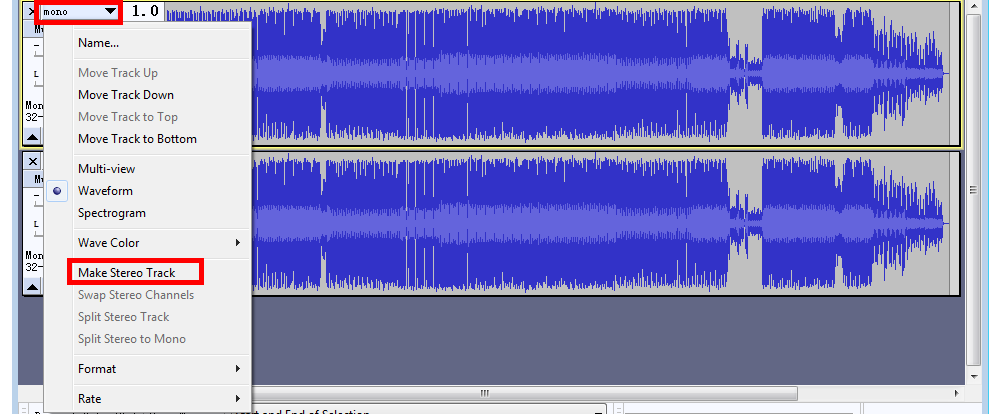 5. Select the stereo track and go to "Effect" > "Normalize...", and keep the peak amplitude to -1.0 dB. Then hit "OK".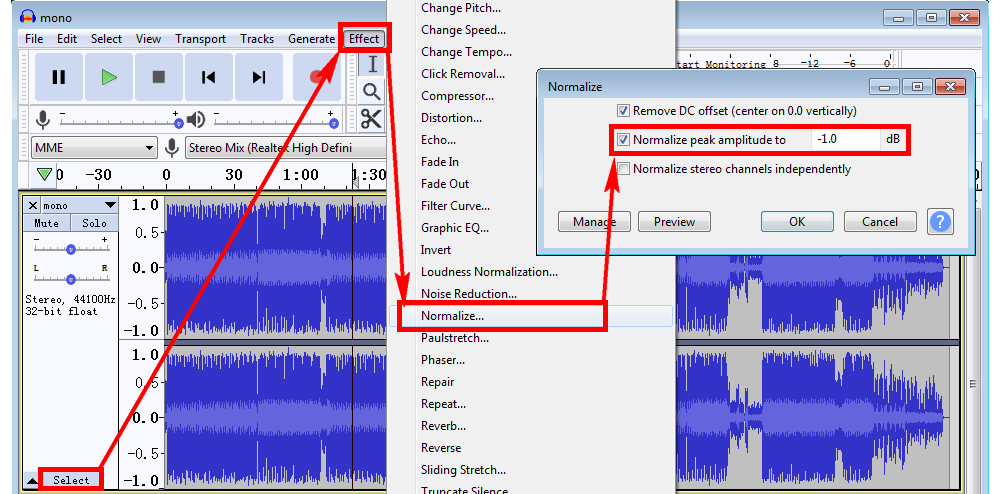 The last approach to change mono audio to stereo is via an online converter named Online Audio Converter. It needs no installation and is easy to use. Here's the simple tutorial of how to change stereo to mono online:
1. Visit Online Audio Converter and click Open Files to upload your mono audio file.
2. While the file is still uploading, you can click the "Advanced settings" and change channels to "2".
3. When the Convert button turned blue, click on it and start the conversion. Wait a few seconds till the conversion is complete. Then click Download the save the file into your local drive.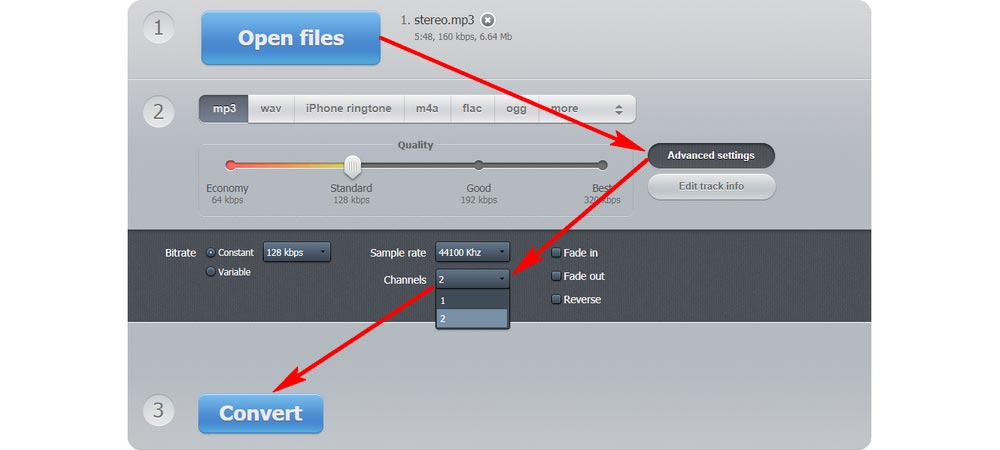 Among the three methods, Method 1 is what we would recommend most users choose to convert mono audio to stereo for Audacity is a little complex while the online audio converter is too simple (lack features).
Anyway, that's all for how to convert mono to stereo. You can download the recommended tool here or find your best way to convert mono to stereo. Thanks for reading!
FAQs
1. Can mono be converted to stereo?
Yes, mono can be converted into stereo with a mono audio to stereo converter. This article has shared three awesome audio channel converters for you to choose. Pick the one you like and start your conversion now!
2. Is stereo better than mono?
For average listeners, stereo is better than mono because it provides a wider, more detailed sound than mono.
3. Is stereo louder than mono?
No, stereo is not louder than mono. But you may think it is louder because it delivers sound in two channels whereas mono sends audio in one channel only.