Directly posting your own GIFs to Facebook is supported on desktop, but the uploaded GIFs will be processed as a video file in the News Feed posts and comments.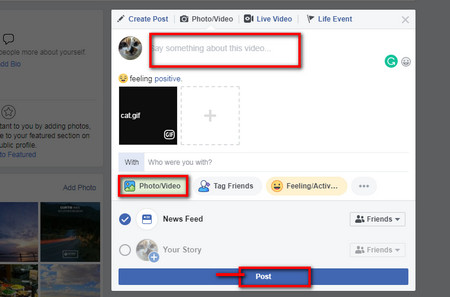 Upload GIF to Facebook
Directly Post GIFs on Facebook Status Update
Step 1. Select the Video/Photo button in the share box.
Step 2. Browse your computer hard drive, find and select the GIF.
Step 3. Optionally, you can type in anything you want to say in the text section.
Step 4. Click Post. Wait for the GIF to finish uploading.
When you successfully post the GIF, right click on it and you can choose to pause, show the video URL, copy the video URL, etc.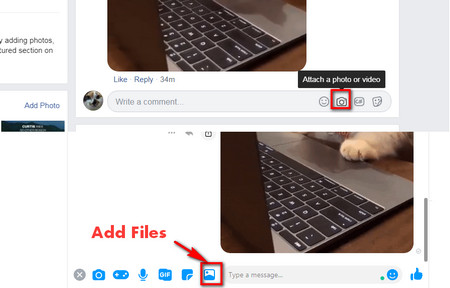 How to post a gif on Facebook comment
Post GIFs in Comments and Facebook Messenger
Similarly, there is an Attach a photo or video button on the Facebook comment box, and an Add files button on the Facebook Massager window. But it would take a fairly long time to upload GIF to Facebook in this way.
Is there any way to shorten the time to upload GIFs? Of course, there is. Just move to the third method.