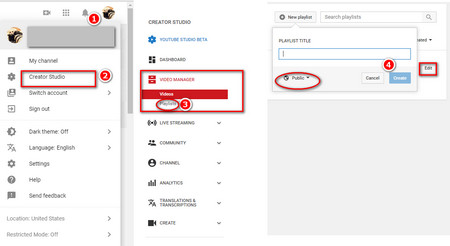 How to Make a Playlist on YouTube in Creator Studio
Step 1. How to make a YouTube playlist in Creator Studio? Firstly, Click the avatar in the upper right corner and select Creator Studio.
Step 2. Expand the left Video Manager and select Playlists.
Step 3. Click the New playlist button at the top, enter the title of the playlist, and set privacy Settings (Public, Unlisted, Private).
Step 4. Click Create to complete the playlist.
After creating a playlist on YouTube, click the Edit button and then click Add videos button on the right. There are three ways to add video to the playlist: Search video, Paste a specific video URL, your own uploaded video. You can repeat the above steps to create multiple playlists to sort video.
Hot search: Download YouTube Video | Identify Music in YouTube | Fix YouTube Videos Lagging