There are many ways to convert HEVC to MOV today. Here, I will introduce the most efficient method to help you convert HEVC files to MOV fast & easy & trouble-free. Without further ado, let's get started.
Note: HEVC, or H265/x265, is a video codec, while MOV is a video container. A codec cannot be converted to a container or the other way around. By saying converting the HEVC file to MOV, we often mean converting H.265 MKV/MP4 to H.264/MPEG-4 MOV. Since HEVC is an advanced codec mainly used in 4K videos, HEVC-to-MOV conversion could be CPU-intensive, and a powerful video converter is required for this kind of conversion. Read the next part to learn more details.
How to Convert HEVC/H265 to MOV on Windows Easily and Quickly?
To convert HEVC video to MOV, we need a reliable HEVC to MOV converter. I recommend WonderFox HD Video Converter Factory Pro. It is a very simple yet powerful video converter that can input HEVC videos of various sizes, lengths, resolutions and output them to MOV and other 500+ formats and devices without any issue. It supports GPU acceleration, which can reduce the burden on the CPU and increase the conversion speed by 30 times. As the cherry on top, batch mode is supported.
Now, download download the software and follow the instructions to convert HEVC/H265 to MOV.
Launch HD Video Converter Factory Pro and open the Converter. Next, click + Add Files or Add Video Folder to load your HEVC video(s) into the program. You can drag and drop the HEVC file(s) directly into the converter as well.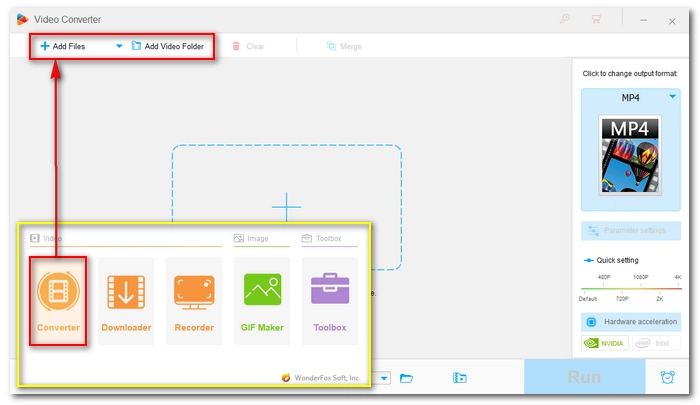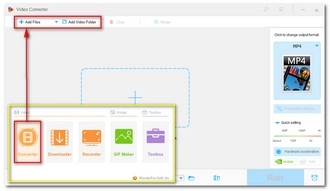 On the right side of the interface, click the format image to unfold the output format list. Go to the Video section and select MOV (the default video codec is H264) as the output format. If needed, you can continue to change video parameters, such as encoder, bitrate, frame rate, aspect ratio, etc. in the Parameter settings.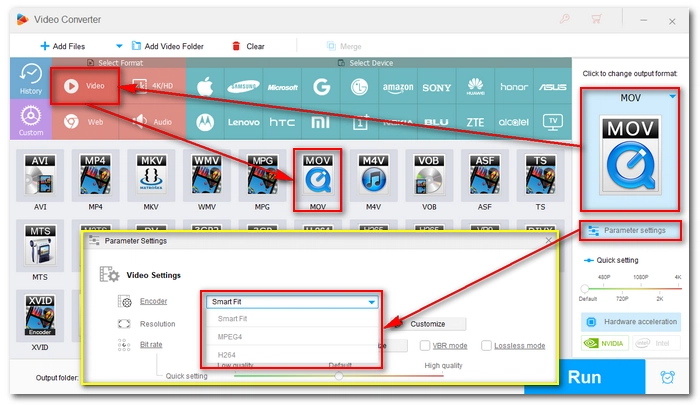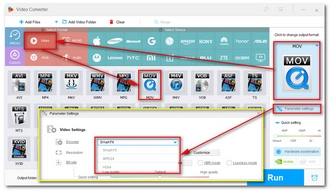 Click the bottom ▼ button to set an output path or leave it as default. Finally, hit Run to start the conversion. It should take somewhere between several seconds to a few minutes depending on the original file size.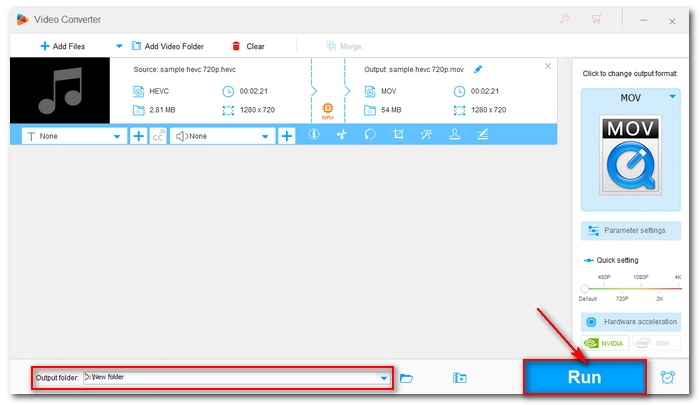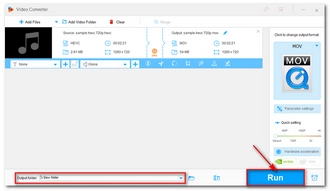 Besides the method mentioned above, another popular way to convert HEVC to MOV files is to use an online video converter. Simply upload, convert, and download, you get your video converted without installing any software or plugins. It seems really convenient this way. But you'll know that is not always the case once you've tried such service. What also happens is that you can't upload your video (some codecs and formats, such as HEVC, could be not supported), the conversion is taking too long (especially for high-quality videos of large size), or the process gets stuck in the middle (due to unstable internet connection). There could even be security issues concerned. Given these, I don't suggest converting the HEVC file to MOV online. Instead, I would recommend using the desktop converter for it can deliver a more stable and smooth conversion. By the way, HD Video Converter Factory Pro has a free version that can also convert HEVC movies to MOV format with high quality completely for free. Though the speed is relatively slow. Try the Free HD Video Converter Factory to start your first conversion.
That's all for now. If you have any questions during the conversion, please feel free to DM me on Twitter. I'll be glad to help. Thanks for reading.