Just like its name, this first online GIF converter I recommend to you, EZGIF, is one of the most well acclaimed GIF converters. EZGIF converter provides you with various flexible GIF editing tools, such as resizing, rotating, cropping GIFs, and adding effects and text, as well as adjusting playback speed, etc. How to use EZGIF easily? Maybe you can refer to below detailed steps.
Official site: https://ezgif.com/gif-to-webm/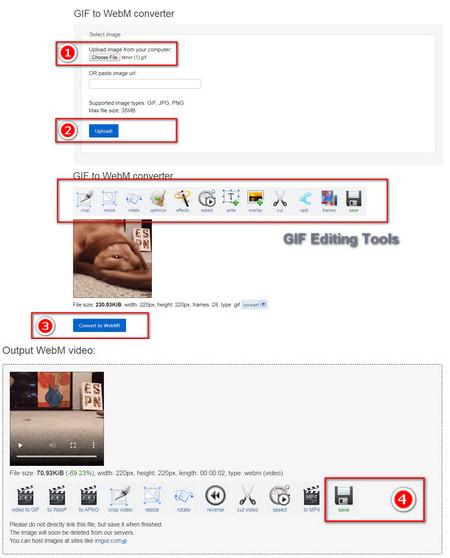 EZGIF
Step 1. Copy and paste the link above to get into EZGIF. Next, click Choose File to upload a GIF from your computer. You can also paste the URL of the GIF you want to convert into the below URL box. You are allowed to upload GIF files up to 35MB.
Step 2. Do some editing to your GIF file. Over the image you just uploaded, there are some GIF editing tools mentioned above. Depending on your needs, click one to edit your image.
Step 3. As you confirmed editing operations, click the Convert to WebM! button below. Wait a while for the conversion. Then, the output WebM video will appear on the below of the same page. Click the Save button on the right end of the tool bar. Now, your GIF has been converted into WebM successfully.