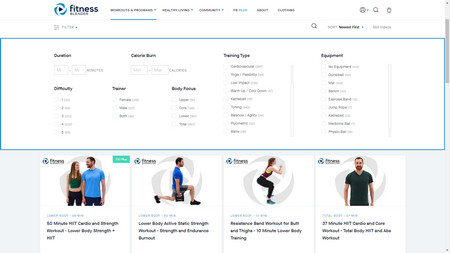 Fitness Blender
When talking about fitness video sites, we have to talk about the leader of them (Maybe in my mind only) – Fitness Blender. As a most popular fitness site, Fitness Blender gets around 7,500 single traffic every day. You can find videos you want easily by using the great built-in filter, which allows you to search certain videos sorted by the duration, calorie burn, difficulty, trainer, body focus, training type, and equipment. You can totally find all kinds of exercise videos here. Besides various videos, Fitness Blender further provides you with advice about health training recipes and an opportunity to chat with other trainers by signing in. What's more, this site even sells workout sportswear. To sum up, if you want to find a workout video viewing/downloading site, Fitness Blender must be one of your best choices.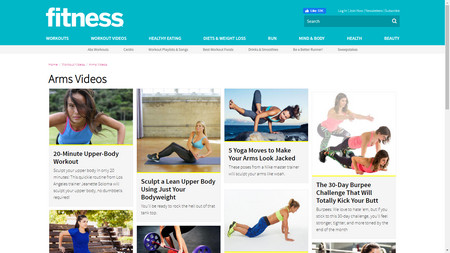 Fitness
This site has a similar name with the Top 1, but it was built 20 years ago which is much older than the former (Established in 2010/August) and it does get 3000 single traffic more than the former per day. While compared to Fitness Blender, Fitness provides you with shorter videos but more detailed text information about how to do and what you need to pay attention to. This site often shares exercise plans with you, which are listed by diets & weight loss, run, mind & body, health, and even beauty. In a word, Fitness is more a health advisory site than a fitness video site, but it is really useful in building up your body. Bad news, it's quite a bit hard to download exercise videos here, you can click to view a high-related article and learn how to download streaming videos.
Besides the professional sites above, I have also found some sites that provide videos linked to YouTube channels. For that, I have directly listed 2 well-acclaimed YouTube channels for downloading workout videos:
WORKOUT is a great team of professional fitness athletes and coaches and also has a dedicated video editing team. From each video here, you can find out which part of the muscles can be trained. If you want to train a certain part, visit here.
This channel provides common-sense workout videos, which help you relax after an exhausting workday. You can get exercise advice from each video. Try there for a better mental state when you feel tired.