Don't waste time trying to convert VSP to MP4 online. Corel VideoStudio is the only VSP to MP4 Converter. You just need to import the VSP project file into Corel VideoStudio and render it as a video file. Here are the detailed steps: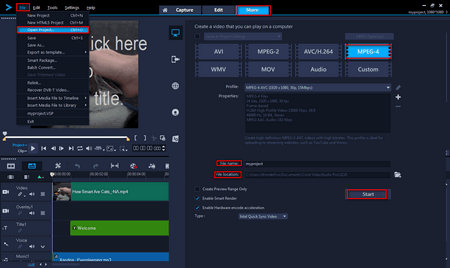 How to Convert VSP File to MP4
Step 1. In order to convert VSP to MP4, first of all, run Corel VideoStudio, click File > Open Project in the top left corner, or press Ctrl + O to import your VSP File. Of course, it is available to simply drag and drop the video from the VideoStudio library or your computer browser on to the timeline.
Step 2. Corel VideoStudio will load all source files, conversion effects, and other settings. At this point, you can start editing the video, add music and transitions, etc. or you can proceed directly to the next step.
Note: if your VSP file is from the network or someone else, the following steps are not available because the source file path has been lost or changed.
Step 3. Click on the top Share tab and select MPEG-4, or you can choose other formats or devices.
Step 4. In the profile drop-down, select the desired properties, customize the file name, and file location.
Step 5. Finally, click Start to start the .vsp to .mp4 conversion, this will render your video to the desired file format of your choice and you will find your MP4 file in the output directory.