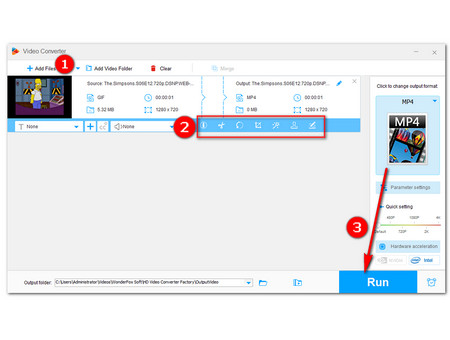 Online GIF Converter to MP4
Web Address: https://ezgif.com/gif-to-mp4
Ezgif is a free online service to convert any GIF image to the MP4 file. Not only converting GIF to MP4, but also you can crop video, cut video clips, rotate video, and edit them in the other aspects via this online site.
Step 1: Import GIF to the Online GIF to MP4 Converter
Visit https://ezgif.com/gif-to-mp4 and click "Choose File" or paste image URL to import GIF images that you want to convert to MP4. And then, click "Upload" to enter a new window.
Step 2: Edit Your GIF Image Before Converting .gif to MP4
As we mentioned above, this online site can also be a simple editor that allows you to make different visual effects. All you have to do is click on the different edit icon and make your GIF different based on your own needs.
Step 3: Start to Convert GIF to MP4 Online
After you have finished editing, click "GIF to MP4" button and then click download icon, and it will output a silent MP4 file.
Pros: A free online tool with no watermarks | Provides tons of editing features
Cons: Only support GIF, APNG | Max file size < 35MB