Solution 1 - Convert CDA to FLAC Using Exact Audio Copy
Exact Audio Copy (well-known as EAC) is an acclaimed Windows-based CD ripping program, which is free for non-commercial use. With this application installed, you're able to rip an audio CD and convert all CDA files to FLAC songs directly.
Step 1. Download Exact Audio Copy from official website: https://www.exactaudiocopy.de/en/index.php/resources/download/.
Step 2. Insert an audio CD to CD/DVD drive. Run Exact Audio Copy Setup, make sure you mark "FLAC" component before completing the installation.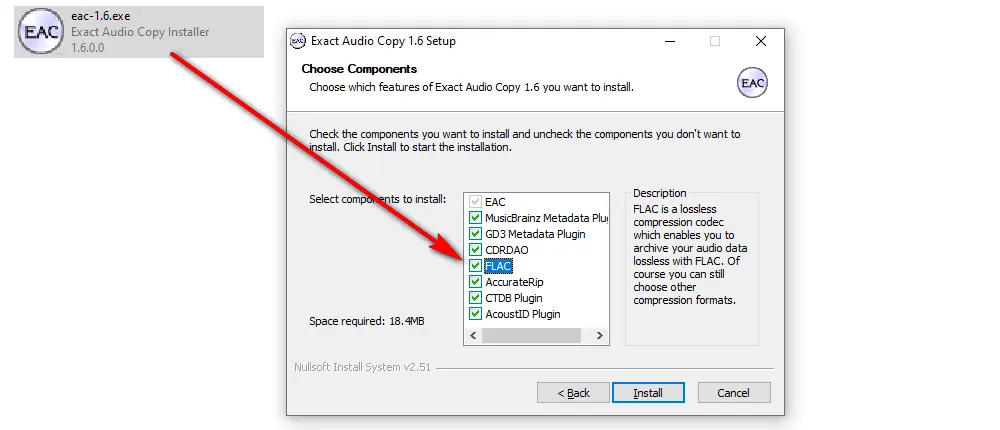 Step 3. Launch Exact Audio Copy, you'll be guided through the EAC Configuration Wizard. If not, click "EAC" button on top menu bar and select "Configuration Wizard" option.
Step 4. Follow the instructions to proceed, select "FLAC (around 6 MB/minute)" option under "Encoder Selection" window. Then finish the configuration.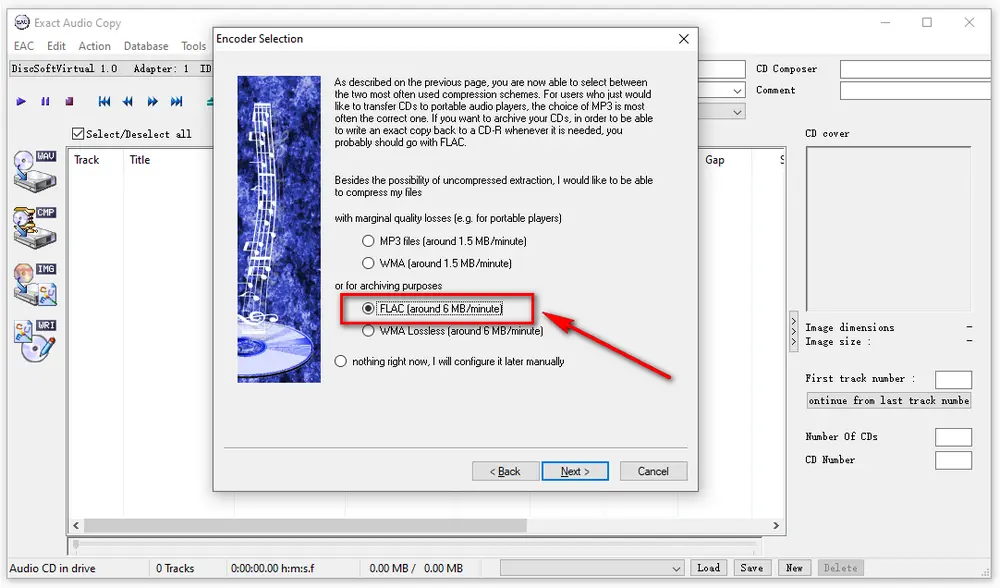 Step 5. EAC will automatically get CD metadata information from FreeDB. Click "EAC" button and select "Compression Options". Go to "External Compression" tab, all preparation work of CDA to FLAC conversion will be ready if you've walked through "Configuration Wizard".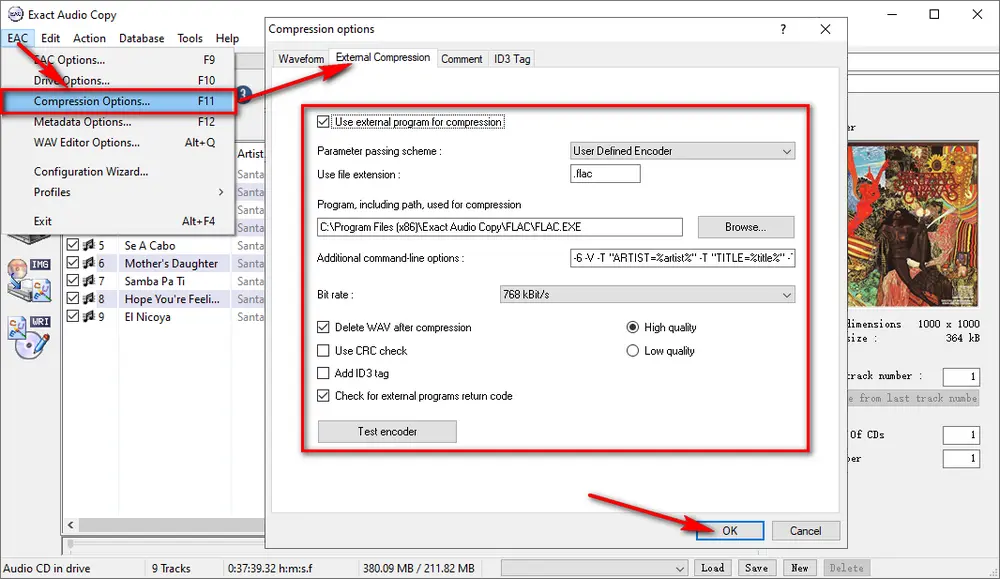 Step 6. Finally, press "CMP" button on the left sidebar, select an output folder to save the converted songs, then start the CDA to FLAC conversion.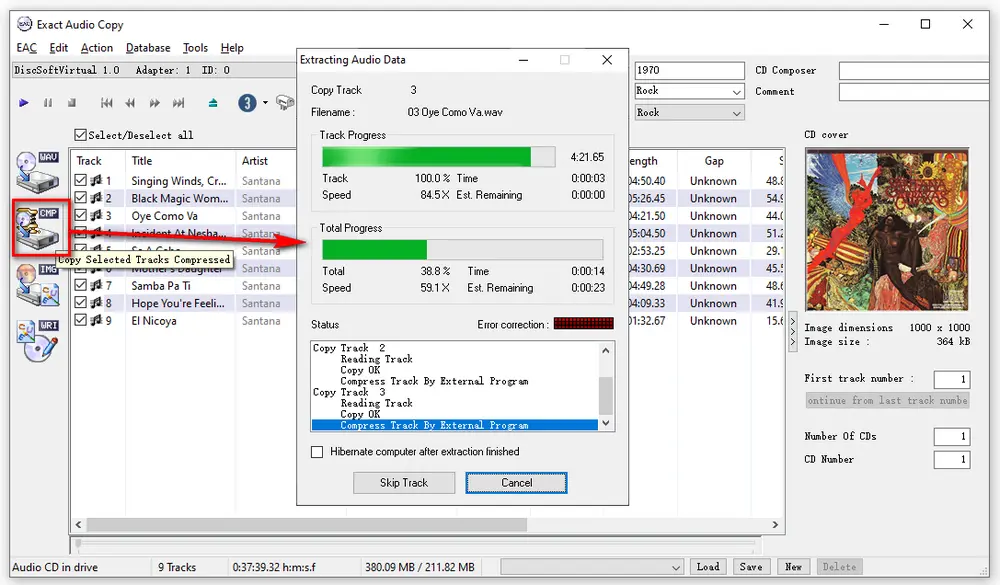 Solution 2 - Convert CDA to FLAC Using Windows Media Player
More than a common media player, Windows Media Player can also serve as a CD ripper that allows you to convert CDA files to FLAC. Just follow the simple steps below.
Step 1. Insert an audio CD to CD-ROM. Launch Windows Media Player and switch to Library Mode.
Step 2. Select CD drive on the left side, Windows Media Player will display and mark all tracks in the audio CD.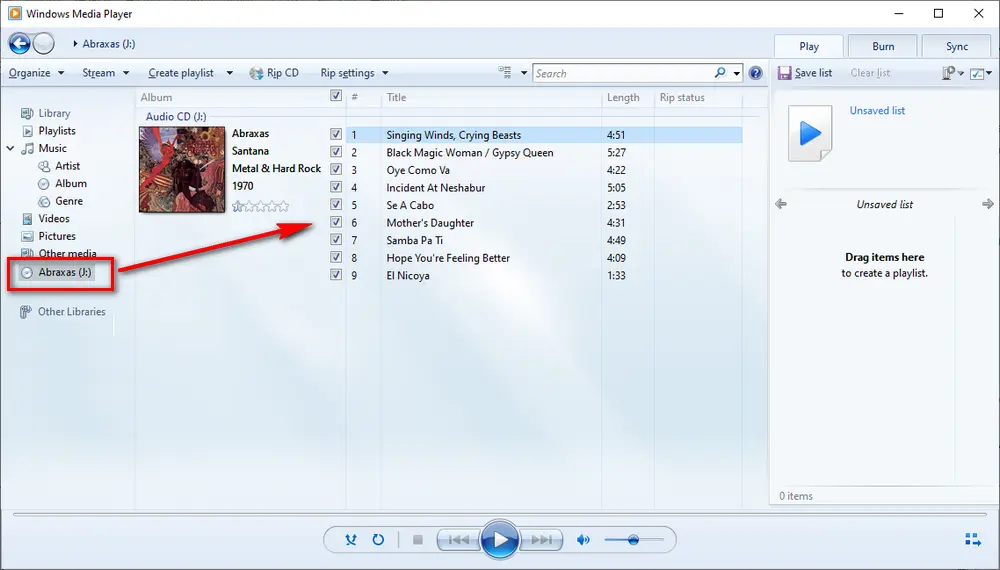 Step 3. Click "Organize" button on the menu bar, and open "Options" window.
Step 4. Navigate to "Rip Music" tab, change the ripped music location and file name. Select "FLAC (Lossless)" option in the drop-down list of "Format". Then click OK.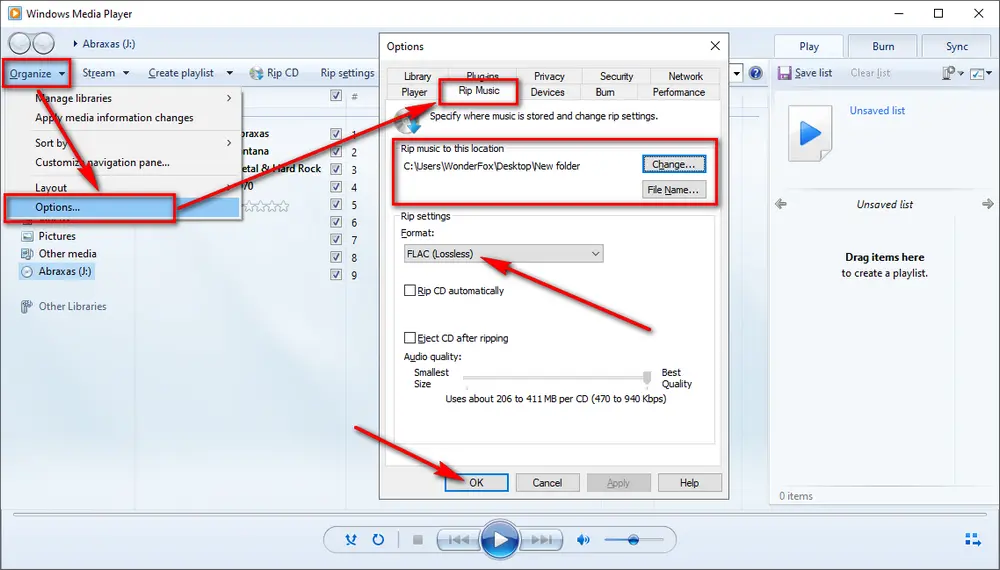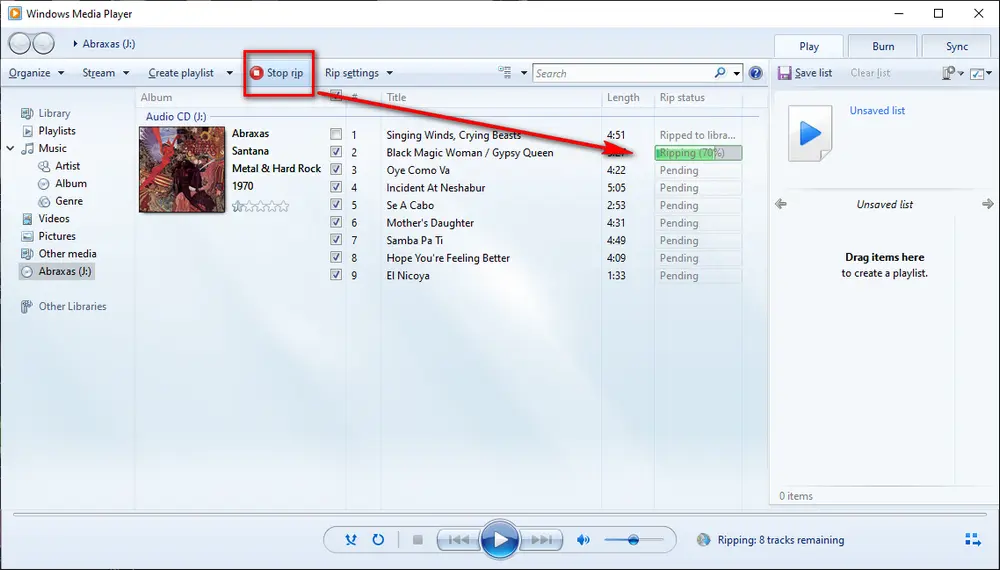 Solution 3 - Convert CDA to FLAC Using Foobar2000
Foobar2000 is an advanced freeware audio player for the Windows, which also supports ripping audio CDs as well as transcoding all supported audio formats with additional components installed.
Step 1. Download and install Foobar2000 and Free Encoder Pack respectively via the links below.
https://www.foobar2000.org/download
https://www.foobar2000.org/encoderpack
Step 2. Run Foobar2000, click "File" menu and select "Open audio CD" option. Choose your CD drive and press "Rip" button. Foobar2000 will automatically get album information from MusicBrainz or FreeDB. Then hit "Proceed to the Converter Setup dialog" button.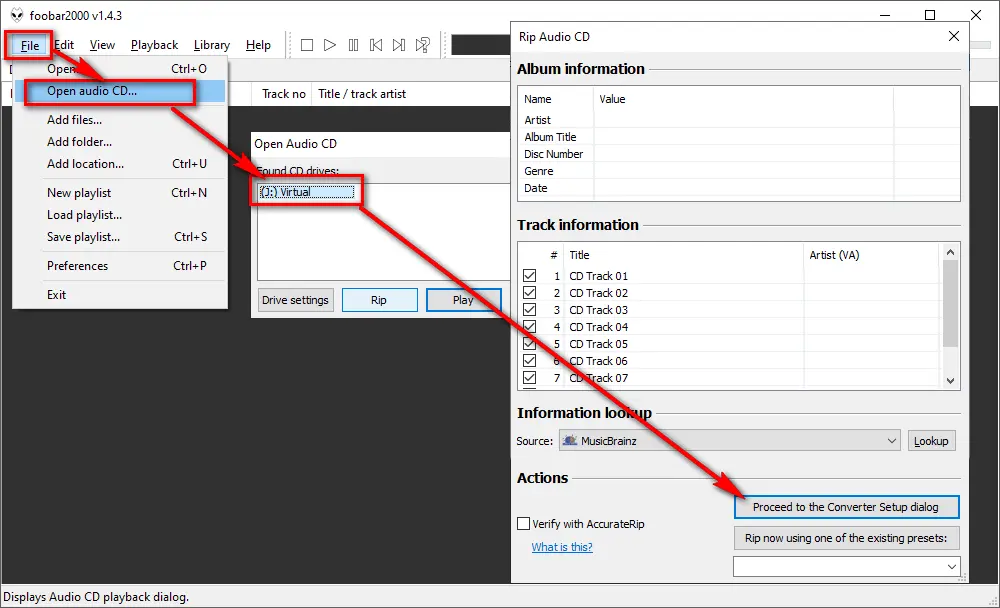 Step 3. Click "Output format" link and select FLAC, specify a destination to store the converted files.
Step 4. Lastly, click "Convert" button to start CDA to FLAC ripping process.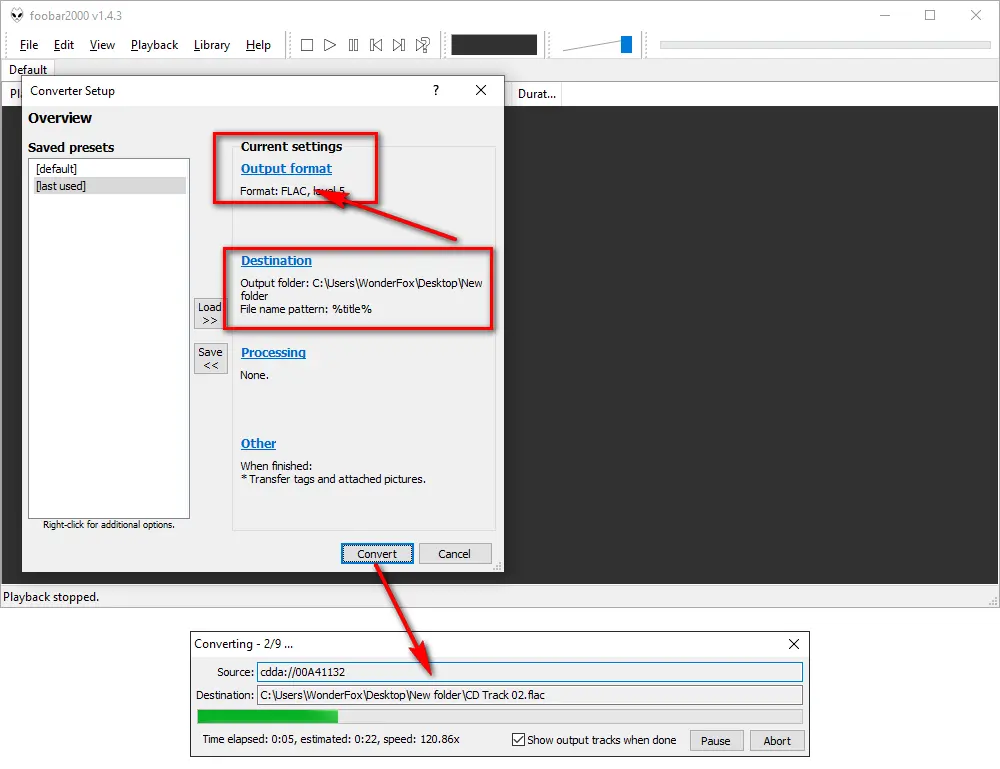 Final Words...
Let me sum it up, as mentioned, CDA files are not the real songs, and won't play solely when you copy those files to local drive. The CD disc must be in the CD-ROM drive for the shortcuts to work correctly. And there is no so-called online CDA to FLAC converter. The entire workflow of CDA to FLAC is the same as ripping CD to FLAC, meanwhile, you're able to convert CDA to WAV or any other audio format with the same procedure. Hope I make the steps crystal clear. Thanks for your reading.