"I have a movie that has hardcoded Chinese subtitles in it. Now obviously, there is no way to remove hardcoded subtitles but is there a free program I could download that will let me at least blur the subtitles or make them as less noticeable as possible?"
Subtitles in videos can be a distraction when you don't need them. While it is quite easy to remove soft subtitles, you need to use crop or blur to remove the hardcoded ones. Many people choose to blur hardcoded subtitles because in one way it keeps the video image intact, and in another, it makes the subtitle less noticeable. For this, you need a proper video editor. In the next part, I have an easy, free video editor that can help you hide HC subtitles with a blur box simply. Read on for more information.
WonderFox Free HD Video Converter Factory is a feature-rich video converter program with a good built-in video editor. Besides the common video conversion, it can do some basic video editing like cutting, cropping, rotating, merging, adding text, and applying effects to videos. And you can use the effect function to efficiently blur the hardcoded subtitles or any part of your video as you like. There is also mosaic and many other effects to use. Just try anything that you think would make the result better.
This program is an all-format converter that you can process any video in it without restriction. And with a user-friendly interface, the whole editing is only a few simple clicks away. Now, free download free download this software to blur HC subtitles in your videos.
Step 1. Add Video File to the Program
Open WonderFox Free HD Video Converter Factory on your desktop and enter the "Converter" program. Next, hit the center + button or the upper-left "Add Files" to import your video into the program. Drag-and-drop is also supported.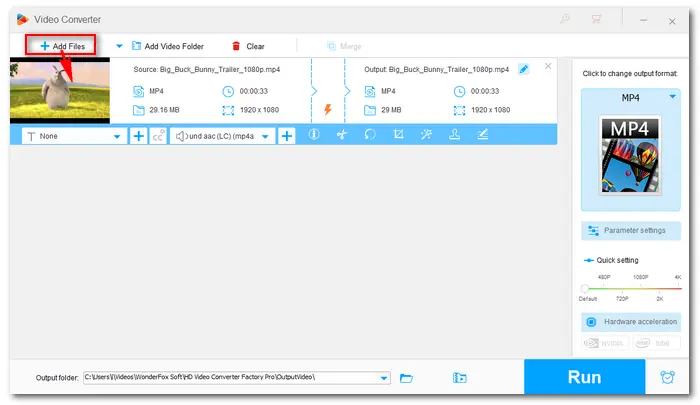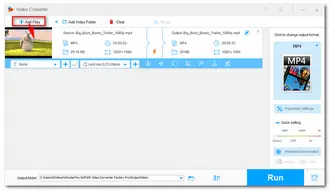 Step 2. Blur the Hardcoded Subtitles
Click the "Effect" button to bring up the Effect window. On the lower-left panel, select the Blur effect or other effects you like. Then, on the left original preview window, adjust the area that you want to blur out. You can also use the lower-right options to change the image color. When you are done with the settings, click "OK" to save the changes.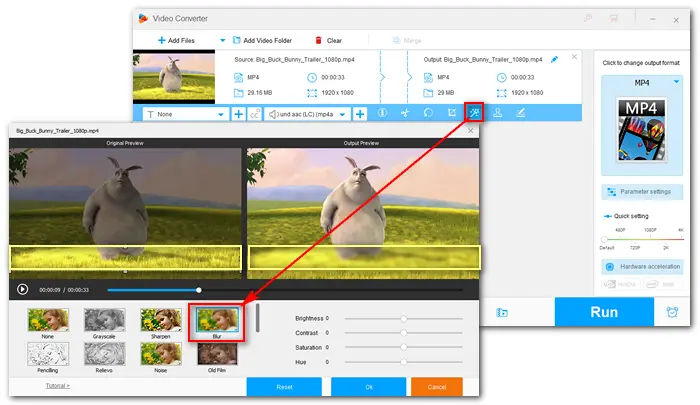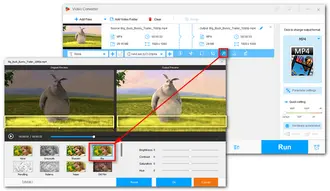 Step 3. Choose an Output Format
Now, go to the right side of the program and click the format image to open the output format list. Head to the "Video" section and pick your preferred output format. Maintaining the same format is suggested.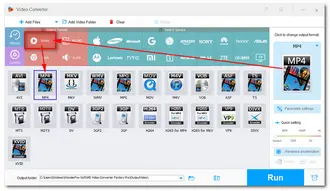 Step 4. Export Video with Blurred Subtitles
Finally, click the ▼ button to set an output folder and hit "Run" to export the final video. You can watch your video with the subtitles blurred now.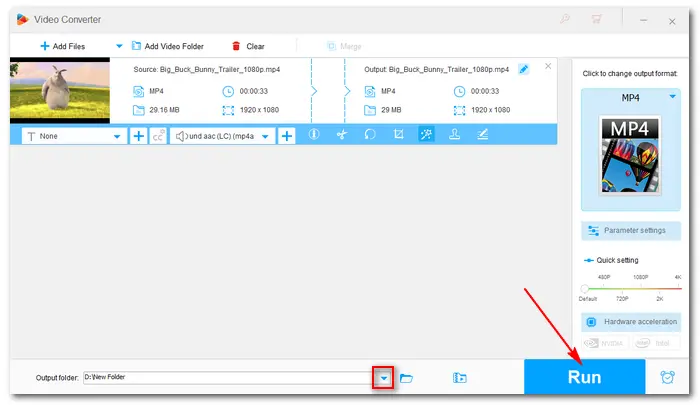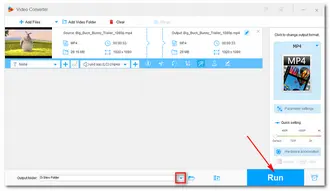 1. Why Can't I Delete Hardcoded Subtitles?
Unlike soft subtitles which exist as an additional stream in a video container, hardcoded subtitles are integrated into the video stream and cannot be edited or removed. You can think that hardcoded subtitles are carved into the video image. You can only crop or blur the subtitles to make it less obvious.
2. How to Crop Out Subtitles?
Basically, any video cropper is able to help you crop subtitles out of the video. To crop out the unwanted parts without a watermark, WonderFox Free HD Video Converter Factory is a good option. The steps are similar to blurring subtitles.