Adobe Audition by Adobe Inc. features many options for audio recording and editing and is a powerful tool for audio production. It is a useful tool to let you record podcasts, voice-over, audio chat, and other multitrack recordings on PC. Don't know how to start Adobe Audition recording? Don't worry! We're here to help. In the following part, we'll show you how to record audio with Adobe Audition on Windows as well as share with you a handy alternative to Audition for audio and video recording.
Let's get started with an Adobe Audition recording guide:
Step 1. Before starting recording with Adobe Audition, visit its system requirement page to make sure your computer meets the minimum technical specifications outlined here for smoothly running and using Audition.
Step 2. After the installation, open Adobe Audition. Before recording, you can go to Edit > Preferences > Audio Hardware to set a preferable input and output device for recording and playback.
Step 3. Then hit Windows at the top menu bar and select Editor. Once the editor window opens, you will see some controls at the bottom of the window.
Step 4. Simply hit the red recording button to start Adobe Audition recording right now. Press the square button to stop the recording.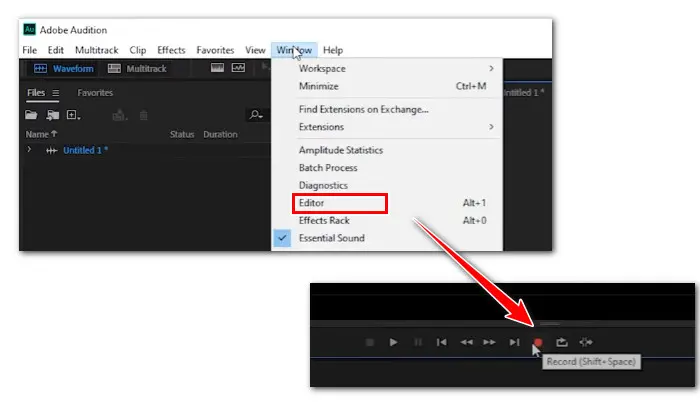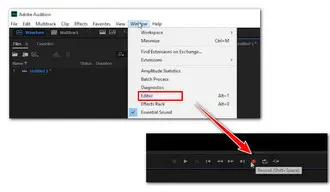 As you can see, that's easy to record audio with Adobe Audition. What's more, coming with a wide range of audio editing tools, Audition is helpful to beef up the audio in your projects. However, it can only handle audio-related tasks. Just in case you are looking for a recorder capable of recording not only audio but also video, then you can try WonderFox HD Video Converter Factory Pro. Here is a quick review of this Audition alternative for recording. Read on to learn more details.
WonderFox HD Video Converter Factory Pro is a simple but powerful tool to record screen and audio at the same time, or separately. It boasts multiple recording modes and can perfectly fulfill most of the recording needs.
With simple clicks, the Audio-only recording mode lets you capture voice-overs, streaming music, and any audio from the internet. You can also customize the recording area, and set desired recording format, quality, and frame rate. Besides, there is a variety of audio and video editing tools for you to choose from. It is bound to be helpful if you want to record high-quality audio and video recordings on your Windows PC.
Free downloadFree download this robust recorder and follow the detailed instructions below to make an audio recording.
Step 1. Open the Screen Recorder and Choose a Recording Mode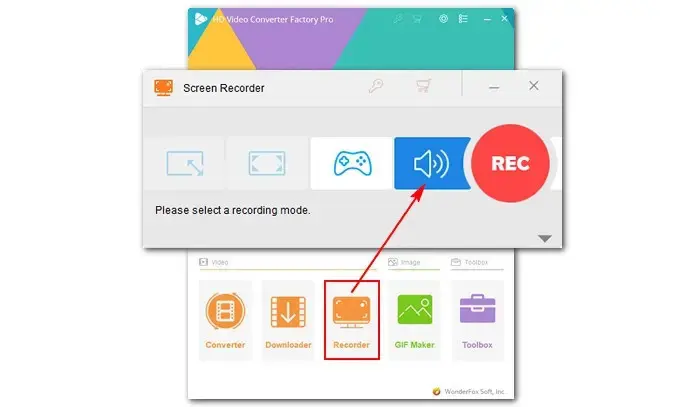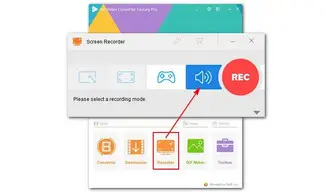 Step 2. Tweak Recording Settings
Select a desired recording format for audio. Then choose an audio source. Check Desktop to capture audio from PC and check Microphone to record from your mic.
You can press the button with a downwards-pointing triangle to set a new destination folder or just leave it as default.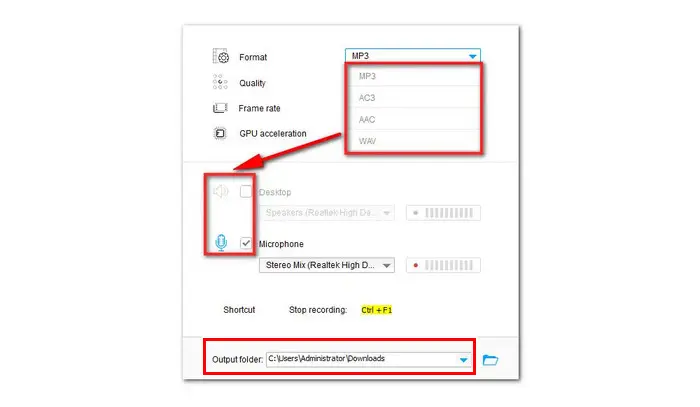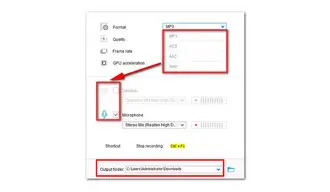 Step 3. Hit REC to Start Recording
Finally, hit the big red REC button. The recorder will start recording after a five-second countdown. To stop it, simply press Ctrl+F1.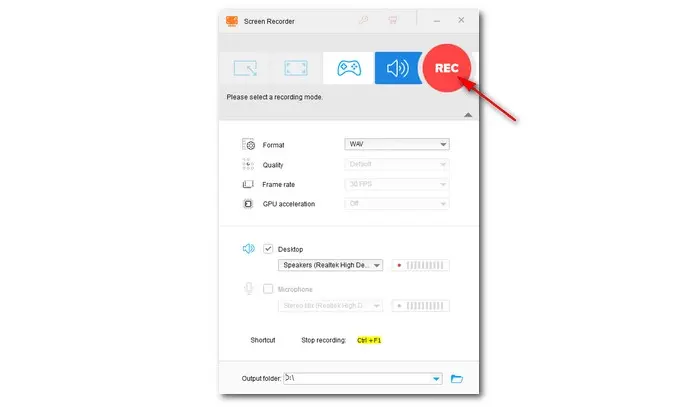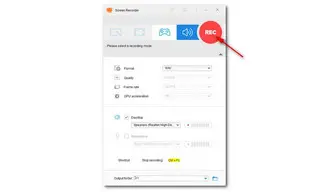 In conclusion
Well, that's all about how to do Adobe Audition recording on Windows. You can tell that both Adobe Audition and WonderFox HD Video Converter Factory Pro are easy to use when it comes to the audio recording. But if you are looking for an all-in-one solution for audio and video production, then HD Video Converter Factory Pro is just what you need! GETGET it here to start your recording journey with ease immediately.