Now that it is downloading 4shared music, we might first consider downloading music directly from this website.4shared offers built-in downloader itself. It provides an easy approach to free download 4shared MP3 online and you needn't download music from other online music download sites. The steps are below: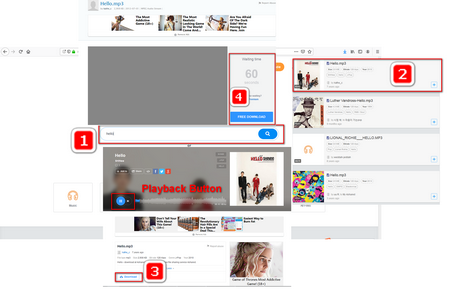 4shared Built-in Downloader
Step 1. Open 4shared.com (https://www.4shared.com/). Firstly, this site requires you to register with your social accounts like Facebook. Then, you need to confirm your email address and you can use all features 4shared contains.
Step 2. Search for the music you want to download with keywords and hit Search button. Next, you will see results with the keywords you imported.
Step 3. Locate the music you desire and hit the name. Then you will see the basic information of this song - File type, Size, Bit rate, Genre, and release year. Before you start downloading music, you can preview the song to confirm if it is the music you want to download.
Step 4. Download the music file by hitting Download button at the bottom part of the file. Then, you will see a new download window, click FREE DOWNLOAD icon and wait for countdown completed. The downloaded song will be saved in downloads folder automatically.
On 4shared site, you can specify the details of music, such as file format, Genre, Decade, Bit rate and file size through its filter.