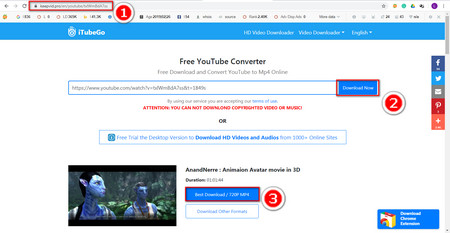 KeepVid
Aside from using the desktop downloader to download 3D movies, you can also use an online video downloader to do this. This part will introduce an online method for 3D movies download - KeepVid, you don't need to install any application packages on your computer and can get 3D movies easily.
Step 1. Open the KeepVid webpage: https://keepvid.pro/en2/youtube-converter-free.
Step 2. Copy and paste the 3D movie URL into the blank box. Then click the Download Now button.
Step 3. Wait for the download link is processed, and choose the download format and resolution. Finally, the 3D movie will be downloaded on your computer.