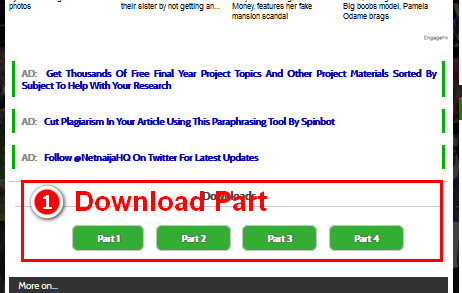 Preview page
Click to next image
Before downloading videos here, if you are a Chrome user, you must know that this site asks you for installing a third-party extension on Google Chrome, which is named Power App and leads to the modification on the search engine of your Chrome. If you don't accept it, please overpass this method or follow the steps below on Firefox.
Step 1. Visit the home page of the Archive uploader via the site - https://archive.org/details/nollywood_movies Find the movie you want to download by using the search filter on the left side of the collection page.
Step 1. Visit the movie page by the URL - https://www.thenetnaija.com/videos/nollywood Search and click the desired movie to enter the preview page.
Step 2. Scroll down to the listed download parts. Click any part under the Downloads bar. After that, in the new page, scroll down to the download link part and click any one. A new download will pop up in a new tab, click Download Now to save the video to your desktop.