Which Smartphone are you using right now? Recently, it's really a big competition in Smartphone market. iPhone 5, Samsung Galaxy 4, HTC One and Nokia Lumia series, BlackBerry 10 and other popular Smartphone give users a lot of choices. In this article, you will learn how to rip and convert DVD to your Smartphone.
How to Find Smartphone for Output
In main interface, click the right icon to expand the combo box.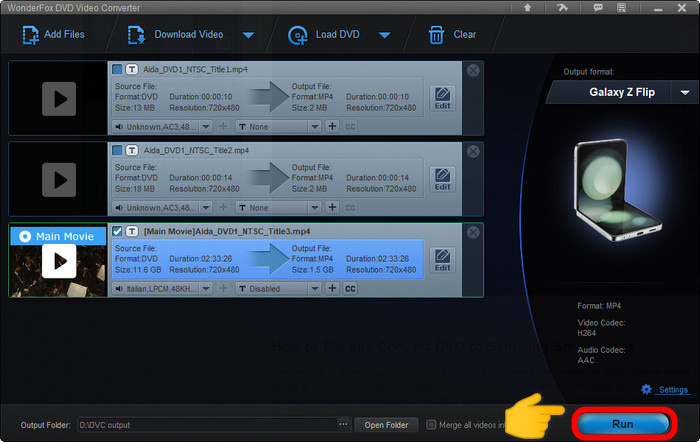 How to Rip and Convert DVD to Samsung Smartphone
The number of Samsung Smartphone users just surpassed the number of Apple iPhone users. Its Galaxy series Smartphone is one of the most popular Smartphone devices. With WonderFox DVD Video Converter, Samsung users can easily play DVD video on Samsung Smartphone. This DVD converter supports to convert DVD to Samsung Galaxy 1-4, Samsung Galaxy Note 1-2 and other Samsung Smartphone.
How to Rip and Convert DVD to BlackBerry Smartphone
BlackBerry is famous as a business Smartphone because it offers many business functions. It has solutions for all business types; enterprise, small business and industries. The latest BlackBerry phone models like BlackBerry Torch, BlackBerry Curve, BlackBerry Storm, BlackBerry Pearl and BlackBerry Bold are power packed Smartphone loaded with fantastic applications, and are powerful enough to execute various functions flawlessly and perfectly. Furthermore, all of these Smartphone also have great Multimedia functions. And with WonderFox DVD Video Converter, you can play DVD with BlackBerry Smartphone.
How to Rip and Convert DVD to HTC Smartphone
The flagship Smartphone of HTC, HTC One is becoming very popular recently. HTC One offers many unique features like HTC Zoe, HTC boom sound and HTC BlinkFeed. That's really awesome. And by using WonderFox DVD Video Converter, you can even make your HTC Smartphone to be a DVD player. This DVD converter supports HTC One series, Sensation series, Wide Fire series and other popular HTC series Smartphone.
How to Rip and Convert DVD to Nokia Smartphone
WonderFox DVD Video Converter is a professional DVD converter which can remove DVD copy protection and convert DVD video into Nokia Smartphone. It supports convert DVD video to Nokia Lumia 928, Lumia 920, Lumia 900, Lumia 620, Nokia N series Smartphone like N9, N8 and other Nokia Smartphone.