What is HEVC/H.265?
Before we start, you may be interested in High Efficiency Video Coding. HEVC, developed by the Joint Collaborative Team on Video Coding (JCT-VC), stands for High Efficiency Video Coding (well known as H.265). It is an advanced video compression standard and a successors of the widely adopted H.264 (aka MPEG-4 Part 10, Advanced Video Coding or MPEG-4 AVC).
How Does HEVC/H.265 Work?
HEVC aims to encode video at the lowest possible bitrate while maintaining a high level of video quality in transmission with lower bandwidth utilization ratio. To put it simple, compared with H.264 video, H.265 video offers a smaller video size at the same level of video quality, and enhance video quality at the same bitrate.

Nearly twice compression ratio than before
Meanwhile, HEVC supports resolutions from 240P (320x240) up to 8K UHD 4320p (7680x4320). It means we are able to directly play 4K, 8K UHD videos online on smartphones, tablets and other portable devices. HEVC has already been integrated in more and more consumer products and services like TVs, mobile devices, Netflix, especially the 4K Ultra HD TV. HEVC will become a mainstream trend in the near future.
How to Convert HEVC to MP4 and Any Other Video Formats or Encoders?
Sometimes, you may find HEVC/H.265 video won't play or unacceptable. That's because many applications and devices still need some time to support the new codec. But for now, this best HEVC converter empowers you to convert HEVC videos to any format you need. So it's not only an HEVC to MP4 converter.

HEVC/H.265 Converter
for All Levels
The best and simplest solution for HEVC/H.265 encoding and playback which allows you to convert any video to H.265/HEVC and vice versa. Learn more >
Free download and install this HEVC video converter on your Windows OS computer including Windows 10, and then run it. Smart as you are, you must have figured it out that you can import your H.265 video into this HEVC video converter by clicking "Add Files". >> Open the output format list and select one, which means you can also convert HEVC to MKV, H.264 video, VP9 video, WebM video, HTML5 video as well as other popular AVI, WMV, MP4, MOV and so forth. >> Then press "Run" to start the whole conversion. It's worth mentioning that as the best HEVC video converter, you're allowed to play any HEVC/H.265 video with the built-in media player. Amazing, isn't it?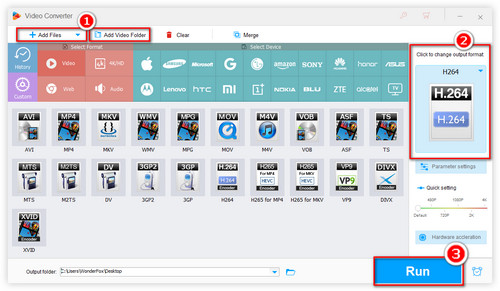 Supports 200+ formats and devices
Tip: If you're an advanced user, you can adjust video parameters by clicking Settings button after you select format, such as change resolution, change aspect ratio, remove or increase volume, etc.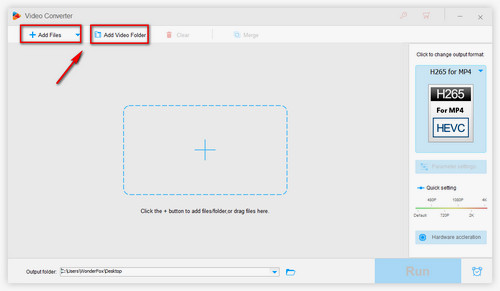 Adjust parameters for custom users
Moreover, the HEVC/H 265 converter can be used as the 4K video converter and compressor, even simple video editor, which enables you not only to compress and convert 4K video, but also to split/join videos, rotate video, add special video effect. Please feel free to share this tutorial if you think it is helpful!
Why You Need to Convert Video to HEVC?
1. Reduce Video Size without Quality Loss
If you record or shot videos with some HD camcorders, the output video is always with a large file size. It's a better choice to convert videos to HEVC for keeping the original quality with a half file size.
2. Make Video Easier to Store or Transmit
Converting video to HEVC is the perfect solution to compress video for less storage space and bandwidth consumption.
How to Convert Video to H.265/HEVC?
WonderFox HD Video Converter Factory Pro is a versatile and powerful HEVC converter, HEVC decoder (H.265 decoder), HEVC encoder which is also a great helper to convert any video to H.265 standard. For example, let's convert MP4 to HEVC/H.265.
Step 1 - Add Any Video into HEVC converter
Simply click "Add Files"; button or drag any video into this H.265 video converter. Also you are allowed to download HEVC movies and even download 4K video by clicking "Download Video" button.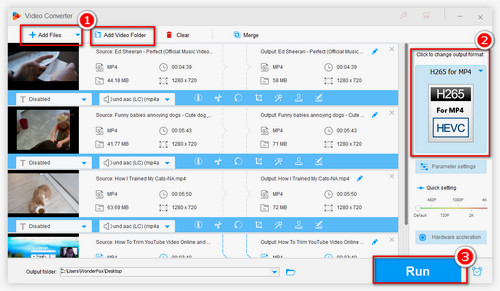 The best H.265 converter interface
Step 2 - Set output format
Open the output format drop-down list on the right. You'll find 200+ various formats and devices here. Choose "H.265 Video" under Video tab.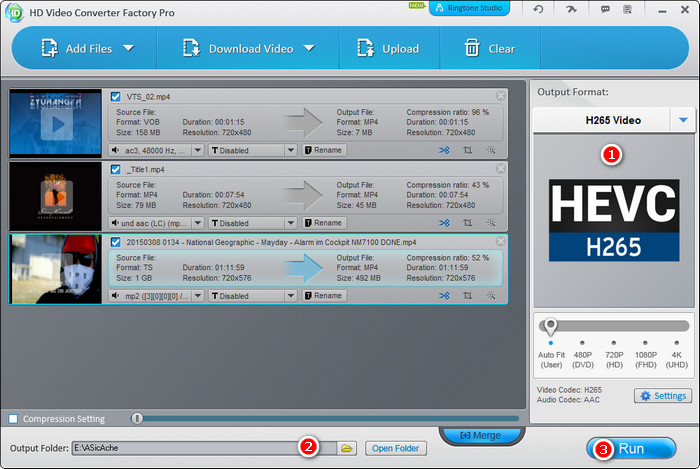 3 Steps to Convert Any Video to HEVC
Step 3 - Run the conversion
Set output folder and hit Run button. The program will convert to HEVC format immediately.

Congrats, problem solved now! Why not keep the full-licensed program for
LIFETIME
at lowest price now!
Still have question? Tell us and get the answer within 24 hours.