By installing the Xvid codec, you can access, view, and play the Xvid-encoded videos without error. Since Xvid is an open-source project, you can get the Xvid codec completely for free.
You can get the Xvid video codec downloaded from the official Xvid website https://www.xvid.com/download/. After downloading the Xvid codec, click the downloaded .exe file and follow the onscreen instructions to complete the installation. Then, you can open the media player on your Windows and enjoy your Xvid files without interruption.

The Xvid video codec is available for free download on various platforms. Besides the Xvid website, you can download the Xvid codec for Windows from CNET and Softonic.com.
Note.
1. While the Xvid codec is designed for Windows, it is also available for Linux operating systems.
2. Before you install the Xvid codec on your system, close the media player app so the change can be correctly applied.
3. You will need to have DirectX software and a compatible media player like Windows Media Player to ensure that Xvid will function.
If you cannot use this codec or the codec does not work, you have other options to consider. One alternative to Xvid codec download is an Xvid video codec converter, like the Free HD Video Converter Factory. It can help you convert Xvid to MP4, MPEG, H264, WMV, and other popular formats to make the file playable on Windows or other device. Here are the simple steps to complete the conversion.
Step 1. Download and install Download and install Free HD Video Converter Factory on your Windows.
Step 2. Open the software and enter the "Converter" module. Then, drag your Xvid-encoded files into the program.
Step 3. Open the right-side output format list and go to the "Video" section. Choose your preferred video format from the options below.
Tips. For advanced users, you can open the "Parameter settings" and continue changing the video settings, such as video codec, bitrate, resolution, frame rate, volume, and more.
Step 4. Finally, click "Run" to start the conversion. You should have no problem playing the converted file on your Windows now.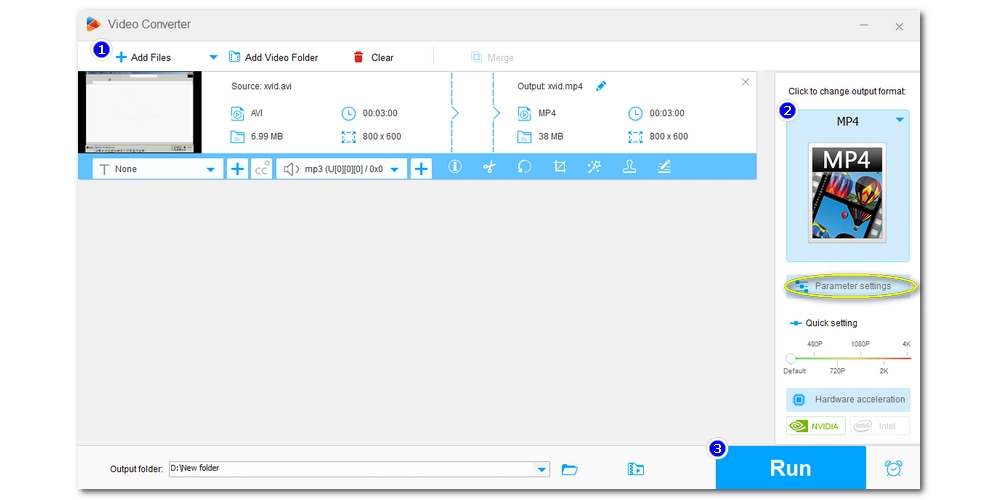 In addition to the Xvid video converter, you could try an Xvid codec player, such as VLC for Windows 10. VLC comes with a massive codec library that can directly open almost any format of your desire.
FAQs
1. How do I download Xvid codec for Windows Media Player?
You can download the Xvid codec from the official Xvid website and then complete the installation. The Xvid codec will be added to the Windows Media Player and you are able to play Xvid codec movies on your PC through Windows Media Player now.
2. What is the difference between DivX and Xvid?
Both are popular video encoding formats. But DivX is proprietary software that is only available for a limited number of platforms, while Xvid is a free program that can be used on all systems.
Wrapping up
Downloading Xvid video codec, using an Xvid converter, and getting an Xvid codec player for Windows 10 are all useful methods to play back Xvid-encoded files. I hope you'll find this article helpful. Thanks for reading. Have a nice day!