Disclaimer
WonderFox does not endorse or encourage piracy at any level or in any form. All responsibility falls on you to check the copyright and legal status of the content(s) you access. You should only access works not protected by copyright.
According to the Academy of Motion Picture Arts and Sciences, a short film is "an original motion picture that has a running time of 40 minutes or less, including all credits". Though the film industry is still dominated by feature films, short films are receiving increasing popularity over recent years. And it has more power than you think, as is attested by the fact that not a few big pictures are originated from short films. If you are attracted by short films and ready to binge on some cool shorts, here are the six best short film websites where you can catch a huge variety of short films for free. Just lean back and enjoy the show!
Hot Search: Safe Free Movie Sites | Where to Watch New Released Movies | Free Classic Movie Sites | Free Live TV Streaming Sites
6 Best Short Film Websites to Watch Short Movies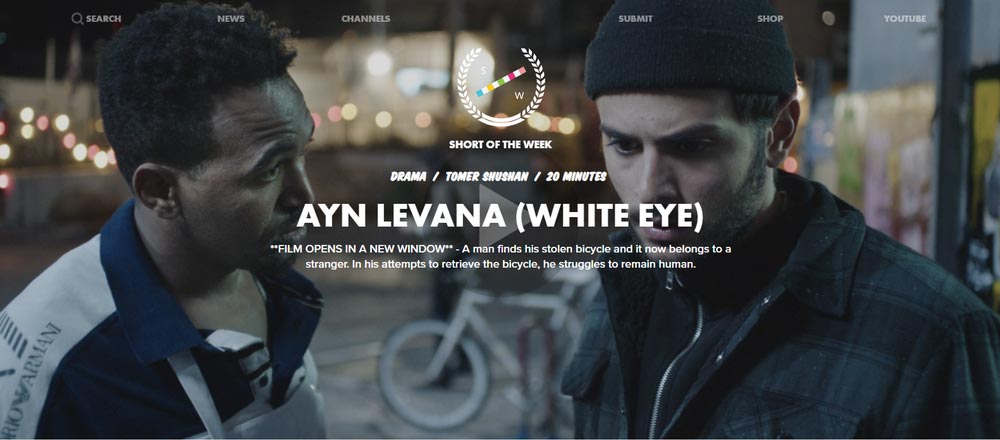 Short of The Week is a prominent short film platform that garners high-quality shorts from the web and invites independent filmmakers to submit their innovative works for online audiences. If you are into the documentary, animation, sci-fi, comedy, drama, and horror, Short of The Week is your go-to site. What's more, its good curation of different genres of short films makes exploration a delight. The team also has a YouTube channel Short of the Week where the top picks have attracted millions of views. A site totally worth checking out!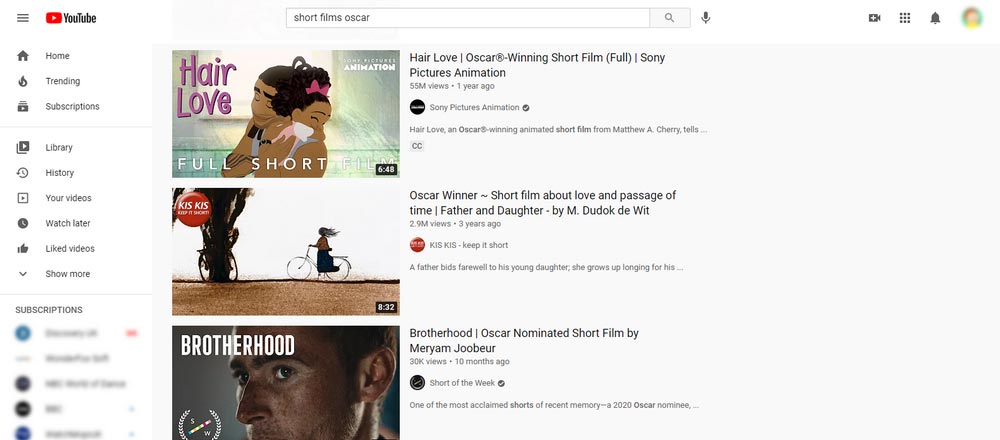 YouTube is always an inevitable answer whenever one talks about where to watch videos. But YouTube indeed hosts tons of short films of various categories. Search by "short films," and you can get all the latest trending and old lesser-known titles pages after pages. Yet the inconvenience is that there's no classification at all, and you have to dig with an extra effort to find your interested ones. However, you can subscribe to some dedicated channels, such as LargeShortFilms and Pocket Films - Indian Short Films, to get quality short movies regularly.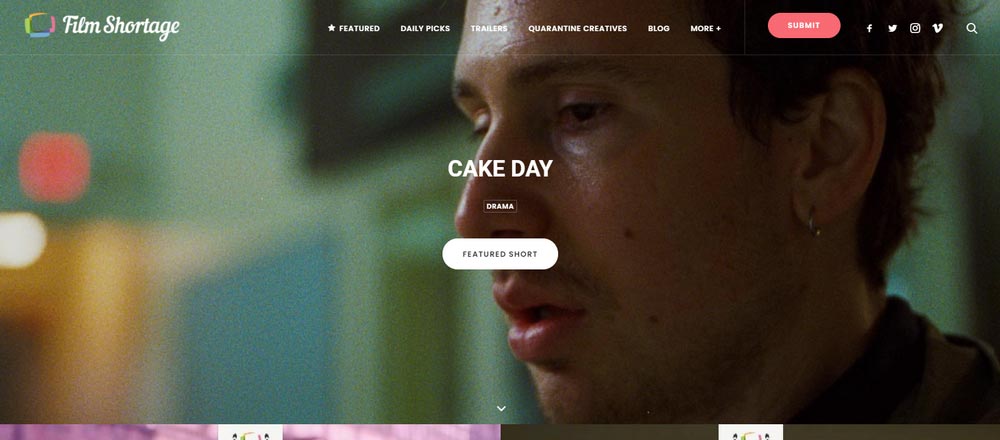 Similar to Short of The Week, Film Shortage is also a featured short film platform bringing the best short films to online audiences. All the shorts are carefully curated and handpicked from the submitted films with a high standard, and the quality is hence guaranteed. You have good chances to view many fantastic well-scripted and well-shot short films from filmmakers of tomorrow in its weekly Featured Shorts and Daily Picks. It has the best collection for suspense and horror short films. So if you are a fan of suspense and horror short films, you are in luck!
Tips: It has an official Vimeo Channel where you can watch short films readily.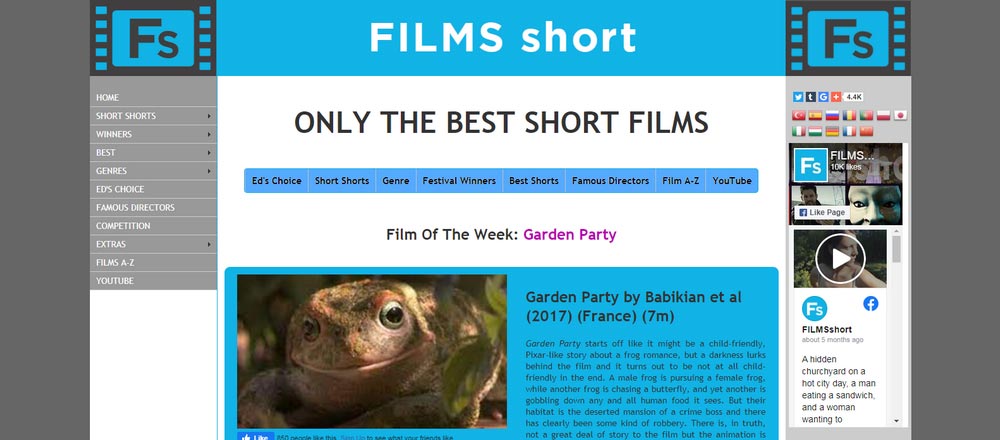 Films Short is one of the best short film platforms to present various free short films from the Internet. The biggest advantage of Films Short is its perfect categorization of short movies. Unlike other sites that mostly classify the content into genre only, Films Short provides you carefully curated short film winners from Oscar, Cannes, Sundance, and more, allows you to browse famous directors' masterpieces and gives you extras by editor's choice. You will have no problem as to where to start. Yet the outdated web interface could be a turn-off for many viewers.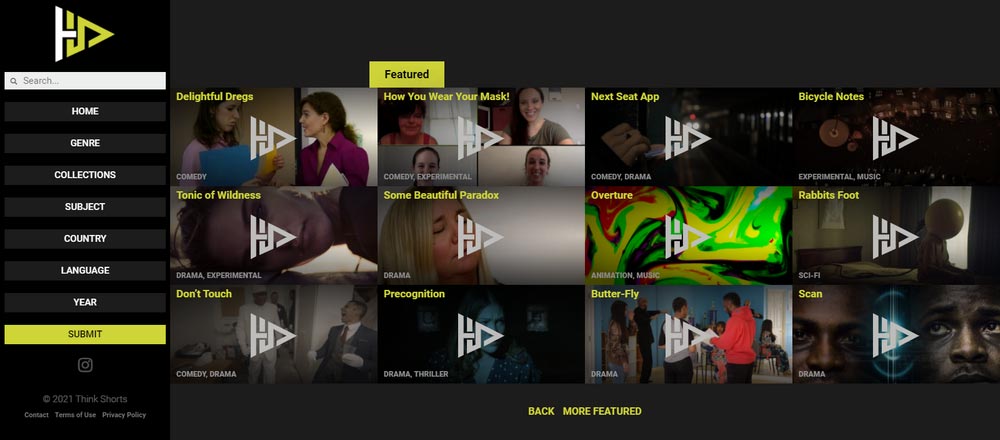 Thinks Shorts is another short film focused site that collects a decent library of shorts from the web, mostly from YouTube. But these shorts are grouped into different genres, subjects, language, year, and countries, which makes it easy for you to navigate to content close to your heart. It also compiles some special shorts collections where you can discover the top ten most-watched short movies, Oscar-winning short films, short films directed by female directors, and more. Just pick one and start watching for free!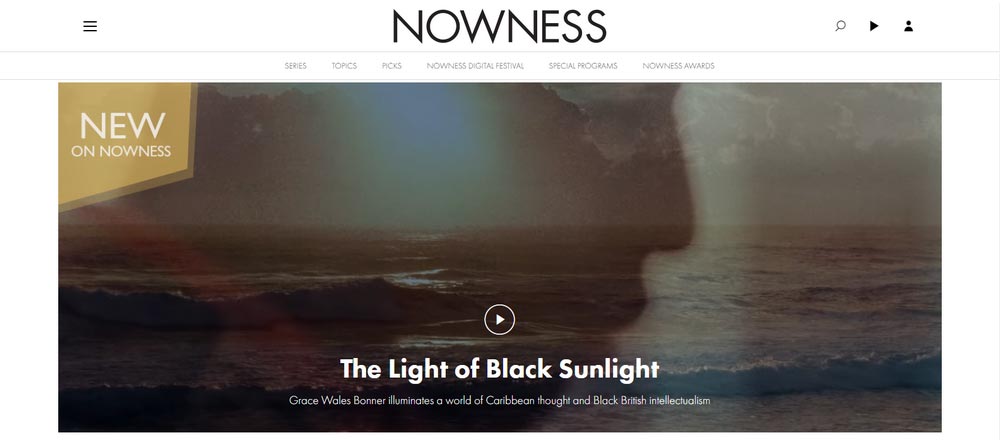 Quite different from the others, NOWNESS curates short films for mainly inspiration and influence across art, design, fashion, beauty, music, food, travel, and culture. Its content is flavored with artistic aesthetics that you are not likely to find on other sites. However, if you want to find narrative short films, this site may not be your best choice.
Wrap-up
That's all for where to watch short movies. If you have other short film websites to recommend, please feel free to share them with us at any time. Thanks for reading!