For recording your voice for a product demo or creating audio narrations for presentations on PC, all you need to do is find a handy voice over recording software. In this post, we've picked out the 5 best ones to share with you. Besides recording voiceovers, each has many unique features. Depending upon the outlined features and your actual needs, you can decide the ideal option for you.
Now, let's get started!
1. Novice-oriented Voiceover Recording Software–HD Video Converter Factory Pro
WonderFox HD Video Converter Factory Pro is our top pick for beginners and intermediates. It comes with an intuitive interface and straightforward workflow, allowing you to record internal sound and microphone separately or simultaneously. It is the best software to record voice over for Google Slides or product demos. Besides, using this software, you can easily capture streaming music, podcasts, audio conference, game audio, etc. Beyond that, once the recording is over, it lets you export your recorded audio files in MP3, WAV, AAC, or AC3. It has no time limit and the audio quality is guaranteed.
Also, this versatile voiceover recording software allows you to record screen with audio. You can use it to record the full or part of the screen. Aside from the video and audio recording tools, HD Video Converter Factory Pro even features an editor and converter, letting you edit and then convert to any needed format.
Feature Highlights
No watermark and no time limitation
Capture video with internal and external sounds
Multiple output formats for video and audio recording
A suite of basic editing tools for recordings
Ability to convert, download, compress…
Replace the audio track, extract subtitles…
Steps to Use the Best Voiceover Recording Software
First off, please free downloadfree download the best software for voice over to get an all-in-one solution for any recording activities on your PC. Then follow the steps below to get started!
Step 1. Run the program on your Windows PC and enter the "Recorder" module.
Step 2. Hit the speaker icon to activate the Audio-only recording mode.
Step 3. Choose an audio recording format from Format drop-down list: MP3, AAC, AC3, and WAV.
Step 4. Tick off the Microphone box to record your voice.
Step 5. Click REC to start the audio recording after a five-second countdown. Press Ctrl +F1 on your keyboard to end the recording.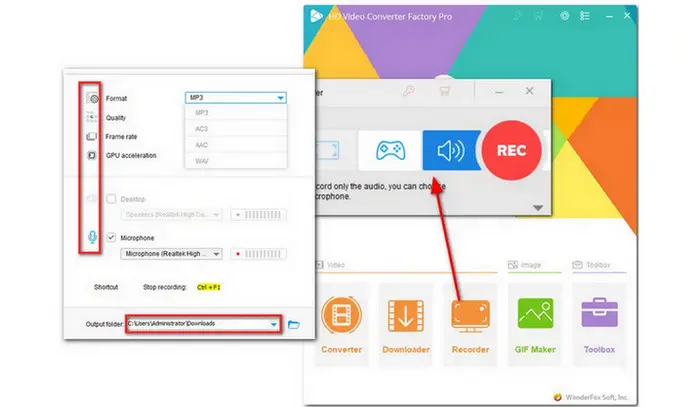 Disclaimer: HD Video Converter Factory Pro is intended for Personal Use Only. We Do Not encourage recording any copyrighted content for commercial use.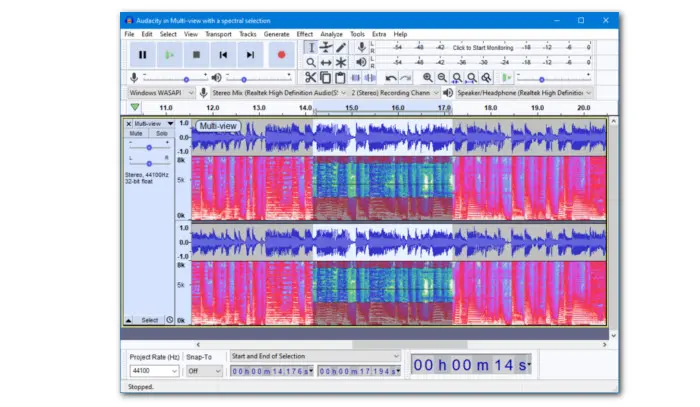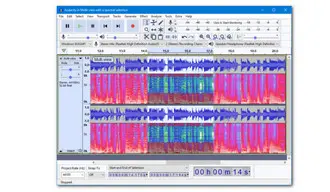 Audacity is free, open-source recording software for voice over that is compatible with various operating systems, including Windows, Linux, and MacOS. This free audio recorder not only enables you to record audio through a microphone or mixer but also allows you to digitize recordings from other media. Moreover, Audacity allows you to set a timer to schedule when a recording begins and ends. Using it, you can record in either 16-bit or 24-bit audio.
Apart from recording audio from multiple sources, this free voiceover recording software also features some editing abilities to let you cut, copy, paste, and delete. Provide a large pack of effects to modify your audio. Use the Auto Duck effect to create voice-overs for podcasts or DJ sets. You can also add normalization and fading in/out effects and remove background noise. In conclusion, Audacity is a notable option for people who only want to record audio on a PC.
Don't know how to use audacity for voice over? You can refer to this post:
How to Record Desktop Audio with Audacity on Windows?
Features Highlight
Completely free
Record audio from multiple sources
Come with a suite of audio effects
Support multitrack recording and editing
Support adding plugins for more needs.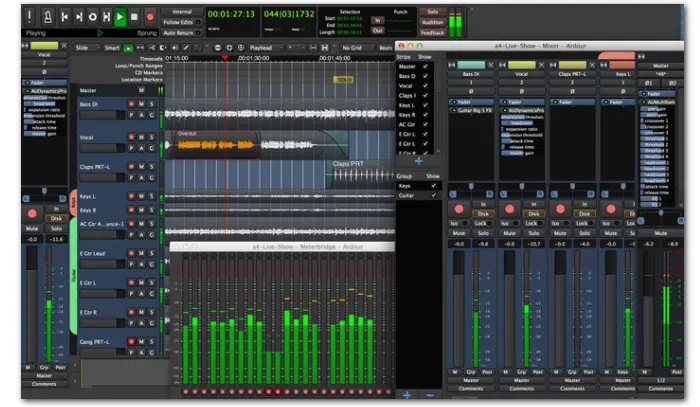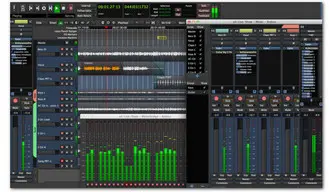 Ardour is an open-source digital audio workstation and offers a free solution to record, edit, mix and master audio and MIDI projects on Linux, macOS, and Windows devices. This free voice over recording software is packed with a plethora of features that will help you create high-quality recordings without hassle. It supports multitrack recording so you can not only record your voice through a mic but also capture a variety of audio sources simultaneously. You can also import audio or MIDI from your hard drive or the Freesound database.
It is not merely an audio recorder but a powerful editor for professional use. That's to say, this tool is not suitable for beginners. The basic editing capabilities include drag, trim, split, time-stretch, etc. You can also extract soundtracks from imported videos and add blank frames. There are also various options for layer regions. Moreover, essential tools for audio mixing are also available, such as Levels, Panning, Equalization, and Compression. Besides, the best software for voice recording is equipped with lots of plugin effects like Reverb and Delay to enhance audio.
Feature Highlights
Support multi-track audio recording
Allow simultaneous recording and editing
No limits on the number of tracks, buses, plugins, inserts, or sends
Non-destructive, non-linear editing with unlimited undo/redo
Access more features by adding plugins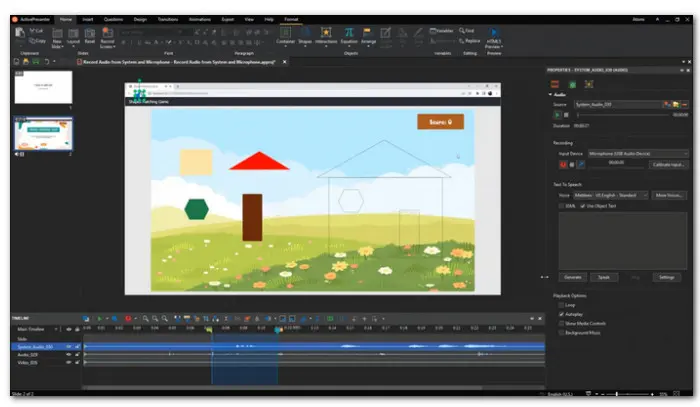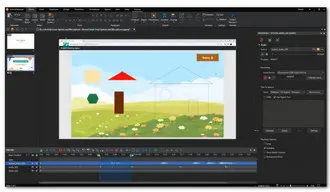 ActivePresenter makes another all-in-one voiceover recording software for both Windows and Mac. It provides two paid plans as well as a free version. The free edition comes with basic recording and editing features. Depending on your need, you can record screen, webcam, and audio at the same time or separately. Moreover, you can even add closed captions and then record audio narrations directly from the Timeline pane during the editing phase.
As for editing capabilities, it includes basic editing features like cut, copy, delete, crop, and change volume to advanced ones like speed up, slow down, insert silence, fade in/ out, or noise reduction. Using it, you can edit your voice recording thoroughly and effectively. Besides being voice over recording software, it can also function in designing interactive courses, editing image, video, and slide content, and so on.
Feature Highlights
Record voiceovers and system audio
Record your screen and webcam
Capture interactive simulation
Equipped with advanced audio effects
Cut/copy/paste/delete/crop/split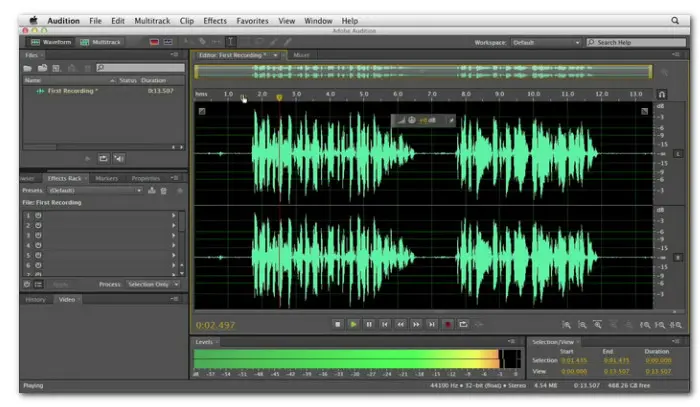 Adobe Audition is a comprehensive toolset that runs on Windows and macOS. It comes with a host of features including multitrack, waveform, and spectral display for creating, mixing, editing, and restoring audio content. Not just to edits and mix, it is also a great software for voiceover recording. Though its interface seems daunting for beginners, the recording process is quite easy to grip. You can quickly record audio from the computer and do voiceovers.
But once you dive into the post-processing procedure, things get different. You have to go through a deep learning curve to understand and use the editing features without hassle. You can change the volume, apply a fade-in and fade-out effect, add a Studio Reverb, etc. It also has other features to improve the quality of your created audio file. One of the best ones is that you can use a Dynamics Processing effect that automatically ducks the music and effects so that you can make your narration clearer. You can try the free trial version to check if it is worth paying for.
Features Highlights
Highly customizable interface
Rich features for audio recording
A wide range of audio effects
Two track mode: waveform (single) and multitrack
Support over 20 output formats
The Bottom Line
All software listed here can help you create quality voiceovers. Depending upon your skill level, you can choose the best one suitable for you.
That's all for the top 5 best voiceover recording software. Sincerely hope this post can be helpful. Thanks for reading till the end. Have a nice day!