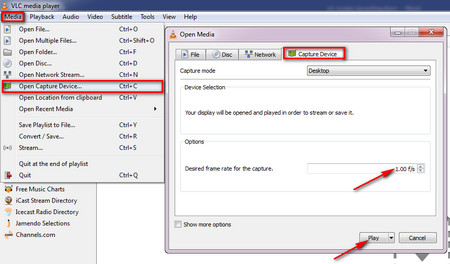 How to Record Desktop with VLC
Step 1. For VLC record screen, firstly, download and install the latest version of VLC screen capture tool from https://www.videolan.org/.
Step 2. Run VLC, click on the menu bar Media, and select Open Capture Device or press the shortcut Ctrl + C.
Step 3. Switch to the Capture Device tab. Here, changing the Capture mode dropdown box to Desktop. Set a number of frames per second in the Desired frame rate box. For basic screen recordings, 10-15FPS should work fine. If you need a high-quality recording, try 30FPS. A higher frame rate means a smoother recording but larger file size.
You may need: 60fps Converter | Reduce Video Size | Video Size Compressor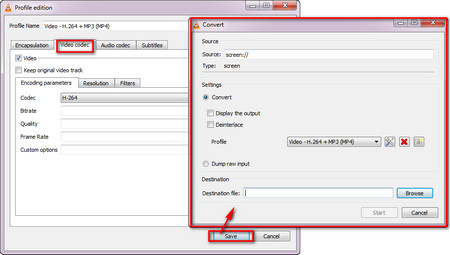 Capture Video with VLC
Step 4. Click on the Convert button. Set a destination file in the Destination section. You can enable the Display the output checkbox to display the contents of your desktop in the VLC window while recording, but this isn't necessary. Then, to adjust the resolution and video codec, click the edit button to the right of the Profile box. Change the resolution by clicking over to the Video codec tab and using the options in the Resolution section. After specifying your options, click the Save button and click the Start button to record screen with VLC.
Step 5. During the recording process, you can freely manipulate the content you want to display. When you're done, click the Stop button to end the recording, and the video you recorded will be automatically saved in your customized output directory.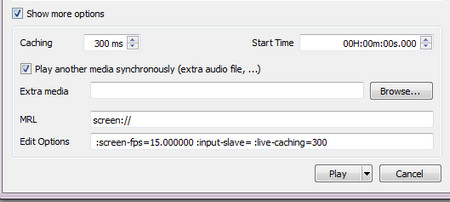 Add Music
There are a few points to note:
1. There is no sound during the recording process. If you want to add background music, after customizing the frame rate in the third step above, you need to check Show more options and check Play another media synchronously (extra audio file,...), and add the required music, then click Convert to repeat the steps below.
2. Only the entire screen can be recorded. Some partial recordings cannot be selected. The final video size may be large. You can use other tools to compress the video if needed.
The above is the entire process of how can VLC record screen. When you are done, open your saved file to view the video of your desktop. You can send this file to others, upload it to YouTube, or do whatever else you like with it.
Since VLC is mainly intended for file playback, the whole process of how to record on VLC might be not so intuitive as you expected. In this case, Why not try WonderFox HD Video Converter Factory Pro, an easier alternative to VLC screen recorder that comes with an intuitive interface and extensive features. Let's dive in!
WonderFox HD Video Converter Factory Pro offers an easier way to capture all activities happening on your Windows screen. With simple clicks, you can record CSGO gameplays, live YouTube videos, Zoom meetings, Skype calls, online concerts, voiceovers, etc., with high quality. It has no watermark, no time limit, and no lag!
Besides the screen recording function, this software also includes a powerful video converter, converter, compressor, editor, GIFs maker, and so on, allowing you to further edit the recording for better sharing and viewing. Free download this functional screen recorder and follow the steps below to start recording now!