There are a variety of reasons why you fail to post MOV to Instagram. A few of the contributing factors are listed below. They are:
1. Poor Internet connection;
2. Your account is blocked, banned, or disabled;
3. Your video might have copyright issues;
4. The video content violates Instagram's terms and conditions;
5. The MOV video parameters don't meet the video upload requirements for Instagram.
All these can lead to Instagram upload MOV failing issues. Of course, there may be a lot of other issues and hence, this guide is not exactly exhaustive.
The followings are some solutions to fix the mentioned matters.
1. If connected to WIFI, check the WIFI signal strength. You can turn it off, and again turn it on. You can either relaunch the app or clear the app's cache. Sometimes, it works well.
2. Simply log out and log in to your account. Or reinstall the app and log in again.
3. To avoid violating the copyright law, you'd better only post content that you've created yourself. BTW, posting content that facilitates copyright infringement through unauthorized devices or services is also not allowed on Instagram.
4. Check if there is any illegal content in your video. And for more details about Instagram terms, you can visit its official help center: https://help.instagram.com/581066165581870
5. Personally speaking, Reason 5 is the most likely reason for "Can't upload MOV to Instagram" issue. An easy and fast solution is to edit the MOV videos and make sure the finished videos meet the video specifications on Instagram.
First of all, both files with the .mov and .mp4 extension are supported by Instagram, but they are just video containers and may store different video or audio codecs. There are more detailed requirements for the supported video, including video size, video resolution, frame rate, bitrate, video length, and so forth. Therefore, before uploading MOV files to Instagram, keeping the video specifications in mind and editing the videos by the book can help you upload MOV video to Instagram without a hitch.
There are 4 types of Instagram videos. They are Instagram Video (formerly IGTV), Instagram Stories, Instagram Reels, and Instagram Live. To ensure your MOV videos easily get accepted, you'll need to consider the following video specifications.
# General Instagram Video Requirements for Uploading
Video Format: MOV and MP4.
Video Codec: H264 is highly recommended.
Audio Codec: AAC
Video resolution: 1080 x 1920
Aspect ratio: 9:16
Bitrate: 3500kbps
Frame rate: 30FPS
# Instagram Video (IGTV)
Note: Instagram merged IGTV and Feed videos into a single format called Instagram Video back in October 2021.
Video Format: MP4, MOV, GIF
Aspect ratio: 9:16, 16:9, 4:5
Video resolution: 1080 x 1920. The minimum resolution is 720.
Video length: It can be up to 60 minutes.
Maximum File size: For videos less than 10 minutes is 650MB. For videos up to 60 minutes, it's 3.6 GB
#Instagram Stories
Aspect ratio: 4:5 for vertical video; 1:1 for square video.
Resolution: 1080 x 1920.
Max file size: 4GB.
Maximum video length: 15 seconds. (But you can share up to 4 at one time. These will play one after the other to a maximum limit of 60 seconds.)
#Instagram Reels
Preferred video format: MP4
Maximum video length: Up to 90 seconds.
Aspect ratio: 9:16
Resolution: 1080 x 1920.
Max file size: Under 15MB.
#Instagram Live
Video resolution: 1080 x 1920.
Aspect Ratio: 9:16
Maximum video length: Up to 4 hours.
So far, we have known the required video specs for uploading MOV to Instagram. Next, let's look at a handy tool to help you edit the MOV videos that Instagram will have no problem accepting.
WonderFox HD Video Converter Factory Pro is a powerful MOV to Instagram converter. Not only can you adjust MOV video parameters to fit the requirements, such as encoders, video resolution, aspect ratio, frame rate, bitrate, and even audio channels and volume, but you are also allowed to split the MOV video exceeding the length limits into clips. More than converting MOV to Instagram, this versatile tool supports almost all video formats and can help convert AVI to Instagram, HD MP4 to YouTube, MKV to Vimeo, etc. Additionally, the lightning mode can process the video files 50X faster.
Free download and install this efficient tool on your Windows PC for preparation. Then follow the guide below to convert and upload MOV to Instagram without trouble.
Step 1. Import MOV Videos into the Program
Run HD Video Converter Factory Pro on your PC and open the Converter module. Next, drag the unsupported MOV videos into the program directly, or import files through the + Add Files button.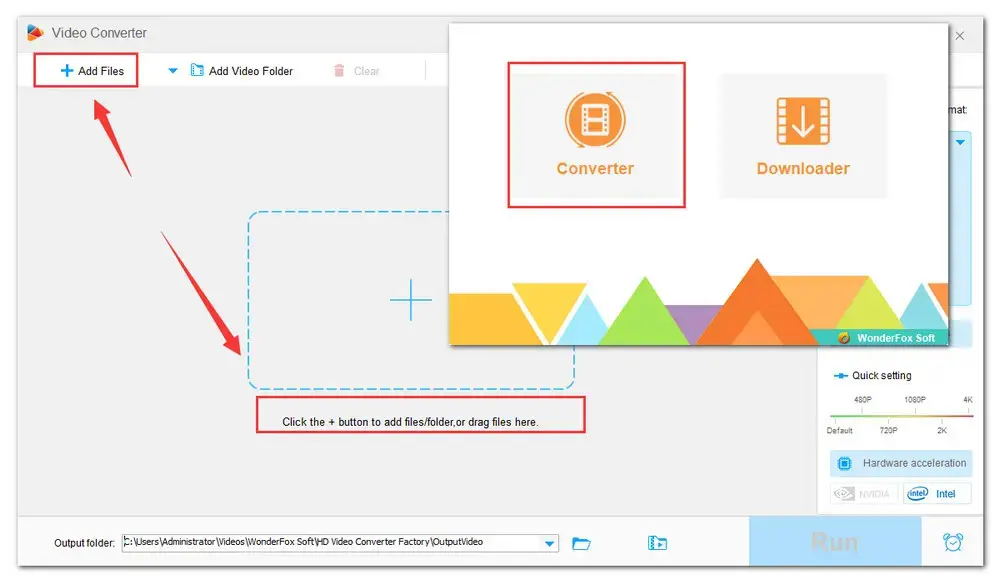 Step 2. Choose Targeted Output Format
Head to the output format section on the right side. Then go to the Video category and select MOV or MP4 as the export format.
Step 3. Modify MOV Video Parameters for Instagram
At the Parameter settings below, you can further modify the output settings. For example, the ideal Instagram video format is MP4 with an H264 video codec and AAC audio. Select the target codec respectively from the video and audio Encoder drop-down list.
Click each option and select the suitable resolution, frame rate, and bitrate for Instagram from the drop-down menu.
Hot search: Audio Bitrate Converter | Change Video Resolution | Compress HD Videos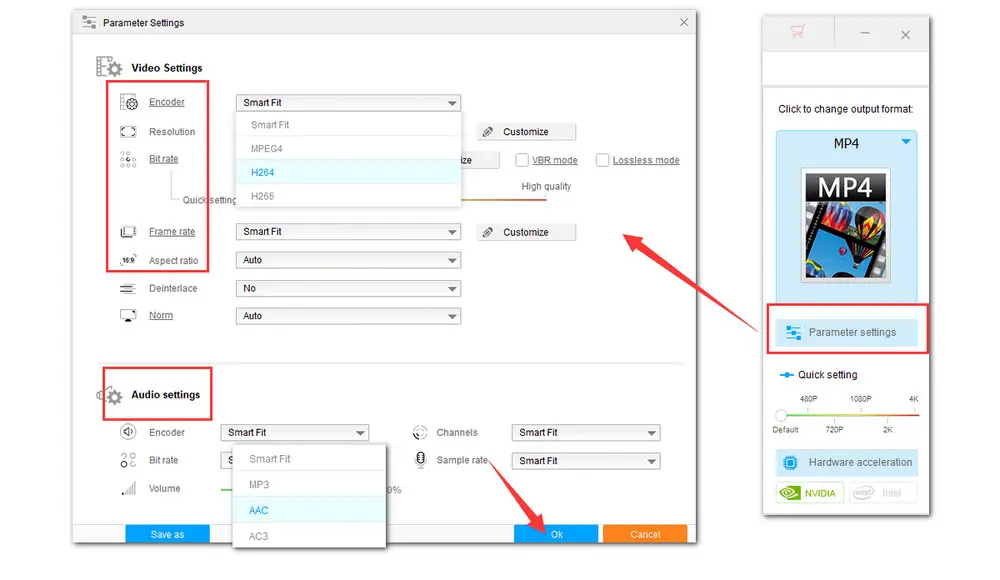 Step 4. Trim/Split/Rotate/Crop/Add Effects/Add Logo…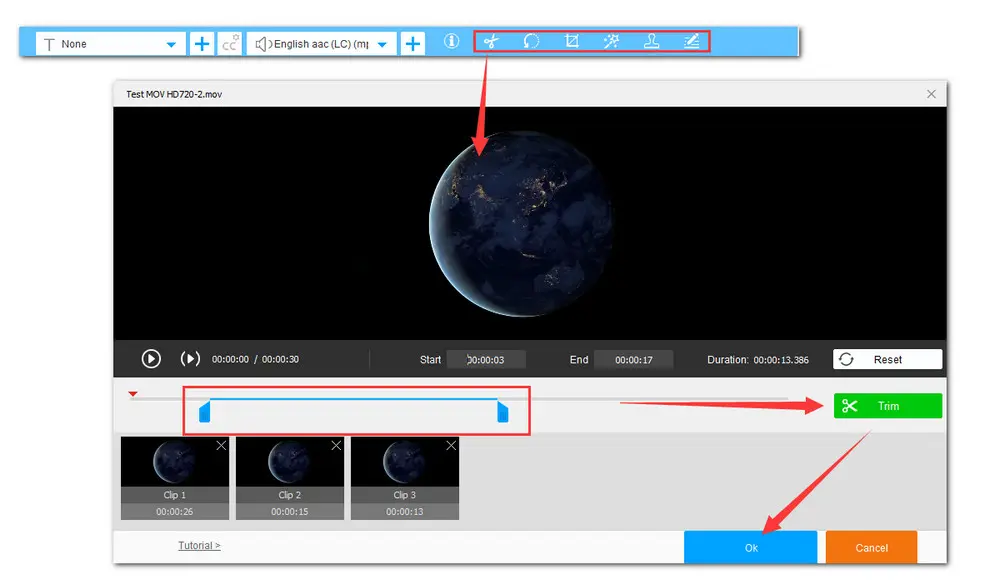 Step 5. Start Processing MOV Videos
Once all the settings are done, specify the output folder via the inverted triangle icon at the bottom. Finally, press the Run button to start the process. Now, you can transfer the finished videos to your phone and then upload MOV to Instagram smoothly.
Tips: To ensure get the best video quality for posting, you can transfer the edited files without compressing through AirDrop, Dropbox, or a USB cable.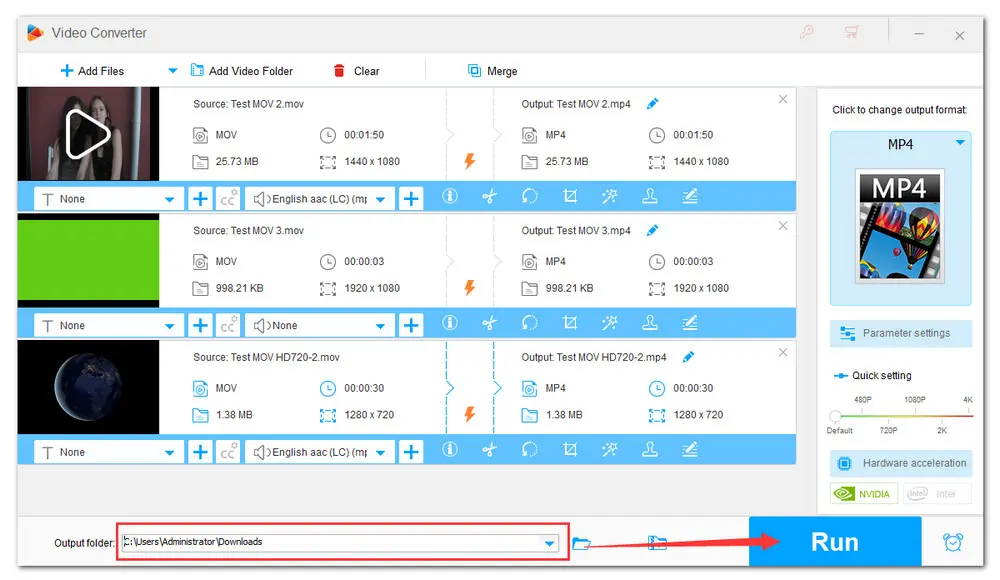 Want to upload MOV videos to Instagram without downloading and installing any software? The easiest way is to access the Instagram website. Instagram's web version also lets you scroll through your feed, reply to direct messages, view your notifications, post photos and videos, and more. Noting that Instagram on PC only allows you to create posts, while the mobile app supports Post, Reel, Story, Live, and Guide. Moreover, it has fewer editing tools compared to the mobile version. Next, let's follow through the steps of how to upload MOV to Instagram from PC.
1. Visit https://www.instagram.com;
2. Log in to your account;
3. Press the + button at the right top;
4. Hit Select from computer in the pop-up window to add the finished MOV video;
5. In the preview window hit the Next button;
6. Then you can select a ready cover photo and Trim the video. Press Next;
7. Write a caption. (Optional: Add a location, add alt text, or hide the like and view)
8. Click on the Share button. Done!
Wrap-up
That's the whole process of how to upload MOV to Instagram readily after converting and editing. Following the recommended video specs on Instagram and applying them strictly can help bump up the video quality you post and offer the best possible viewing experience.
By the way, this MOV to Instagram converter is also available for other multimedia solutions, including downloading online videos from YouTube, Vimeo, and other 1000+ sites, compressing large videos, fast joining video clips, adding subtitles, extracting audio from videos, and more.
DownloadDownload the software to explore more exciting features!