Background noises can have a bad influence on the video quality and our viewing experience. To avoid background noise when screen recording with sound, you should choose a good screen recorder and pay attention to your recording method. If you have no idea about which recording app to use, learn two well-received recorders for Windows & Mac in the following post and see how to screen record without background noise on your device.
How to Record Screen without Background Noise Windows 10?
A screen recording app without background noise is necessary for this task. You can use WonderFox HD Video Converter Factory Pro, the top-rated screen recorder for Windows that can capture any screen activity with audio in high quality. It allows you to record sound from multiple sources, such as the system Speaker, Realtek Digital Output, Microphone, and Stereo Mix (high-definition audio). You can easily select your wanted audio source to avoid background noises from others.
4 Steps to Screen Record without Background Noise
Step 1. Open the Recorder
Launch HD Video Converter Factory Pro. Click "Recorder" on the home interface.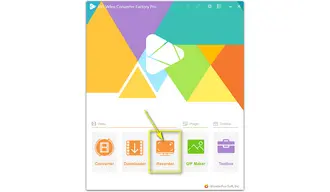 Step 2. Select a Recording Area
In the Screen Recorder window, there are four recording modes followed by custom, full-screen, game recording, and audio-only. Choose one mode, and then, you can drag the border lines on the screen to adjust your recording region. Tap the "OK" button to confirm your selection.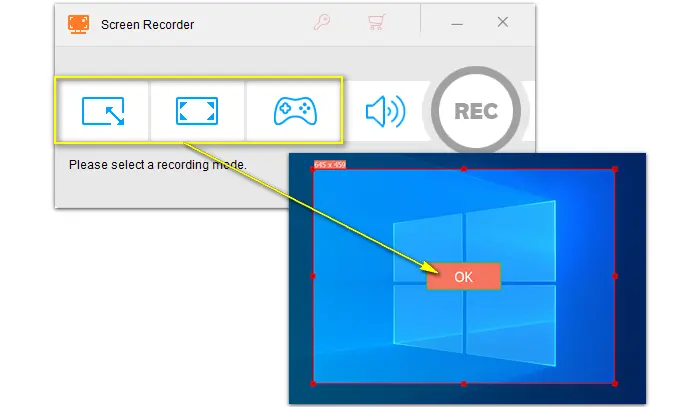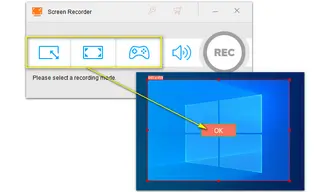 Step 3. Customize Recording Settings
From the drop-down list of the basic settings, select a recording format, quality, and frame rate. GPU acceleration is also supported. Then, check the "Desktop" audio source to record the sound from your computer only and deactivate the Microphone to avoid noises from your mic, or reversely.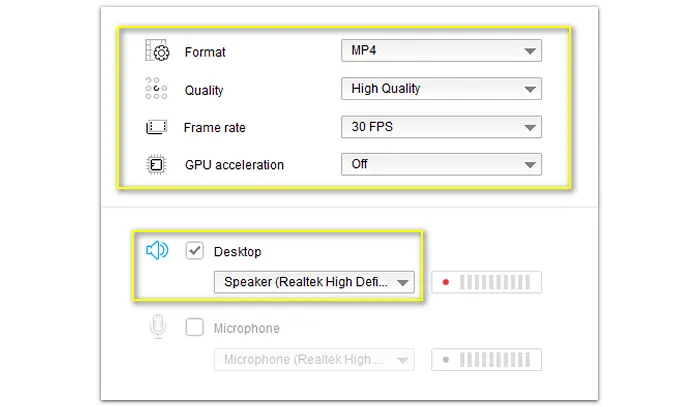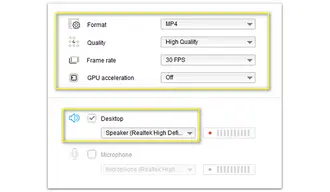 Step 4. Start Recording Your Screen
Click the inverted triangle button at the bottom to specify an output path for your recording. Finally, press "Run" to start recording after five seconds countdown.
To stop recording, tap the "Stop" icon at the edge of your screen or press hotkeys "Ctrl" + "F1" on your board.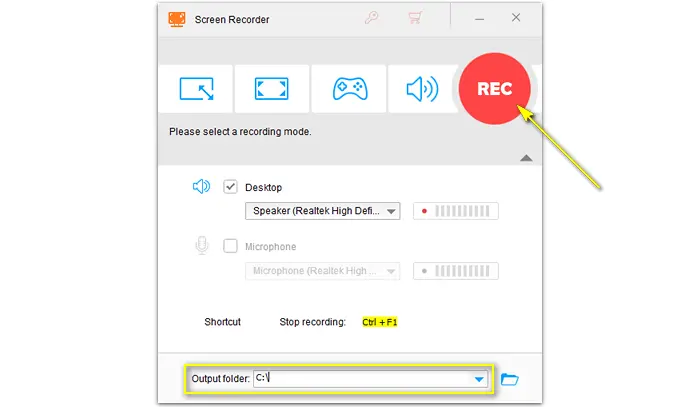 How to Screen Record Screen on Mac without Background Noise?
Mac users prefer to choose QuickTime Player to record their screens. Many people get background noises when recording video with audio but don't know how to solve the problem in this pre-installed program on Mac. Before initiating the recording in QuickTime, you should install noise cancellation software or some other plugins like Krisp for audio recording from your Mac system.
With the help of screen recording and noise cancellation software, you can reduce noise in your recording easily. Here's how to record screen without background noise with them:
Step 1: Download and install a denoiser on your Mac, then set it as the default audio source for recording.
Step 2: Open QuickTime Player, click "File" > "New Screen Recording" on the top toolbar.
Step 3: Hit the down arrow and choose your installed noise cancellation option from the list as the audio source.
Step 4: Click the record button to begin recording on Mac without background noise. When you finish the screen recording, select "Save" under "File" to store the recording in your folder.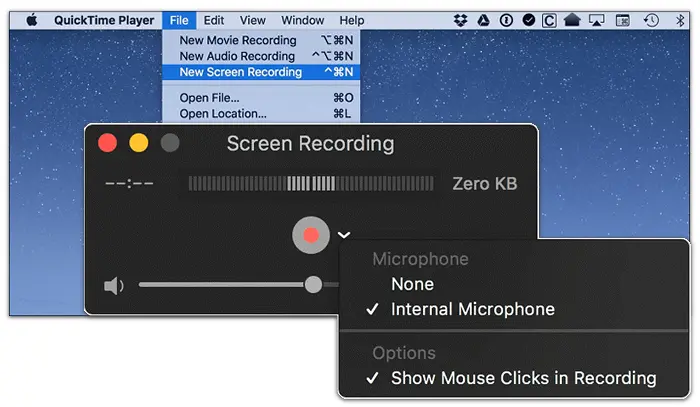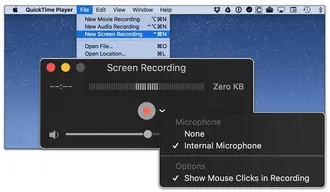 Tips to Screen Record without Background Noise
Apart from using professional recording software, you can get rid of the noise from your screen or voice recording by following the tips for how to record screen without background noise ordinarily:
1. Create a quiet environment
If you need to record the mic and system audio at the same time, a relatively quiet recording environment can help you reduce noise through the microphone.
2. Choose the right microphone
Usually, the dynamic microphone is better than other microphones because it's less sensitive to ambient sounds. Also, you can plug a USB mic into your laptop or computer to prevent background noise.
3. Keep a proper distance from the microphone
When you record with your mic, you should not be too close or too far from it. You can even use a pop shield for the microphone, which will help maintain a natural speech signal and reduce background noise while recording.
At Last
That's all I want to share about how to screen record with sound without background noise on Windows and Mac. And with the screen recording tips, I believe you can record a video with no background noise with ease now. Thanks for reading! Have a nice day!