"Does Snapchat notify when you screen record a video call?"
Of course, the answer is yes. Whether you screen record Snapchat stories, chats, or video calls, it will notify the person involved. If you screen record a Snapchat story of someone, they will receive an instant notification in the viewer's list with a double arrow icon. Similarly, when you screen record the chat between you and other people, a notification that "Someone screen recorded the chat" will appear on the chanting panel as soon as you start recording the conversation. When you screen record a Snapchat video call, Snapchat will also alert the other person once the recording is over with a double arrow icon.
This clearly shows that Snapchat takes users' privacy very seriously. But if you really want to record important stories, chats, and video calls without them knowing, just continue reading.

This part provides some tips to help you screen record on Snapchat without notifications.
Tip 1. Disconnect Your Phone from the Network
Firstly, load the Snapchat stories you want to record. Then disconnect your phone from the internet by turning off the data network or Wi-Fi. Now, you can record Snapchat stories without them knowing.
Tip 2. Turn on the Airplane Mode on Your Phone
This method is similar to Tip 1. It will cut off the network connection and prevent Snapchat from sending a notification to the involved person. You also need to first load the story or snap you want to record.
Tip 3. Mirror your Phone on a PC
Mirroring your phone on your PC is another way to help you record Snapchat without them knowing. You need to download a screen-mirroring app on your phone and follow the instructions to mirror your phone's display on your PC. Then you can start recording with PC screen recorders like WonderFox's built-in screen recorder.
Tip 4. Use Another Phone to Record the App
If you have another phone or camera, you can then record the Snapchat content without sending notifications. But the quality of recorded videos may not be so good.
Now that you know the possible ways to record Snapchat without sending notifications. And the following content will detail how to screen record on Snapchat without them knowing on different devices.
If you are an iOS user and want to record Snapchat on iOS devices like iPhone or iPad, you can definitely use the built-in screen recorder to record Snapchat without them knowing.
The following will show you how to record Snapchat on iPhone/iPad.
Step 1. Scroll down your screen to access the control center.
Step 2. Tap the screen recording icon and it will start recording after a 3-second countdown.
Step 3. Launch Snapchat and open the Snap you want to record.
Step 4. Reopen control center and tap on the red record button to stop recording.
Tips: if you cannot find the "Screen Recording" feature in the "Control Center", enter the "Settings" window, go to "Control Center" > "Customize Controls", and scroll down to tap "Screen Recording" > "+" to add the recording feature to the control center.
Like iOS devices, Android phones also have a built-in screen recorder that they can take to record on Snapchat without downloading other third-party applications. Below is a simple guide on how to enable screen recording on Snapchat with an Android built-in screen recorder.
Step 1. Locate the control panel by swiping down or up your phone screen.
Step 2. Tap on the screen recording button.
Step 3. Open Snapchat and view the Snaps you want to save. Start recording by clicking the red recording button.
Step 4. Navigate to the control panel again and hit the screen recording button to stop recording.
If you demand more features for recording, you can also download and install some third-party software like AZ Screen Recorder, Mobizen, etc., and start recording.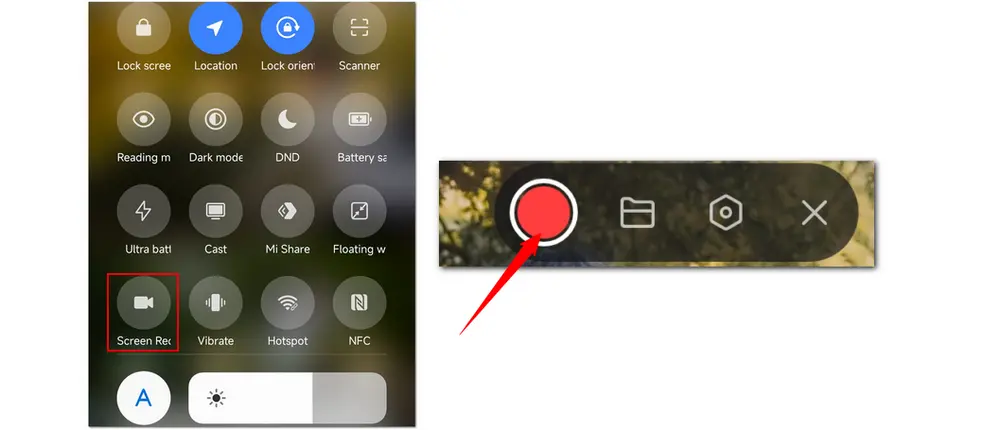 As stated before, you can mirror your phone's screen to a PC and then start recording. Moreover, Snapchat now enables you to view Snaps, chat, and make video calls with friends online from its official website. So you can also record Snapchat on your PC now.
To record Snapchat on Windows, you cannot miss the handy screen recorder built in WonderFox HD Video Converter Factory Pro, which is designed for Windows users to process video and audio files, as well as record the screen. It allows you to record all kinds of screen activities with audio, like live streaming videos, gameplay, video meetings, etc. Before recording, you can customize the recording area, format, quality, frame rate, and audio source. With it, you can record PC screens with high quality and no time limit.
Additionally, it also provides some simple video editing features that you can use to trim and crop the recording, among other things.
Download it on your Windows PC and start recording as follows.
Before starting recording, please mirror your phone's screen to PC or go to the Snapchat official website to get ready.
Step 1. Launch HD Video Converter Factory Pro on your device and open the "Recorder" module.
Step 2. Choose to record the full screen or part of the screen from the top of the interface and select the recording area manually. Click "OK" to confirm the recording area.
Step 3. Modify the recording format, quality, frame rate, etc. to your desire, or leave them as defaults. Choose the audio source (system sound and microphone) you want to record with the screen or not record the audio. Specify an output folder for the recorded video.
Step 4. Click on the red "REC" button, and it will start recording after a 5-second countdown. To stop recording, just press "Ctrl + F1" on your keyboard.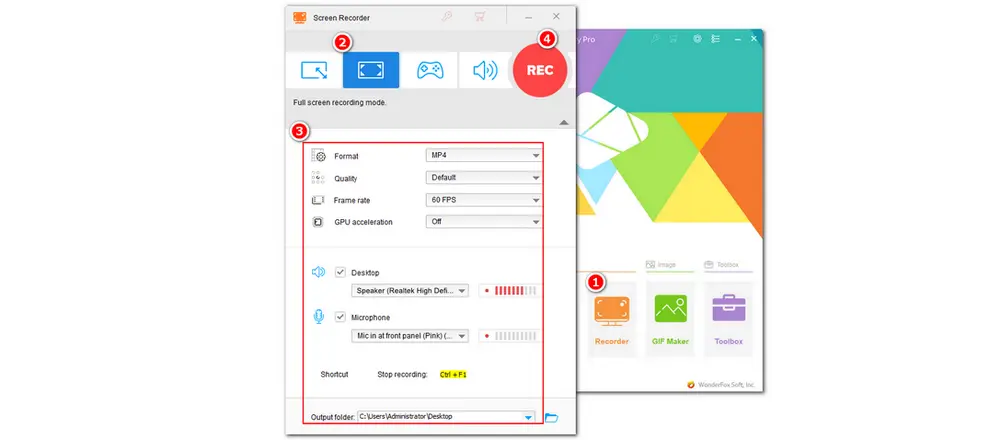 Bottom Line
Above is all the information about how to screen record a Snapchat. You can now screen record Snapchat without notification on iPhone, Android, Windows, and Mac. Therefore, the most recommended way to record Snapchat secretly is to mirror the phone's screen to a PC as Snapchat cannot read the computer's activities.
FAQs about Screen Record Snapchat
Is it illegal to screen record someone's Snapchat content?
Actually, it depends on the purpose and situation of the screen recording. It is not illegal if you record it for yourself.
Does Snapchat send notifications when you take s screenshot?
Yes, Snapchat will send notifications to the involved person as soon as someone takes a screenshot on the Snaps.