What Is MJPEG
Compare MJPEG withH.264
In multimedia, MJPEG, aka Motion JPEG or M-JPEG is a video compression format in which each video frame or interlaced field of a digital video sequence is compressed separately as a JPEG image. MJPEG format is widely applied to closed circuit TVs, digital recorders, web cameras, and non-linear video editing system. As a historical encoder, it shares good compatibility with some MJPEG players, browsers and even game consoles.
MJPEG VS H.264
Compared with H.264, MJPEG takes a very different approach to video compression. H.264 compresses a video as a whole while MJPEG compresses a video by its single frame and interlaced field. MJPEG does pretty well in output quality, but as for end-users, they can even hardly notice the differences in the video quality with their naked eyes.
The defects that MJPEG brings are easy to see as well - low compression ratio, huge bandwidth and storage occupation. In one word, whether to choose MJPEG encoder or H.264 mainly depends on what users want. As for closed circuit television, HD video recording and editing, MJPEG will obviously have a better performance. But as for regular video editing, transmission, sharing and playback which do not ask for an output of extremely high quality, H.264 is definitely your best choice!
Best Software to Convert MJPEG to H.264
Although MJPEG is as extensively used as H.264, but as you can see above, MJPGE still suffers from quite a lot disadvantages which make it less convenient than H.264. In this case, most users tend to convert MJPEG to H.264 for better playback.
HD Video Converter Factory Pro should be the best choice for you to finish the conversion. It is a multifunctional video & audio converter with over 300+ codecs and formats available. Besides MJPEG to H.264/MP4, conversion like MPEG4 to MP3, H.264 to H265, and H.264 to AVI are also supported and video quality can be saved to the greatest extent in the cause of the process.
Free download the best convenient MJPEG converter to change MJPEG format.
Convert MJPEG to H.264 within 3 Simple Steps
Step 1 Load Video into Motion JPEG Converter
Launch HD Video Converter Factory Pro. Press Converter icon. First preset an output folder at the bottom. Then, click on "Add Files" and choose the MJPEG file you want to convert by double-clicking it in its folder. Or in a more direct way, you can drag the video's icon and move it to the interface. Meanwhile, batch conversion is supported.
Add a MJPEG video file
Step 2 Convert Video to H264
Click below "Output Format" on the right side. In the format list, choose H.264 as output under the corresponding video tag by clicking on its icon. What's more, if you have some basic knowledge about video parameters. You can click on "Setting" after choosing output format. In the opened list, frame rate, bit rate, aspect ratio and resolution can be changed.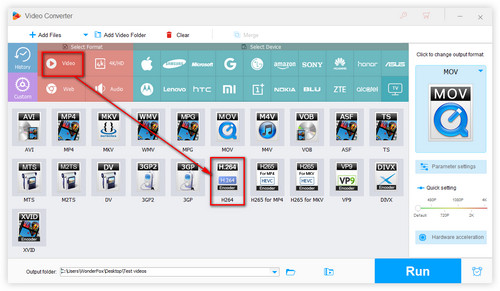 Choose H.264
Step 3 Finish MJPEG to MP4 Conversion
Click on "Run" to start video conversion. Within a few seconds, the whole process will be finished and then you should find the output H.264 video in the folder you preset before.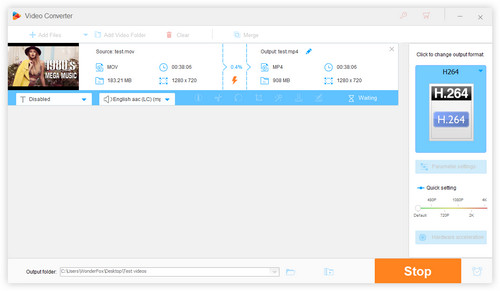 Start conversion
How to Edit Your Video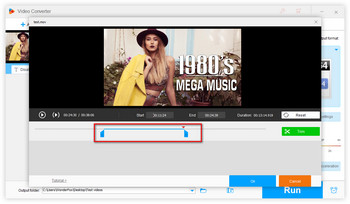 Edit a video
More than video conversion, HD Video Converter Factory Pro can also efficiently help you edit whatever videos you want. After adding videos to the interface. You can combine several videos together to make a longer one or cut video clips to get rid of what you don't want. Just click on the Trim button of the scissors pattern and drag the slider to trim the video clip you want.
This is all about what MJPEG is and how to convert MJPEG codec to your desired format with ease with the most powerful video converter.
Now, please download the HD Video Converter Factory Pro to complete your jobs.