What is MCPR? How to Convert MCPR to MP4?
Q: "Hi! I'm new to the Replay Mod, and everything works fine, but I don't understand how to convert the .mcpr recordings of the replay recordings folder into an MP4 file or any file that lets me open the recording. I've been looking for programs to open the file, but none of them worked (or I don't understand what I'm doing.)" – From a Replay Mod user.
A: To solve the problem, we must first understand what the MCPR file is. An MCPR file is a zip file created by Minecraft Replay Mod after you finished recording gameplay. Yet, it contains no video or audio data except the instructions for the replay. And the MCPR file can only work with Minecraft Replay Mod to present you the recorded gameplay. If you want to play MCPR recordings on other platforms, you'll have to convert MCPR to a common video format like MP4, AVI, MOV, etc. Since the MCPR file is a Minecraft-associated file, only Minecraft Replay Mod can edit and render the MCPR file to MP4. So don't waste time trying other third-party converters, Minecraft Replay Mod is the MCPR to MP4 converter you'll need. The next part will show you how to export MCPR to MP4 using the Replay Mod.
Hot Search: Record Minecraft Gameplay | Record Switch Gameplay | Record Steam Gameplay
How to Use Replay Mod to Edit and Render MCPR to MP4?
Step 1. Load MCPR in The Replay Mod
Open the Replay Mod. And in the Main Menu, click the Replay Viewer and select the MCPR recording you want to convert to MP4. Then click "Load."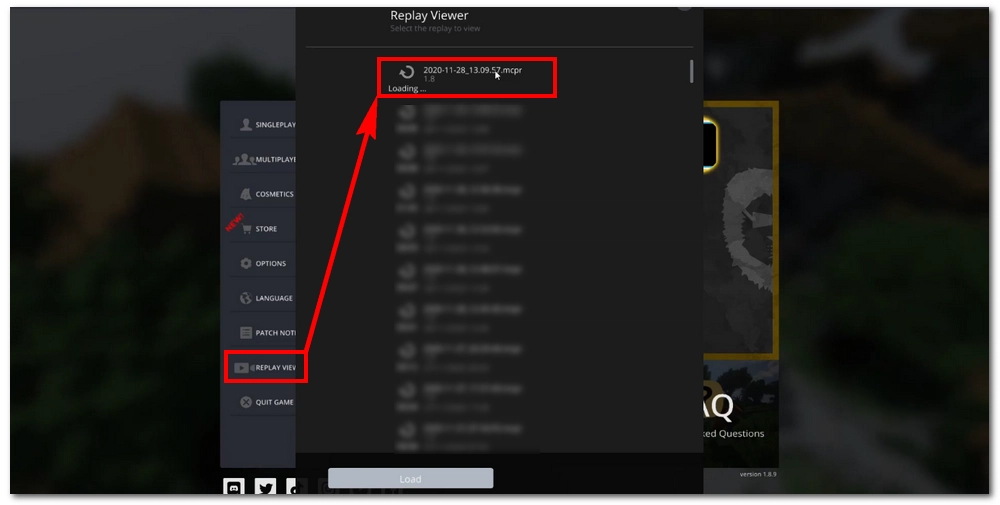 Step 2. Edit the MCPR File
Now you can watch the replay from a third-person point of view. Then, make good use of the replay timeline and the keyframe timeline to edit your video. This is the trickiest part and many details are involved in doing it. You can check this post How to Edit Replay Mod? for more information.
Note: You have to add two or more time keyframes during the edits or it won't let you render the video.

Step 3. Export MCPR to MP4
Once you've made the necessary edits, click the Save/Render button over the upper-left corner (placed between the Play and Stop buttons). Then you can adjust the Encoding Presets, Video Resolution, Video Bitrate, Video Framerate, and Output File for your video. Or you can leave it as default and click on Render to start exporting the MCPR file to MP4.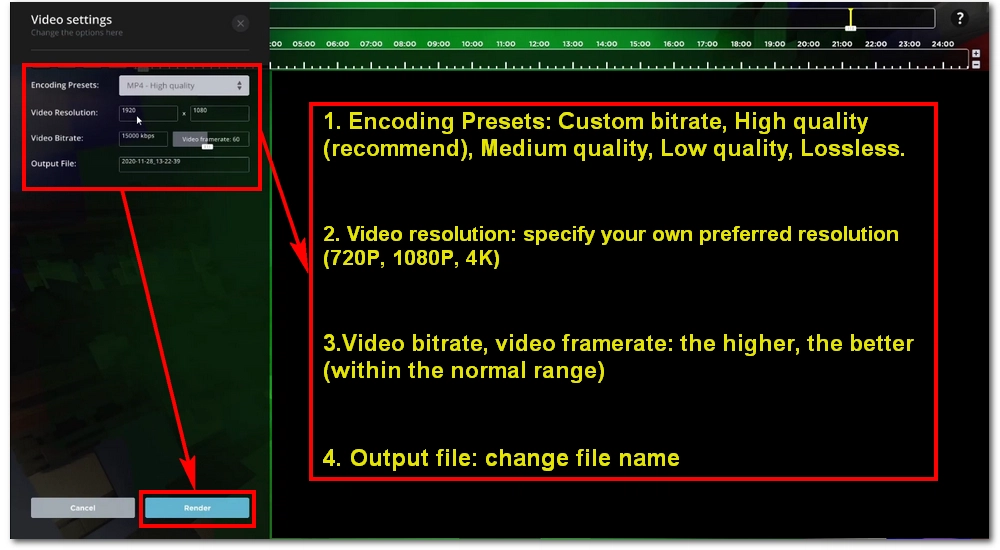 Step 4. Enjoy Video
After the rendering, go to .minecraft > replay_videos and enjoy your video.
Tips: The Replay Mod can only render the video as MP4. If you want the video in other formats, such as MKV, MOV, and AVI, you can use a free video converter to help you convert it to the preferred format.