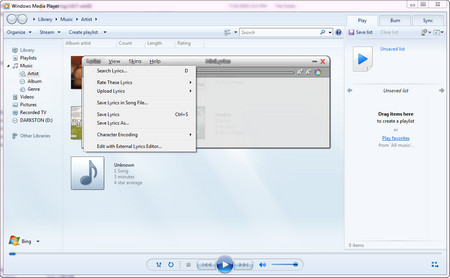 Lyrics Plug in for Windows Media Player
https://www.crintsoft.com/minilyrics/download/
MiniLyrics for Windows is a fancy synchronized lyrics viewer and a powerful independent lyrics search engine that can solve lyrics Windows Media Player playback issue easily. It acts as an add-on to your music player, retrieving and displaying the synchronized scrolling lyrics of the song you are playing. Most importantly, it will do this for you automatically.
Step 1. After downloading and installing, MiniLyrics will automatically detect the media player you have installed, click Install to install, and then close.
Step 2. Run Windows Media Player, which will also automatically load and display as a separate window. When you click on another window, it will automatically disappear in the background.
Step 3. When playing songs in the Windows Media Player Library, MiniLyrics will scroll to display the default orange lyrics.
Step 4. In the MiniLyrics window, click View on the menu bar to perform a series of editing and setting of the lyrics. You can also save the lyrics file by clicking on Lyrics.
Now, you can minimize WMP, adjust the window position of the lyrics, and the lyrics will be displayed on your computer screen as the song plays.
Also see: Trim an MP3 File in Windows Media Player | Create Windows Media Player Playlists