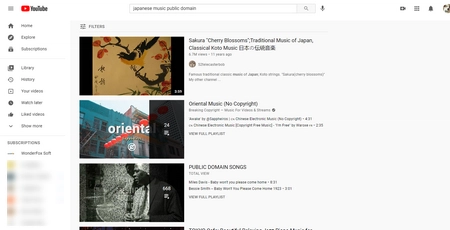 1. YouTube
https://www.youtube.com/
YouTube is not only a place for all viewing needs, it also caters to people's auditory pleasure by covering a great measure of music across all genres, including Japanese music. In fact, YouTube boasts a diverse library of Japanese music, from trending J-pop hits to rock-band performances. And you will discover even more since music lovers around the world create and upload new contents to YouTube every day. Yet, one thing to note is that these music are in the form of video, and you will need a reliable YouTube to MP3 converter to extract the audio. You can click to see the #tutorial.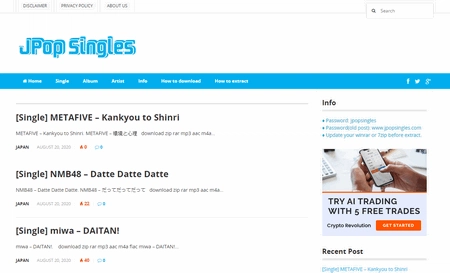 2. JPop Singles
https://jpopsingles.eu/
JPop Singles offers you a huge library of Japanese songs downloads in both lossy and lossless quality. It has an up-to-date music database where you can find the latest trending Japanese songs. You can also self-search your desired music by single, album, or artist. All the files are zipped and stored in cloud services. Yet there is no worry if you don't know how to download and/or extract the zipped file 'cause all the information you need, including the tutorial of downloading and extracting, and the password to the zipped file, are placed in the homepage where you can easily spot. You'll feel comfortable using this site to download Japanese music to your like.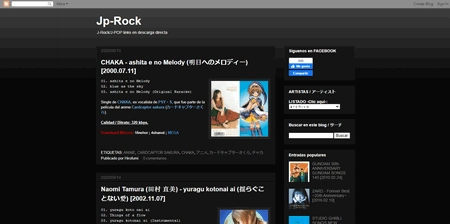 3. Jp-Rock
http://jp-rock.blogspot.com/
This is the place where you can find absolute classic albums of different Japanese pop & rock bands from the 80s, 90s, 00s, and some recent ones. Yet it has a relatively smaller music database, and you can straightly check the archive blog on the lower right side of its home page to view all the albums updated. Moreover, it offers Japanese songs MP3 downloads at different bitrates and you can download full Japanese music album directly from here.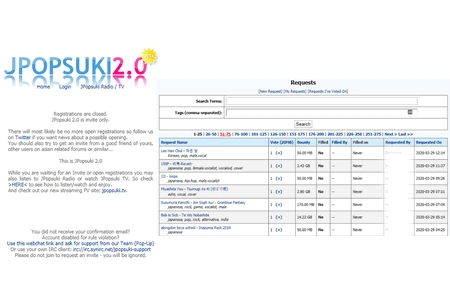 4. JPopsuki
https://jpopsuki.eu/
JPopsuki is in essence a music tracker for Asian music releases and should have the largest and exclusive music resources among all these sites listed here. But you probably couldn't get in this site unless you are invited by the members. Yet on the other side, once you joined JPopsuki, you might get the best collection of Japanese music, along with other types of music like Korean, Chinese, Thai, and many more. Also, this site is said to have a good navigation and search system and provide fast speed. That's why I kept JPopsuki here on the list. If you are an Asian music enthusiast and know how the torrent stuff works, then JPopsuki is the right place for you (try to get invites in https://www.reddit.com/r/Invites/).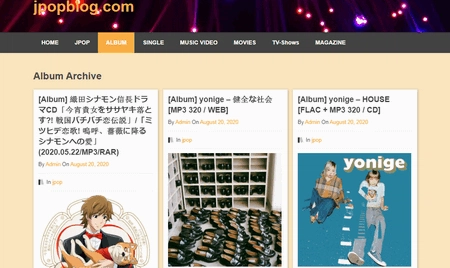 5. Jpopblog.com
https://jpopblog.com/
Similar site: https://jpzipblog.com/
Jpopblog.com features J-Pop albums, music videos, movies, TV shows, and magazines for J-Pop culture lovers. It keeps up with the latest J-Pop trend with a regular updating frequency of 27 (average) posts per day. One downside about Jpopblog is that it has no search button and you have to go through the posts to find your wanted files. But you can free download JPop music as many as you want from this site in high quality. Ads-free as well!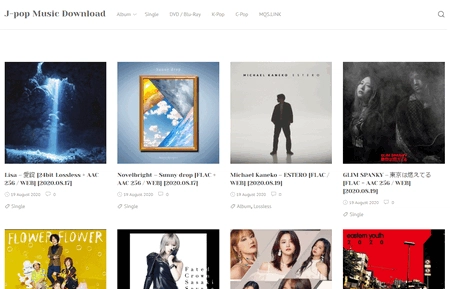 6. J-pop Music Download
https://jpop.xyz/
As its name suggests, J-pop Music Download provides you with J-pop music mainly, yet K-pop and C-pop are also available here, all in Hi-Res, Lossless, and MP3 quality. Compared with other sites, this site does not have many specified categories and the best way to find your music is through directly searching. Its content is also zipped in RAR format and stored on cloud services. You can download the files free but with slow speed. Another thing worth mentioning is that a group of collection-level live concert recordings are also available on this site with high resolution. A can't-miss site for J-Pop lovers.
7. JPDDL
https://jpddl.com/
JPDDL is a must-go-to site for anime lovers, and it is also an ideal place for Japanese music addicts. In addition to supplying with you anime-raw and -subbed, manga, drama, TV-shows, it hosts massive Japanese music data under its Music library. You are to find and free download many anime music as well as popular Japanese songs here effortlessly. By the way, JPDDL offers users a concise and neat web-page with zero ads and pop-up windows, you will like it here!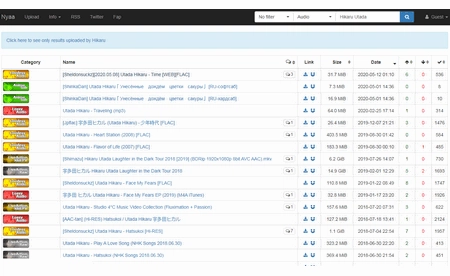 8. Nyaa
https://nyaa.si/
Probably best known for its anime-dedicated content, Nyaa is actually a comprehensive media site that focuses on anime, manga, and music of East Asian (Japanese, Chinese, and Korean) culture. It has a clean and intuitive webpage where you can know immediately the necessary information (type, name, size, etc.) of each file. To find your wanted Japanese music, search directly the name of the music or the artist in the search bar or use the filter next to the search box to narrow the result to a certain category. Everything on Nyaa is offered in torrent form and you can download Japanese music torrent through a torrent client. No registration needed!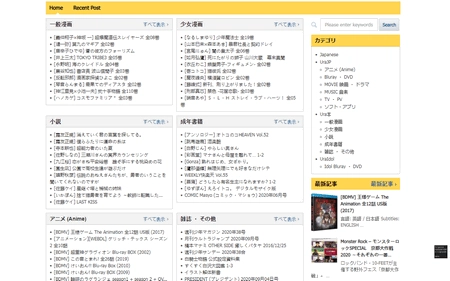 9. Urajp.eu
https://www.urajp.eu/ (Not Working)
A Related site: https://jpfiles.eu/ (Still Working), this site archives the whole Japanese files of Urajp.eu. You can take advantage of the search engine and the navigation system to quickly find your wanted content.
This is a site that offers all Japanese-related media like anime, music (include some Korean music), movies, manga, novels, and magazines. To find good Japanese music, open "MUSIC 音楽" on the right navigation bar or simply use the search bar to bring up a more accurate list of music results. The Japanese music provided here is in MP3, FLAC, and Hi-Res FLAC formats and they are all available for download in zipped form.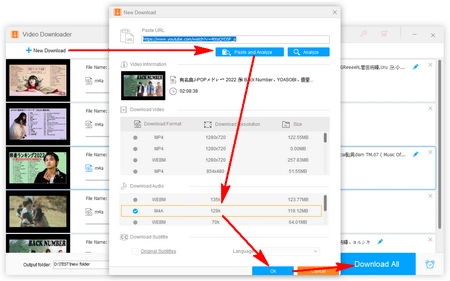 Step 1. Copy Music URL
Navigate to the music page and copy the full-length music URL (from the address bar).
Step 2. Analyze URL and Choose Download Option
Run "Free HD Video Converter Factory" and open the "Downloader". Click "New Download" and "Paste and Analyze" the URL just copied in the blank box. Then, select your preferred download option from the list below and hit "Ok" to add it to the download task.
Step 3. Download Music at Once
Hit "Download All" to start the downloads immediately.