How to Convert DVD to AVI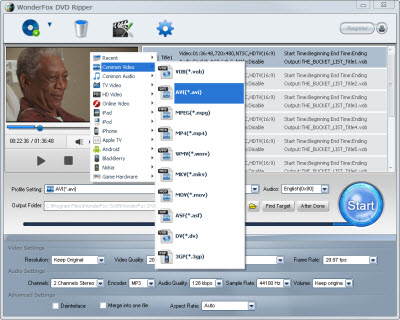 As we all know that, DVD videos offer excellent video/audio quality for users. But to play such files must under the support of CD-ROM and some DVD player. Besides, it's inconvenient for users to share DVD content. So, for sharing the DVD videos with others or sharing DVD contents on the internet, we have to rip videos out from DVD disc; and AVI is the popular video format, which is a good choice for video sharing. Then, how to convert DVD to AVI is the problem we have to face and solve. Here I just suggest WonderFox DVD Ripper
How to Convert DVD to AVI Video
How to Convert DVD to AVI with the WonderFox DVD Ripper
If this is the first time you use DVD ripper software, you may have one question - 'how to use it?' But the WonderFox DVD Ripper is really easy to use; it just need three main steps to control the whole process - Load DVD content > Set Profile > Get Started. Thus, it's unnecessary for users to learn the guide. Then, the following are the process with details:


Step 1: Click above button download DVD ripper and launch the software. Click DVD icon start load DVD disk, load DVD folder or ISO file by click the 'inverted triangle' button.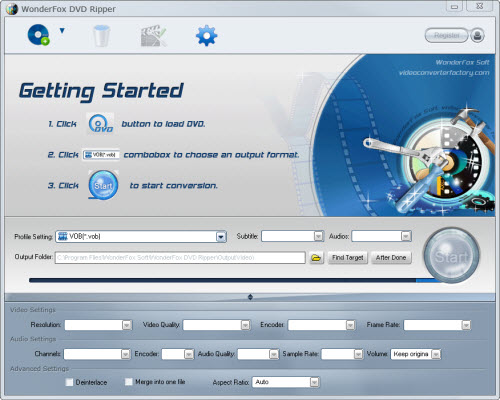 Step 2: Rip setting.
2-1, Select one or more title(s), all of selected titles will be convert.
Tip - in most, title1 is main video of DVD, so here just select title1.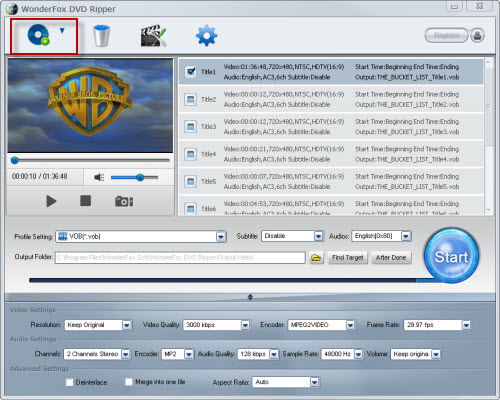 2-2, Set output video format by click profile setting combo box, Common Video, AVI(*.avi)
Tip 1: WonderFox DVD Ripper provide general video and audio settings, such as video resolution, video quality, fps, video encoder, audio encoder, audio quality, etc. But you do not understand that settings, just select an existing profile like iPhone 4.
Tip 2: Here also provide subtitle, language and interlace option.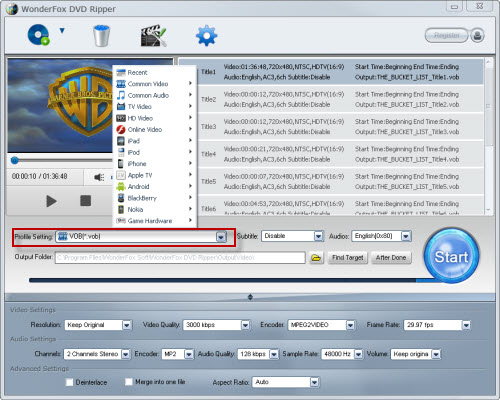 2-3, Set destination folder, the folder will be open automatically after ripping process done, so, you can find your output video files easily. If you lose your output files, just click 'Find Target' button.
Tip: you can also set more actions for 'after done' such as exit program, restart computer, shut down, etc.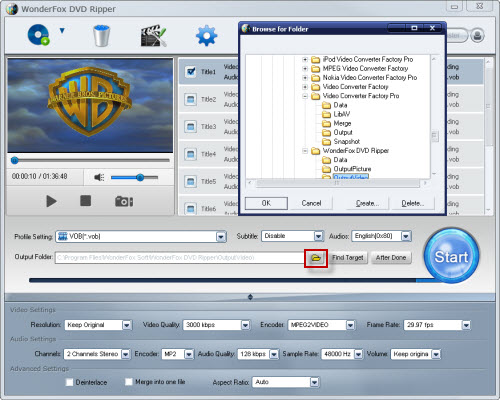 Step 3: Start the process
3-1, Click 'Start' button to run the conversion process, and wait...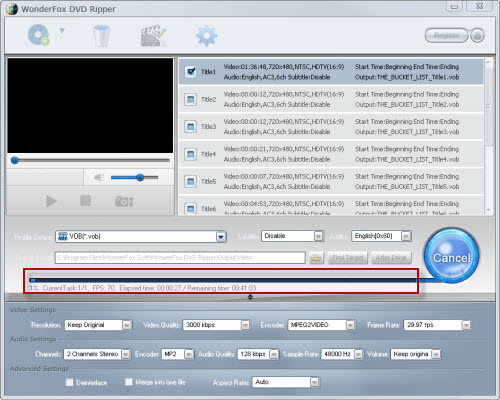 3-2, After process done, click 'Find Target' to get the output video.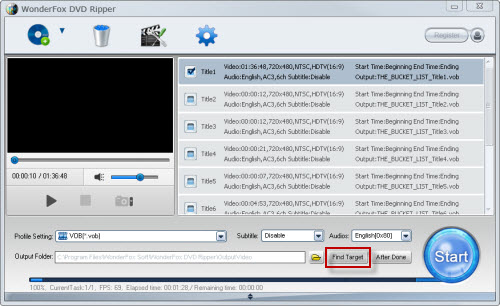 That's the whole process, it's easy and how to convert DVD to AVI solved.
More Details for Converting DVD Content to AVI
Commonly, we cannot copy the videos out from DVD disc directly. Because of the copyright issue, the content of DVD is under protected. Each DVD-Video disc contains one or more region codes. Then, if you want to copy the videos out, you have to crack the codes first by some software. And on the other hand, AVI is the popular and classic video format. So, it usually is the first choice while being set as the target video type. So, for converting DVD content to AVI, WonderFox DVD Ripper is a good choice which also would help users solve how to convert DVD to AVI.
Brief Info of WonderFox DVD Ripper
WonderFox DVD Ripper is the professional and powerful DVD ripper software for converting DVD to xxx (AVI, MP4, MOV�. It is easy to use but it contains excellent features (fast conversion speed, nice video quality with the least loss, video edit �trim, crop and effect�. The ripper software allows users to convert DVD videos to the popular video format. Besides, it also supports all popular portable devices such as iPad, iPod, iPhone, Android based devices, BlackBerry and Nokia�All in all, it is the reliable assistant for ripping DVD content.
Then, with the professional and powerful DVD ripper software for DVD to AVI, it is easy and convenient for users to solve how to convert DVD to AVI.
All in all, the WonderFox DVD Ripper is really a good choice for us to convert DVD to AVI format. It also allow us to convert DVD to MKV, rip DVD to WMV, convert DVD to MP4, extract audio from video.... Just download the software and have a try.