AC3 is a file extension for surround sound audio files. The AC3 (Audio Codec 3) file format is created for use in Dolby Digital audio on DVD, Blu-ray, and other digital video formats. An AC3 file can contain up to six channels of audio output. Do you want to convert your audio files from FLAC to AC3 with good quality? Please read the following part.
Powerful FLAC to AC3 Converter for Windows
To convert FLAC to AC3, an audio format converter is necessary. I recommend you use WonderFox HD Video Converter Factory Pro, a simple yet efficient audio & video converter. It supports over 500 output formats, including AC3, MP3, AAC, WAV, MP4, H.264, WebM, etc. Besides converting FLAC audio to AC3 format, it can also help you convert AAC to WAV, MP4 to MP3, MKV to MPEG, AVI to H.265, and achieve more conversion purposes. Instead of converting a single file at a time, this program allows you to process multiple a/v files simultaneously.
Now, free downloadfree download the best FLAC AC3 converter on your PC to get started!
Step 1. Import FLAC Files
Launch HD Video Converter Factory Pro on your desktop. Select Converter on the home interface. Then click Add Files to import your FLAC files. Alternatively, drag and drop the target files into the software.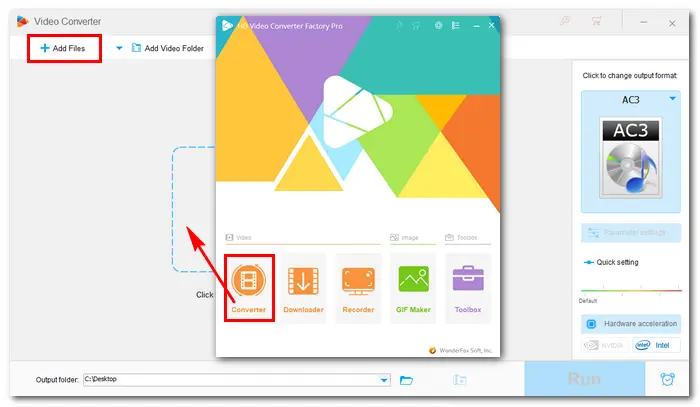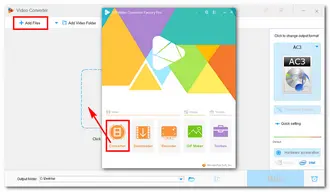 Step 2. Select AC3 Format
Go to the output format part on the right side of the software and select AC3 under the Audio tab as the export format.
Tips. The "Parameter settings" below the format image offers several configuration options for the output file. Here, you can change the audio bitrate, sample rate, channel, or volume based on needs.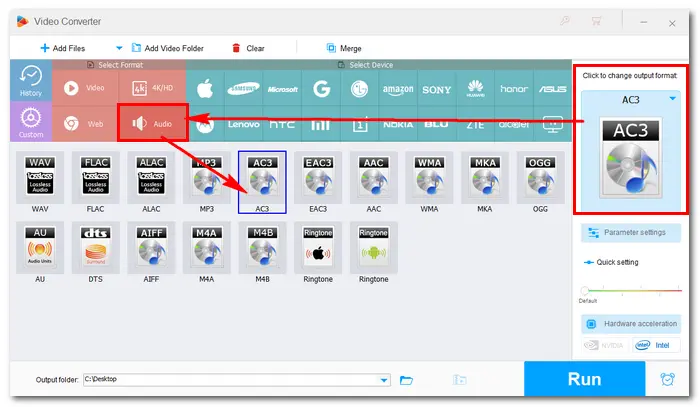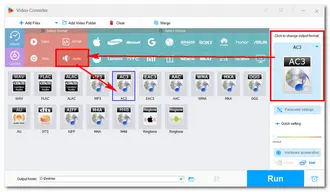 Step 3. Export Final Files
Click the drop-down arrow at the bottom side to select an output folder. Finally, press the Run button to convert FLAC to AC3 and export the final files. After that, you can find the converted AC3 audio files and play or use them for other purposes.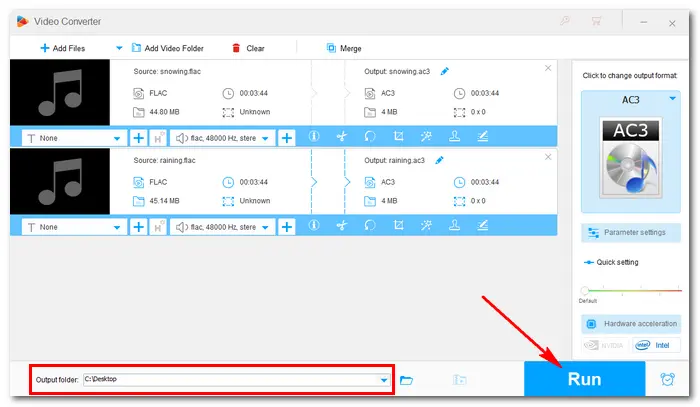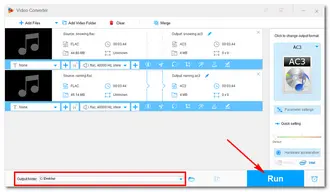 Frequently Asked Questions
Hot Search: Batch Convert FLAC to MP3 | DFF/DSF to WAV | ALAC to FLAC
1. What is AC3 Audio Codec?
AC-3 (Audio Codec 3, Advanced Codec 3, Acoustic Coder 3) is also known as Dolby Digital. It is a perceptual audio coding technique that reduces the data needed to produce high-quality sound. Audio files using this compression method are lossy.
2. Is AC3 Lossless?
No. AC3 is a lossy audio compression format like MP3.
>> Learn how to convert AC3 to MP3
3. Is There any FLAC to AC3 5.1 Converter?
Yes. WonderFox HD Video Converter Factory Pro is a powerful audio converter that can help you convert FLAC to AC3 with 5.1 surround audio. After you choose "AC3" as the output format, go to "Parameter settings", change the audio "Channels" to "5.1 surround" and press "OK" to save the change. Then click the "Run" button.
Sum up
This article tells how to convert FLAC to AC3 and answers the related questions about the AC3 audio format/codec. With the professional converter program, I believe you can complete other audio/video conversions without hassles. If you encounter any problem, please contact us. Thanks for reading!