DVD to MKV Tool, Convert DVD to MKV File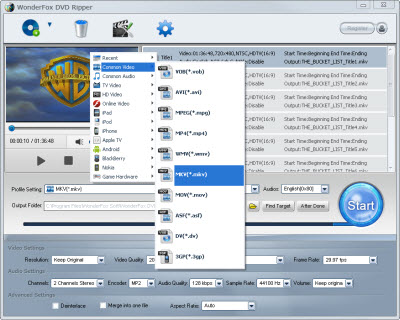 If you have been looking for information on what kind of
DVD to MKV tool
should be owned by a eligible DVD fans, look no further; here is a
DVD Ripper
that will not only prove useful for the experts but also for the newbie's; so go ahead and
convert DVD to MKV
to make your movie life professional.
DVD to MKV Tool, Convert DVD Video to MKV
WonderFox DVD Ripper is A Good DVD to MKV Tool
There are so many DVD to MKV tool on the Internet. Among these similar software, I still recommend WonderFox DVD Ripper. Why? It combines the DVD decryption and conversion processes. So when you convert DVD to MKV, you no longer have to think of these as two distinct parts requiring different programs. More convenient but also will save you a lot of time and manual involvement with the process. In terms of quality, resolution, aspect ratio, and output file size, you can set them randomly. And you can easily raise (and lower, if you like) audio volume from the main conversion interface. By these all-sided sets, the output file must be excellent. With this great DVD to MKV tool, you will add a professional touch to your DVD.
How to Convert DVD to MKV
Since we know WonderFox DVD Ripper is a suitable DVD to MKV tool. Now we should know the detail steps on how to convert DVD to MKV.
Step 1: Load DVDs
Insert DVD disc into the DVD Driver, click on "open DVD"(1st button) or "open IFO File "(3nd button) button to load DVD. It is important to select the IFO file, because the IFO file contains the information about the entire DVD structure and this way you will avoid audio and video de-synch problems when converting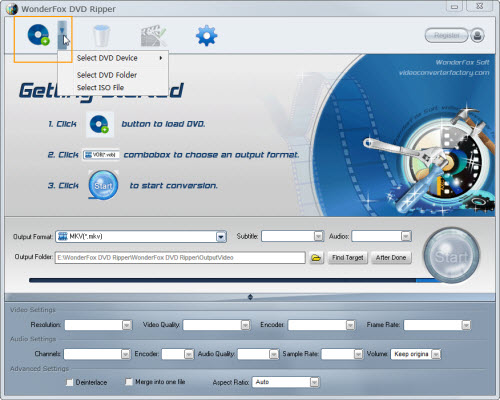 Step 2: Select the output formats
Press button to select MKV on the main panel. Then click option and show the list of Profiles (MKV Profile Field) select one of the offered MKV profiles. You can also click Edit Profile button to manually set the MKV profile parameters.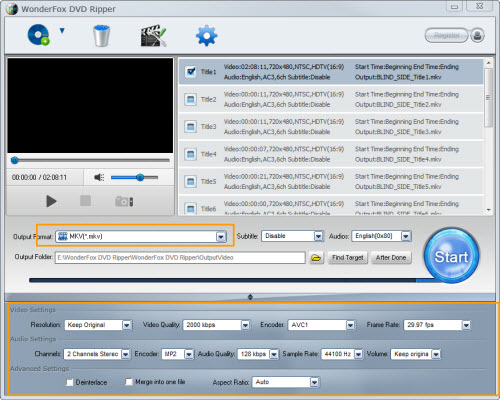 Step 3: Start to convert
Click "Start" button, and all the tasks will be done quickly.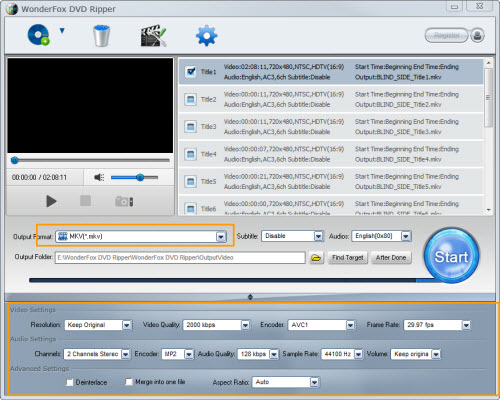 Step 3: Start to convert
Click "Start" button, and all the tasks will be done quickly.
OK, it has finished its work. Prefer to watch your movies you created? Just follow these easy steps!
More Info of WonderFox DVD Ripper
To convert DVD to MKV is easy, isn't it? Now, more details of this good DVD to MKV tool are the last thing we should know. There are some factors that we will find when we use it. Besides good converting quality and fast converting speed, it also has following features:
1. Supports any DVD: whether it is a 4.7 Gig size or a double density 8 Gig+ DVD. "Decryption" mentioned (Even "3rd party" CSS decryption module).
2. Over 150 kinds of output formats and devices are well-compatible with. So owning WonderFox DVD Ripper means that you also own a good software for converting DVD to AVI,WMV, MP4, FLV, 3GP, iPhone, iPad, iPod, Nokia Phone, BlackBerry Phone, Android Phone, etc
3. Powerful editing function. Trim, cut, merge and adding special effects to move are included by this ripper.
What's more, It Always upgrade to the newest version without any additional fee.
All in all, the WonderFox DVD Ripper is really a good choice for us to rip/convert DVD to MKV video. With the DVD to MKV ripper/converter, we can easily rip DVD to MKV video format. By the way, the DVD ripper runs well on Windows, so, we can easily convert DVD to PC, convert DVD to Hadr Drive, copy DVD to tablet, convert DVD to cell phone with it. Furthermore, the software also allow us to convert DVD to AVI video format, convert DVD to iPad 3 compatible video, convert DVD to WMV video, convert DVD movies to MP4 format, rip DVD files to audio; and besides, convert DVD to Nokia video type, convert DVD to BlackBerry video formats and convert DVD to Android devices are also available for us.