DVD Ripper for HD Video - HD DVD Ripper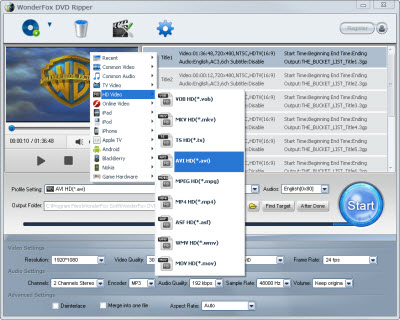 As a professional DVD Ripper for HD video, WonderFox DVD Ripper can rip DVD to HD videos with high-quality output and fast speed. Here you can get the fact that it is so easy to rip DVD to HD video with WonderFox DVD Ripper.
DVD Ripper for HD Video - HD DVD Ripper
HD for Your Better Video Life
HD video, means high-definition video, refers to any video system of higher resolution than standard-definition (SD) video. It commonly displays the resolution of 1280*720´╝?20P´╝ëand 1920*1028´╝?028P´╝? Now it is more and more widely-used in our daily life and film-making industry, which makes the video display change a lot. With HD videos, we can enjoy much better video effects in an easy way. Nowadays, most of people would prefer DVD disk to enjoy movies. In this way, it is very convenient to enjoy the high-quality videos. As the video playing terminals develop, many users prefer watching movies on their computers or mobile devices. Therefore, many users may meet the problem that how to rip DVD to HD. As for this, you may need a great DVD ripper for HD video to serve as a proper HD DVD ripper.
The Best Way to rip DVD to HD with a Great DVD Ripper for HD Video
High definition video (prerecorded and broadcast) is defined threefold by the number of lines in the vertical display resolution, the scanning system, and the number of frames or fields per second. Based on this fact, I would like to recommend you a great DVD ripper for HD video, WonderFox DVD Ripper, to rip DVD to HD, which can make the HD DVD ripping go in a professional way. Users can get the HD videos fast and safely with high-quality output effect. Users can get the definitely great output effect with less time if compared it with other related product. Here I would like to show you the steps of ripping process firstly.
1. Download WonderFox DVD Ripper and install it on your PC.



2. Load DVD disk after running it.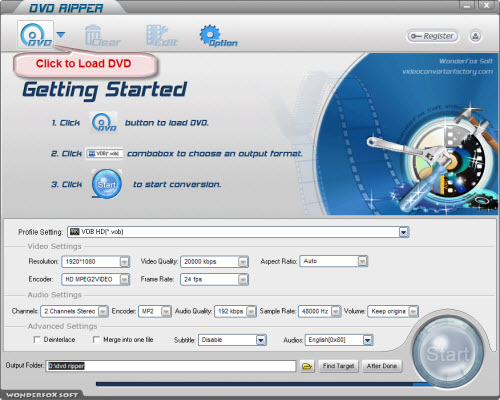 3. Choose the HD output format as you want. You can get different choices in the profile setting.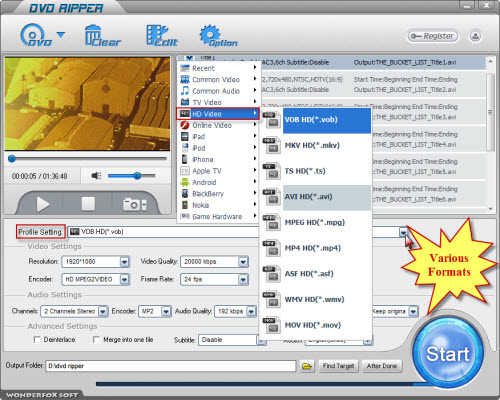 4. Choose the Output Folder as you wish. ´╝łoptional´╝?br />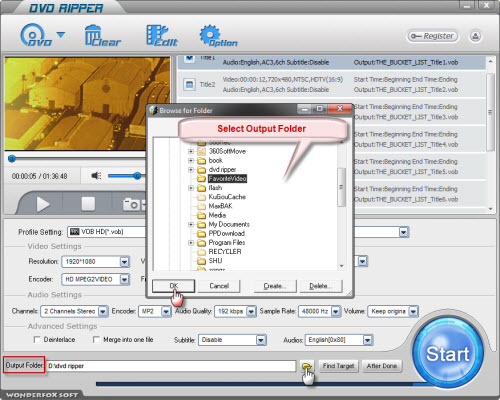 5. Click 'Start' to launch the ripping process.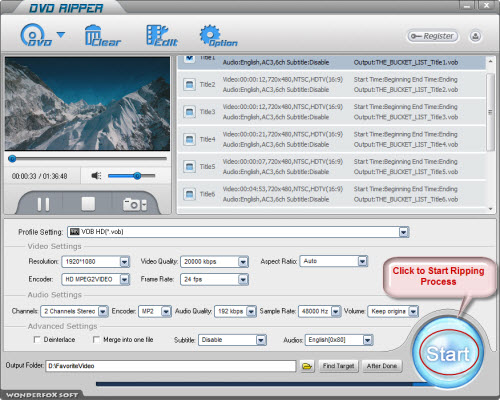 6. Enjoy the HD video on your PC or mobile devices.
Users can get high-quality output video with few clicks in short time. Besides, users can get more extra video editing functions, such as trimming, cropping and adding special effects, to edit the output HD video. WonderFox DVD Ripper can also serve as a great DVD ripper for HD video well.
More Information about WonderFox DVD Ripper
As you can see, WonderFox DVD Ripper is an easy-to-use and high-quality DVD ripper for HD video. Users can enjoy DVD HD video after ripping process. As for another point, it can convert DVD to many other formats and video devices, like AVI, MKV, MP4, VOB, iPad, iPhone, Nokia, BlackBerry and Android cellphones. It can provide users with fast speed and high-quality output effects. It can convert with 20%-30% less time if compared with other related products. In addition, the video editing functions can meet users' demands well.
In conclusion, the WonderFox DVD Ripper is really a good choice for us to rip/convert DVD to video. The DVD ripper runs well on Windows, so, we can easily convert DVD to PC, convert DVD to Hadr Drive, copy DVD to tablet, convert DVD to cell phone with it. Furthermore, the software also allow us to convert DVD to AVI, convert DVD MKV, convert DVD to WMV, convert DVD movies to MP4, rip DVD files to audio; and besides, convert DVD to iPad, rip DVD to file to iPhone, convert DVD to Nokia video type, convert DVD to BlackBerry video formats and convert DVD to Android devices are also available for us.