How to Copy DVD on Windows 7 to Hard Drive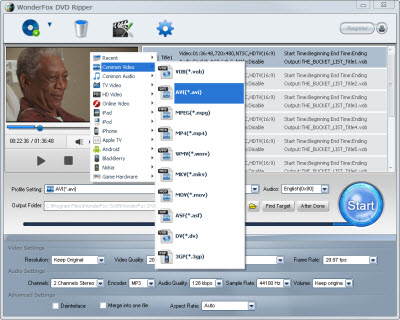 If you are thinking about how to copy DVD on Windows 7, you do need keep scanning this article to show you some helpful suggestions. For Windows 7 users, incompatibility is a common issue for many software applications. You may have trouble with the wrong errors when running a software program. As for the converting tool or some small piece of software, it is much more usual to meet such kind of situation. Then, the powerful DVD converter software with proper compatibility is really necessary to you. Based on the matter of fact, WonderFox DVD Ripper is a great one for common users.
Copy DVD to Disc or Hard Drive for Backup on Windows 7
DVD is a good choice to enjoy quality movies or videos. Many video fans are fond of collecting DVD of their favorite movies for keeping value. However, it is not easy to protect these DVD discs well. DVD disc is pretty easy to get eroded and scratched. Therefore, it is much safer to copy DVD to disc or hard drive for collection, and it can be free to enjoy the DVD videos on computer easily whenever necessary.
It must be a comfortable feast to copy DVD to computer and enjoy the output videos on PC with a media player, or put them on your mobile devices. As for the incompatibility factor, it is more complicated to copy DVD to disc on Windows 7.
Select a Great Software to Copy DVD Windows 7
It seems to be pretty hard to pick up a suitable converter software from various related products. Here I would like to share some useful tips on principles of selecting a great one for Windows 7 OS. The tips are listed as followings:
1. Compatibility. This is the main factor of a good Windows 7 DVD converter. Nobody wants a useless software product.
2. High-quality output video effect. This point is also crucial to ensure high-quality original DVD video effect.
3. Fast speed and safe conversion process, which can make you copy DVD to computer on Windows 7 easily and fast with less time.
4. Easy-to-use handling process. This factor can save you much time to handle the DVD converter.
5. Safety. A great software application should not contain any adware, spyware or viruses.
These principles can be the basic criterions to define a great DVD converter for Windows 7. Based on these tips, WonderFox DVD Ripper is really the great software to copy DVD to disc on Windows 7. You can copy DVD Windows 7 to hard drive or disc with quality output video. The positive compatibility can make you enjoy the copying process easily and smoothly.
Steps to Copy DVD to Hard Drive on Windows 7
The handy operation of WonderFox DVD Ripper can make you enjoy the converting process more easily and leisurely. You just need several clicks to finish the operating process to copy DVD Windows 7.
Download WonderFox DVD Ripper and install it.

Step1: Run the software and load the DVD disk first.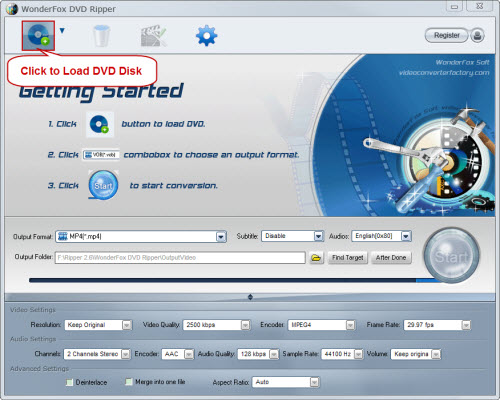 Step2: Choose Video or Audio format as you like. There are various choices for you.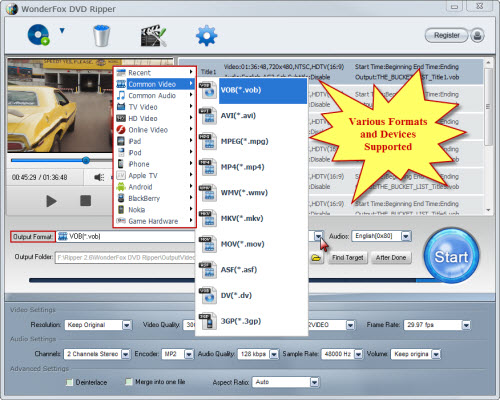 Step3: Select the output folder as your wish. (Optional)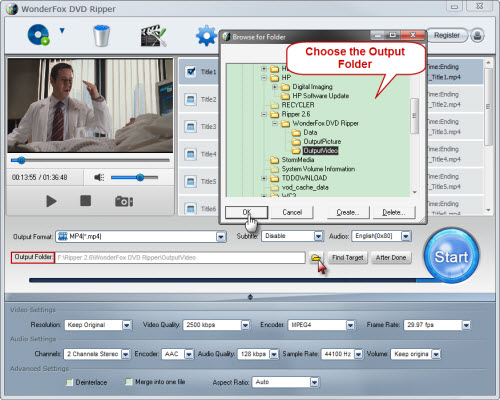 Step4: Click "Start" to launch the whole converting process.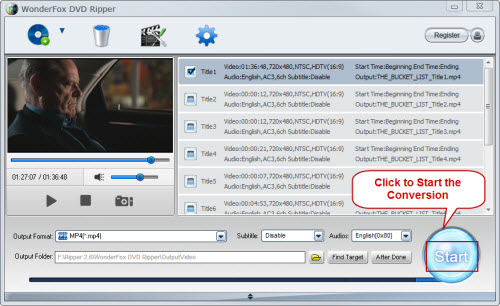 Step5: Enjoy the output video or audio file freely after the converting process.
With this great DVD backup software, you can copy DVD to hard drive on Windows 7 more easily and faster. It is indeed a right choice to copy DVD videos with WonderFox DVD Ripper for Windows 7 OS.
In conclusion, the WonderFox DVD Ripper is really a good choice for us to rip/convert DVD to video. The DVD ripper runs well on Windows, so, we can easily convert DVD to PC, convert DVD to Hadr Drive, copy DVD to tablet, convert DVD to cell phone with it. Furthermore, the software also allow us to convert DVD to AVI, convert DVD MKV, convert DVD to WMV, convert DVD movies to MP4, rip DVD files to audio; and besides, convert DVD to iPad, rip DVD to file to iPhone, convert DVD to Nokia video type, convert DVD to BlackBerry video formats and convert DVD to Android devices are also available for us.