Apart from being an open source media player, VLC also works as a decent video converter to change video formats efficiently. We discussed how to convert MKV to MP4 and MP4 to AVI using VLC in our previous articles. Here we would like to show you more information on how to convert MKV to AVI in VLC to solve some MKV compatibility issues. If you already have VLC installed on your system, you can start the MKV-AVI conversion immediately by following the instructions below.
Step 1. Open VLC on your computer. On the top menu bar, click Media > Convert/Save (or press hotkeys Ctrl + R) to open the Open Media window.
Step 2. In the File section, click Add to add your MKV files to the conversion list. You can add multiple MKV files at once. Then, click Convert/Save at the bottom of the window.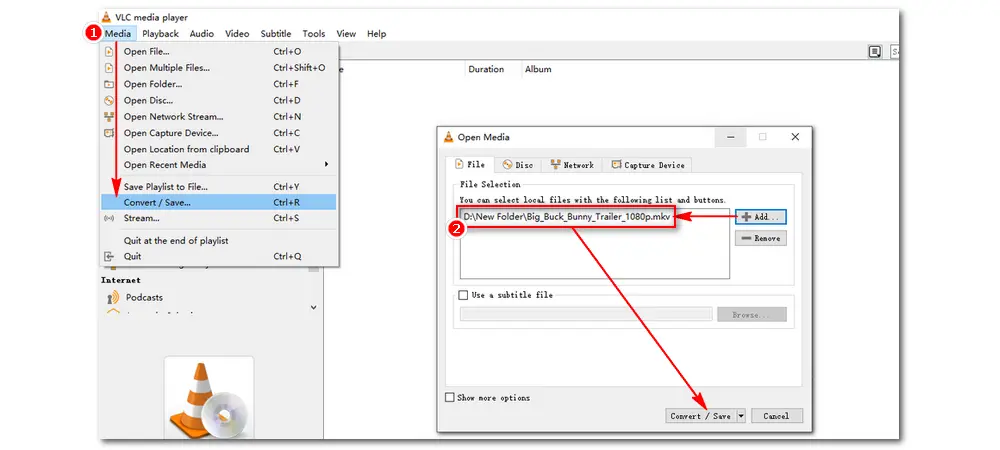 Step 3. In the Converter window, click the last button of Profile to create a new profile. Name the profile as AVI and select AVI as the Encapsulation. Next, switch to the Video codec tab and check Video, then choose an appropriate codec for your AVI video (depending on what your target media player support). Note that AVI supports DivX, Xvid, and H264 codecs. Now, go to the Audio codec tab, check the Audio source, and change the audio codec to MP3. Double-check the settings and click Create if everything is OK.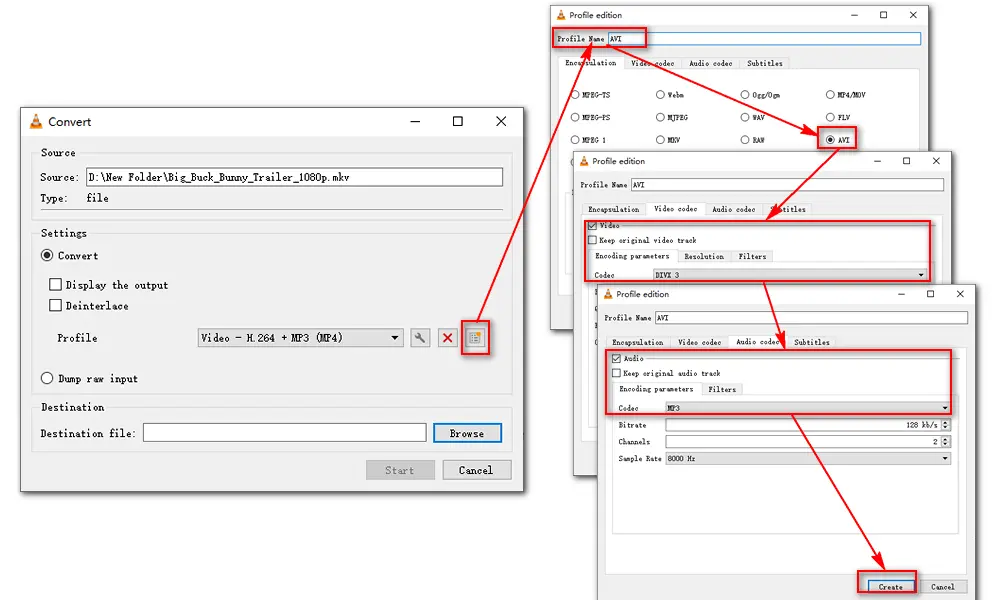 Step 4. Finally, open the Profile drop-down box and scroll down to the last AVI option. Select it. Click Browse to set an output folder and hit Start to convert MKV to AVI with VLC at once. The timeline will show you the conversion progress, and you can view the converted AVI files in the folder you just set.
Note. Make sure that the file extension is .avi when you set the destination file.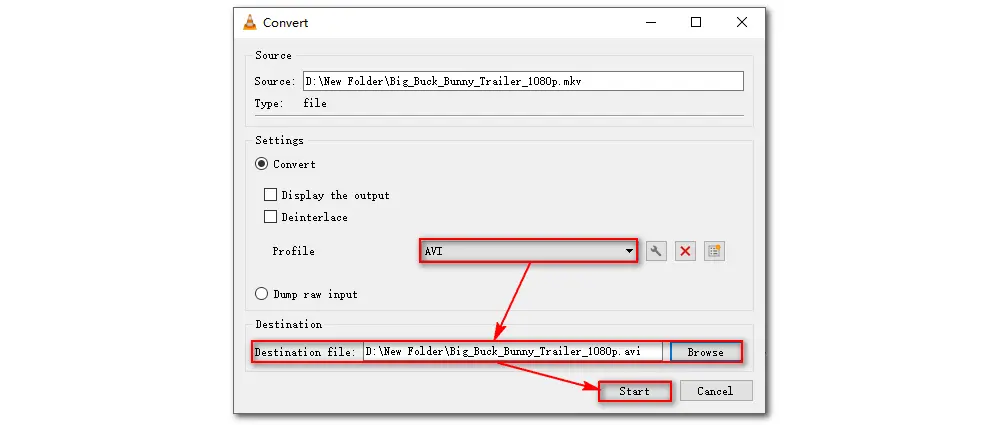 Converting MKV to AVI using VLC is not difficult. At the same time, VLC also provides a fairly fast conversion speed, and you can complete the conversion quickly. But sometimes, VLC may fail to convert the file or cause errors after file conversion, such as no audio after conversion. Such problems can persist if not addressed properly. For an easier and smoother conversion experience, it is also recommended that you try the free VLC alternatives covered in the next part.
If you find that the VLC converter is not what you were looking for, you can try an easier video converter - WonderFox Free HD Video Converter Factory to handle your conversions.
WonderFox Free HD Video Converter Factory is a powerful full-format converter program for Windows that handles all kinds of video and audio conversions for free. With a better and simpler user interface than VLC, you can convert MKV files to AVI in just a few clicks without creating a new profile or anything else. It also provides very good output quality and fast conversion speed. Now, free download free download the free MKV to AVI converter software and follow the steps.
Step 1. Start Free HD Video Converter on your PC and open Converter. Then, add or drag your MKV files into the converter.
Step 2. Click the right-side format image and select AVI from the Video output profiles.
Tips. If you have specific encoding demand, you can open the "Parameter settings" and edit the encoding parameters, e.g. codec, resolution, volume, aspect ratio, etc., as you like.
Step 3. Choose an output folder at the bottom and start converting MKV to AVI at once.