Besides taking advantage of sites like Clipconverter.cc, you can also install plug-ins to download items from internet. As almost all plug-ins can only be compatible with specific browsers, for your better downloading experience, it's advisable to use the perfectly compatible plug-ins. While most of you use Google Chrome and FireFox, I intend to introduce the well-remarked Video DownloadHepler that is supported by both FireFox and Google chrome. It's easy to handle this video downloading tool but you'd better have a look at the following guide for smooth downloading task.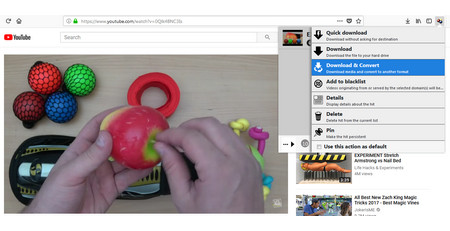 Alternative to Clip converter to MP4
Step 1. Install the add-on on official site: https://www.downloadhelper.net/
Step 2. After you install the ClipConverter alternative add-on successfully, you can see the Video DownloadHelper icon on your browser toolbar. Open the site you want to download videos from and the icon will be colored, which indicates there are videos to be downloaded and the number on the icon shows how many variants of the video you can download.
Step 3. Click the icon and hit the 3-dots sign at the right of an item to open the downloading options. If you need to convert the videos, just select "Download & Convert" but please note that the conversion feature is paid.