How to Watermark Animated GIF
GIF file (introduced in 1987) is small, simple image format that supports animation, and is generally found as simple graphics that do not require extensive colors. More and more people take advantage of GIF' s wide support and portability to make funny stuff and share it on Facebook, Tumblr, MySpace, etc.
Why Do We Watermark Our GIF Animation?
It's one of the realities of the Internet: photos you share online will be used without your consent in a way that you never wanted to do. Although there's no good way to safely post images on the Internet, you can deter a would-be image thief by adding a watermark to your photos.
How to Watermark Animated GIF?
WonderFox Photo Watermark is one of the best photo watermarks with easy-to-use functions and high quality. Follow the below simple steps, you can easily watermark animated GIF pictures.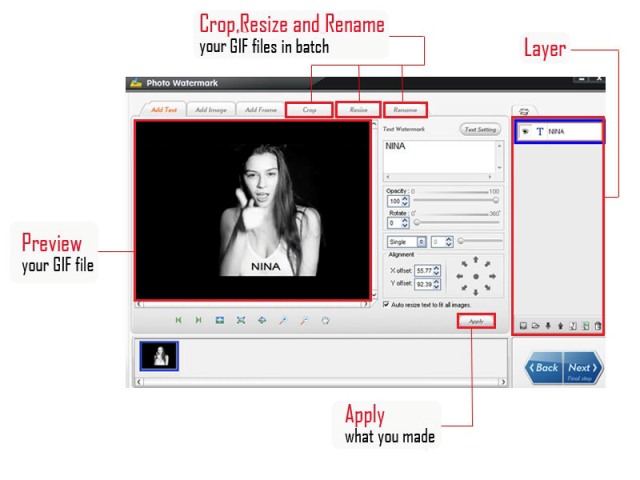 Watermark Animated GIF Overview
Step 1 – Import Your GIF File
Run WonderFox Photo Watermark and open the animated GIF you would like to watermark by clicking "Add Files"/"Add Folder".
Step 2 – Add Text Watermark
Then, click "Next" button to "Edit" interface. Here you can add text, image and frame to your animated GIF. Here we take text watermark as an example.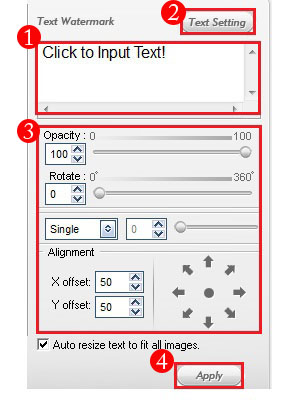 Input text in blank box at the upper right of interface.
Then you can modify more about font size, character style, color, etc by clicking "Text Setting".
Adjust value of "Opacity" and "Rotate". Adjust "Alignment" - position of watermark over the photo. You can also drag text watermark in preview window to change its position. Specify "Single"/"Title.
Click "Apply" to apply what you made.
Step 3 – Start Watermarking
Hit "Next" button, you will come to export interface.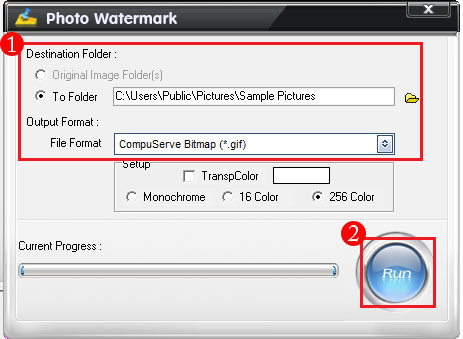 Specify output folder and output format.
Click "Run" to start processing watermark.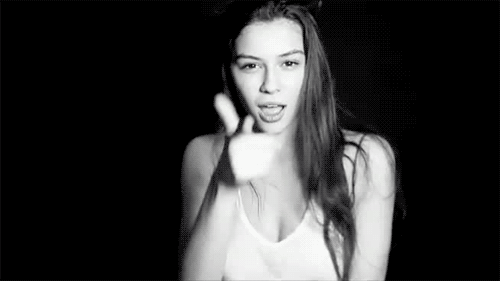 Source Image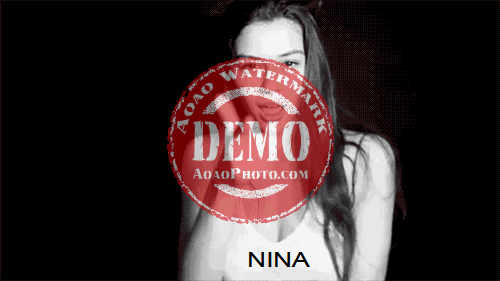 Output Image
More details
Layers: Watermark is a separate file that contains a set of watermark items: graphics, text and frame properties. There are no limitations on number of the graphical or text elements. So you can add watermarks of different properties in different layers and delete the layer to remove certain watermark just like Adobe Photoshop.
Watermark Templates: If you feel satisfied with current settings, WonderFox Photo Watermark allows you to save these parameters as your own template, which is more convenient for your next application.
Related Software
With WonderFox Photo Watermark, you can not only add text but also image as watermarking. And you are provided with an easy-to-use interface, that is, even a beginner can simply add watermarks with a few clicks. Learn More...