Nokia Video Converter Factory Updated to Version 3.0
Nov 29, 2010 - WonderFox Soft upgraded the Nokia Video Converter (Free Nokia Video Converter Factory and Nokia Video Converter Factory Pro) from version 2.0 to version 3.0. Then the converter supports almost all Nokia multimedia mobile phones.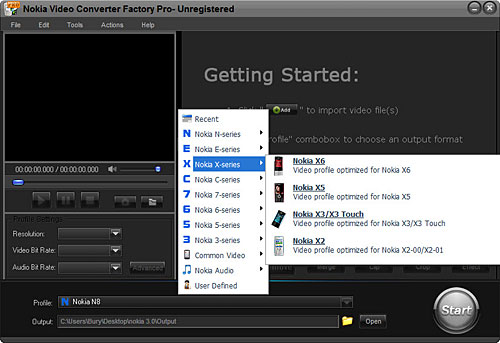 Updated Features
More Output Nokia Mobile Phones Added
In this version, the Nokia video converter has been added some new released Nokia phones.
Nokia N-series:
N8, N900, N810/N810WiMAX, N800, N98 etc
Nokia E-series:
E7-00, E5-00, E90, E75, and E73 etc
Nokia C-series:
C7/C7-00, C6/C6-00/C6-01, C5-03/5-02/C-01/5-00, C3/C3touch etc
Nokia X-series:
X6, X5, X3/X3touch, X2
Nokia 7-series:
7310 supernova, 7230, 7210 supernova etc
Nokia 6-series:
6760 slide, 6750 mural, 6730, 6720, 6700/6700 slide/6700 classic, 6710 navigator, 6220 classic, 6122 classic, 6121 classic, 6120 classic, 6210 navigator etc
Nokia 5-series:
5800 XpressMusic, 5730 XpressMusic, 5700 XpressMusic, 5630 XpressMusic, 5610 XpressMusic etc
Nokia 3-series:
3606, 3660, 3650, 3620, 3600slide, 3250 etc
Operation Get Easier
In this version, the Nokia video converter has been changed the complicated formats selecting to the specific series setting. Then users don't have to hesitate which format to choose from the mess of formats' listing. The company has presetted the most suitable format as default to every Nokia phones. All users just have to match their phones.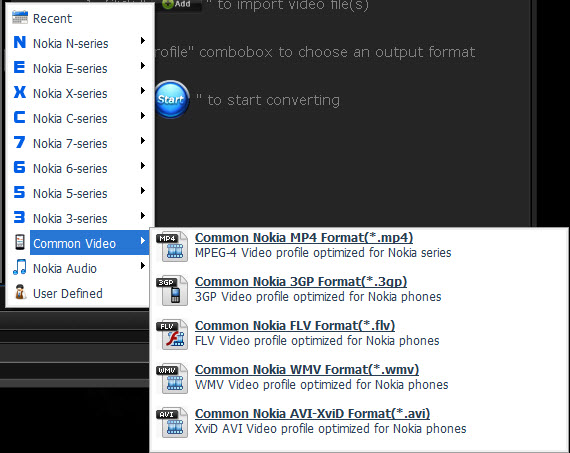 Besides, the new version also kept the common video/audio selecting. For some users, they could convert videos to some popular formats (MP4, 3GP, FLV, WMV and AVI) as personal habits. Audio output also supports AAC, MP3, WMA and WAV.
By the way, all Nokia video converter users of WonderFox Soft can update the software to version 3.0 directly and freely.
Pro edition download at: