PS4 is not just a gaming console but also a media player that plays DVD and digital videos. However, when playing DVD on PS4, you may come cross some PS4 DVD playback issues, like "only black screen when playing DVD" and "regular burned DVD videos can't be played on PS4." Sometimes, you even can't play MP4 on PS4. If you still have problems when you play DVD on PS4 or can't play MP4, don't worry, you will find solutions here!
Question one

: Why won't my PS4 play Blu-ray or even DVD movies properly?
…I always had a problem playing a movie on the PS4. The problem is that, when I pop in a DVD movie on the PS4, the console does recognize the disc being put in, but when I start the movie, the screen would stay black with no picture or not even sound appearing... --- PlayStation4 Forums
2 of my PS4 DVDs are severely damaged and I wonder if I go to a PC repair shop and duplicate what's in the DVDs and make a copy on a white cover DVD, can ps4 play burned DVDs?--- Quora
The internet search results or forums are filled with DVD PS4 issues. The problems can be caused by many factors and here are the common solutions.
1. Your PS4 version is out of date. Update it to the latest one.
2. The disc gets stuck in your PS4. Eject it manually. Then clear it and reboot your PS4.
3. Turn off the PS4 internet connection and the movies will play.
Have tried the methods above but they don't work? You need to consider about whether it cannot play this disc due to region restrictions PS4. Many Copyright-protected DVDs with the newest encryption keys don't work on this device. Furthermore, if you try to burn video which is not PS4 incompatible formats to DVD, you'll also fail to play it. In that case, the advisable method is to rip DVD and transfer it to PS4. But how to copy DVD to PS4? Just keep reading!
Get the Best Solution to Play DVD and Video on PS4
WonderFox DVD Video Converter is the best professional solution, helping you play DVD on PS4 and play MP4 videos on PS4 by converting to PS4-supported formats. It supports you to rip DVD to PS4, convert DVD to PS4 including new DVDs released by Disney, Paramount, Sony, etc, and also convert video to PS4 friendly formats within 3 simple steps. Get this program and follow the instructions to enable your PS4 DVD playback.
How to Play DVD on PS4?
Preparation: Free download DVD video converter and install it on your PC.
Step 1 – Load DVD Content to the Program
Run the software right now. Insert your DVD disc to computer DVD-ROM drive and click "Load DVD" to load the content. The main movie can be recognized automatically including those DVD series of several main movies. ISO file and VIDEO_TS Folder are supported as well.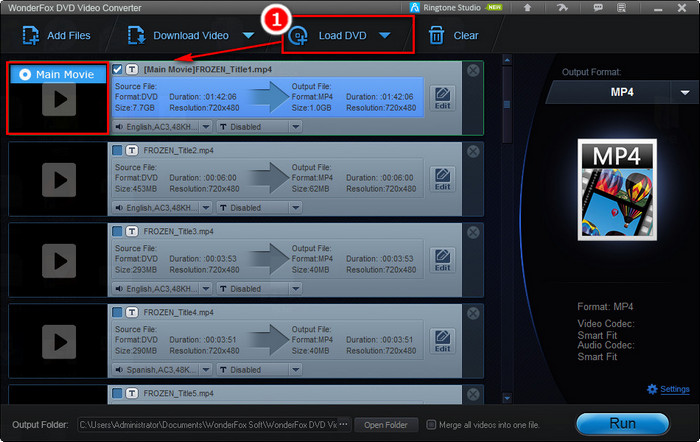 Step 2 – Select PS4 as Output Device
Open the output dropdown list on the right side of the main interface and select PS4 as the output profile. I have to say the UI is very easy to understand even if you're a newbie.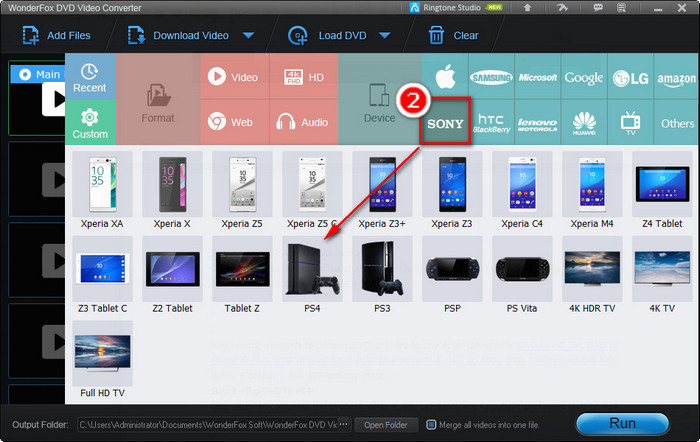 Step 3 – Rip DVD to PS4
Click "Run" to complete this process. After it, you can enjoy any Copyright-protected and unsupported format DVD on PS4 with this PS4 DVD ripper.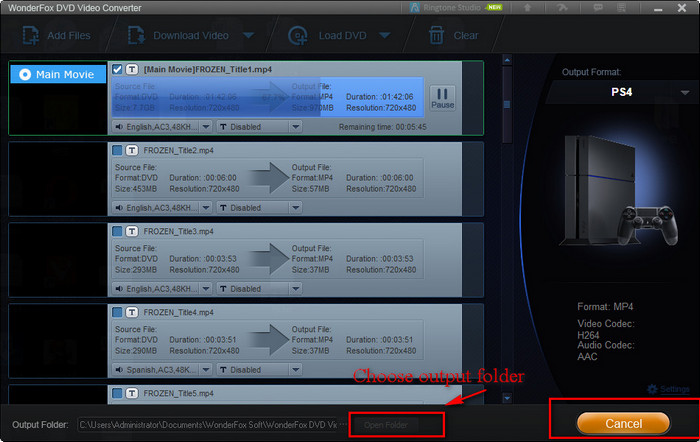 Do you also come across the problem that can't play MP4 videos or videos in other formats on PS4? Don't worry! Just read on to find out the best way to solve PS4 MP4 video playback problem with WonderFox DVD Video Converter.
Question Two

: "PS4 can't read all my MP4 videos", "PS4 won't recognize MP4 from USB", "Can't watch MP4 on PS4", etc.
My PS4 media player not playing MP4 or AVI! When I attempt to play a MP4 or AVI video, it loads for sometimes before saying "cannot play the media"--- PlayStation4 Forums
Although PS4 claims to support MP4 files, actually, if the MP4 video or other video formats are not encoded with PS4 compatible codec, you'll fail to watch as PS4 has strict requirements on parameters such as video/audio encoder. Supported video formats for PS4 as below
MKV - video in H.264/MEPG-4 AVG HP Level 4.2 and audio in MP3/AAC LC/AC-3
AVI - video in MPEG4 ASP,H.264/MEPG-4 AVG HP and audio in MP3/AAC LC/AC-3
MP4 - video in H.264/MPEG-4 AVC HP and audio in AAC LC, AC-3, LPCM
MPEG2 TS - video in H.264/MPEG-4 AVC HP, MPEG2 Visual and audio in MP2 (MPEG2 Audio Layer 2), AAC LC, AC-3, LPCM,
MPEG-2 PS -video in MPEG2 Visual and audio in MP2 (MPEG2 Audio Layer 2), MP3, AAC LC, AC-3 (Dolby Digital), LPCM
AVCHD (.M2TS, .MTS)
XAVC S™ (.MP4)
Check whether your videos are in the list or not and convert the incompatible videos to PS4, which is the only way to solve the MP4 PS4 issue at one go.
How to Play MP4 on PS4?
Just as ripping DVD, to solve this problem in question two, you can also use the same program in Part 1 (click to download) to convert MP4 videos to PS4 for smooth playback. Click "Add Files" or just drag video to the program > Choose PS4 as output device (The compatible parameters are preset.) > Run > Done.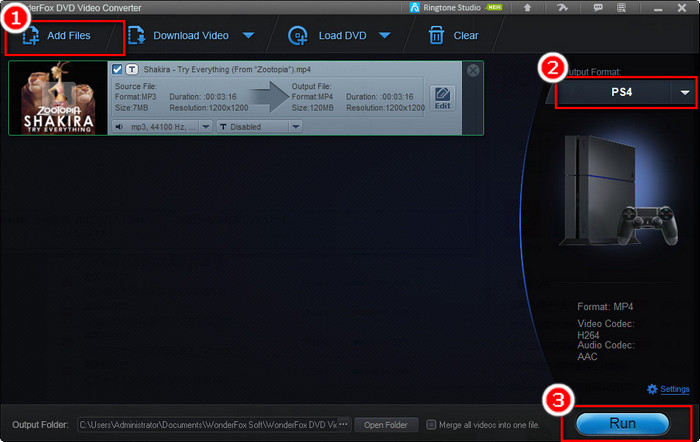 Of course, if you'd like to set parameters, such as resolution, bit rate, frame rate and so forth by yourself, click the button "Settings" and modify the parameters as you like.
Disclaimer: WonderFox does not advocate any illegal duplication and distribution of DVDs. All information provided in this article is presented for general informational purposes and personal fair use only. Please refer to the DVD copyright laws in your country before you rip any DVDs.
Related Articles
How to Copy DVD to Computer or Laptop?
Most people need to copy DVD to PC for keeping favorite movies, but how to copy DVD to computer easily? This article offers a step-by-step guide.
Useful Tips on Converting Normal Video to HD Video
HD Video Converter Factory Pro helps you convert videos between popular video formats whether low quality video or high quality video. Due to problems of some common free video converter cannot help user to enhance video quality, so we need a professional HD video converter to help us enjoy videos better.
More about WonderFox DVD Video Converter