If you have problems converting your recorded WRF files to other formats like MP4, AVI, WMV or if you can't get a successful WRF file playback on your portable devices like iPad and iPhone, HD Video Converter Factory Pro - a WRF converter with the latest conversion technique perfectly fits the bill.

by Michael
Updated on Mar 9, 2023
What Is a WRF File and How to Convert It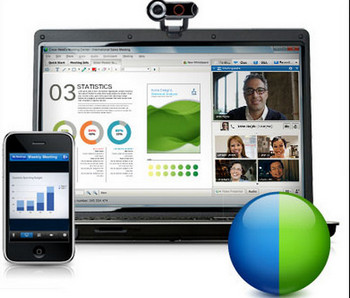 Play WebEx File
WRF (WebEx Recording Format) is the output format of the recordings of WebEx Recorder, with contents of audio and video files. WRF is only playable on WRF Player and if you want to transfer it to other devices or media players for a successful playback, you will need to perform a conversion first. With the WebEx Recording Editor - a simple and convenient WRF Converter, you can transfer WRF files to WMV or any other formats and portable devices in a short time.
Hot search: DAV Converter | HEVC Converter | PVR Converter
How to Convert WRF File to WMV with WebEx Recording Editor
Step 1 Load WRF Files into WebEx Recording Editor
Launch WebEx Recording Editor, click "File" on the upper left. Then click on "Open" in the drop-down list and choose the WRF file you want to convert by double-clicking on it.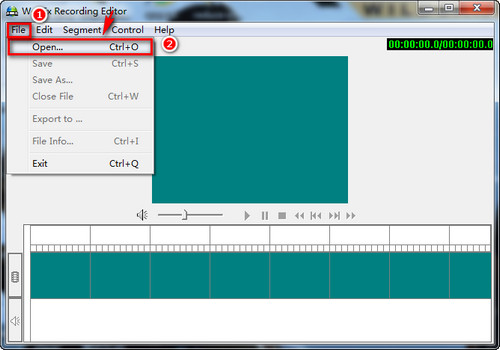 Add your WRF file
Step 2 Rename and Set Output Path
Go to "File" again and click on "Export to". Then in the newly opened window, set the name for your file and choose where to save it.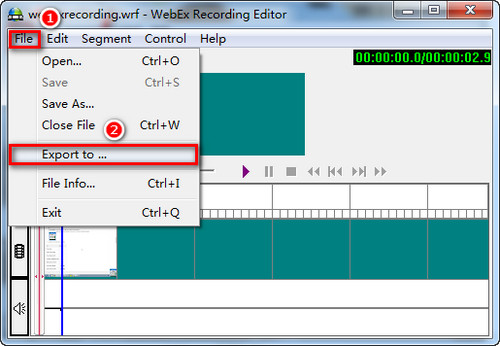 Preset the location of your WRF file
Step 3 Convert .wrf to .wmv
After choosing a proper output path, you will see another window where you can customize video and audio parameters including codec, bit rate and key frame. Usually just use the default setting in "Codec" and set the other parameters at your own will. Click on "OK" to launch the process to convert WRF to WMV.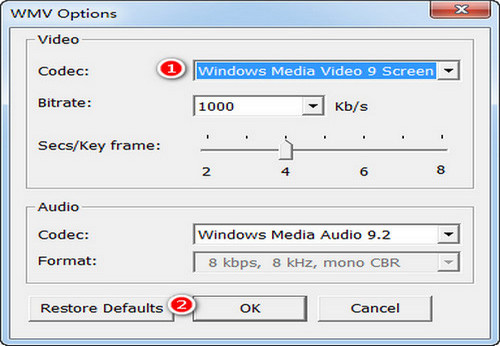 Start conversion
What's more, free download the best WRF converter to convert WRF files to more than 500 formats and devices from MP4 and AVI to iPhone/iPad/PS5/Xbox one, etc.
Convert WRF to More Formats and Devices with Another WRF File Converter
After successfully converting WRF to WMV, a smooth playback on Windows Media Player is possible now. But if you want to play it on other devices such as iPad and iPhone, you must download related apps in order to open WMV files. However, an easier way is offered which helps you change WRF files to common formats like MP4, AVI and MP3. That is HD Video Converter Factory Pro with more than 500 output formats and digital devices supported. High video compression ratio and conversion speed will definitely save quite a lot storage space and time, which makes HD Video Converter Factory Pro the best video converter on the market.
How to Convert WRF to AVI, MP4 or Any Other Formats
Step 1: Load WMV Files into the Converter
Download the best WRF converter HD Video Converter Factory Pro and then launch the program after you have converted WRF to WMV. Press the Converter icon and click on "Add Files". Then choose the WMV files you want to convert or drag and drop them to the converter. At the bottom, you can preset the location of the output file.
Tips: Batch conversion is available for you to convert several files simultaneously.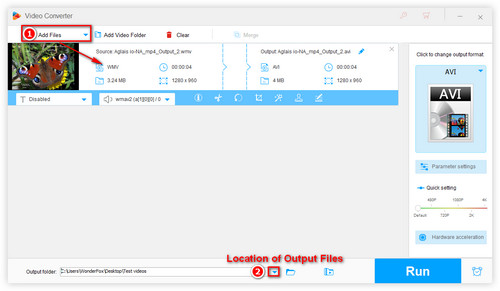 Add your file to the interface
Step 2: Select One Output Format
Press the "Click to change output format" area on the right and choose the output format/device that you want to convert the WMV files to.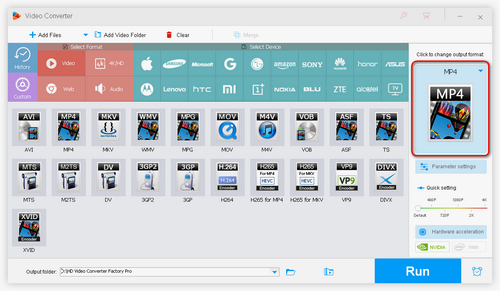 choose the output format you want
Step 3: Finish WMV AVI Conversion
At last, click the blue "Run" button to start the conversion!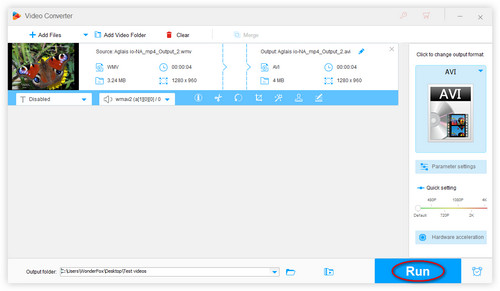 Start Conversion
Additional Function: Video and Audio Parameter Customization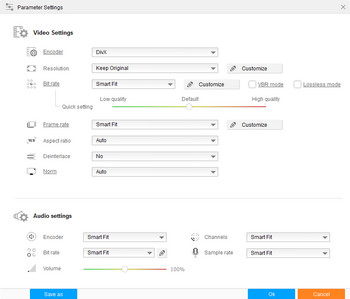 Preset video and audio parameters
HD Video Converter Pro is not only a wonderful video converter, but also a multifunctional video editor. After "Step 2" above, you can click on "Parameter settings" on the right then you'll access the options to modify both video and audio parameters.
Boost up frame rate to 60fps to make playback smoother, change resolution from 720p to 1080p to enhance video quality or raise bit rate for clearer quality output, just alter them as you need. When finished, click on "OK" to save the changes.
Now, please download the HD Video Converter Factory Pro to complete your tasks.
All Useful Features of HD Video Converter Factory Pro
Convert rare formats to WMV, AVI, MP4, MP3 and other common formats, codecs or devices.
Compress video and audio files with more than 50% compression ratio.
Improve video quality by changing resolution, bit rate and frame rate.
Edit videos by trimming and adding special post effects.
Download online videos in the most convenient and fastest way.
Make enchanting ringtones for your smart phones.