Method 1 - Download from Soundgasm on View Page Source Window
Most people don't seem to know this quick trick to download Soundgasm audio file. Although there is no download button, you can still find a direct download link on View Page Source window.
Step 1. Open the specific audio streaming page, e.g. https://soundgasm.net/u/FixVash/Test-Music, right click on the blank space and select "View page source" option in the context menu. Alternatively, simply press the hotkeys "Ctrl + U" on your keyboard.
Step 2. Scroll down to the bottom of View Page Source window. You'll find the direct download link of a .m4a audio file. Copy and open the link in a new tab, you'll find the download option.
Method 2 - Download Audio from Soundgasm with Newly-added Download Button
The download button can be enabled by installing a browser extension. And you can find similar extensions on both Chrome and Firefox web store.
Step 1. Install the extension to your browser based on your preference below.
Chrome: https://chrome.google.com/webstore/detail/soundgasm-download-button/cjeifmdoeaaikaecamnflombdjcmocja
Firefox: https://addons.mozilla.org/en-US/firefox/addon/sndgsm/
Step 2. Refresh the Soundgasm audio page, a download button will appear on the bottom. Click on it to save audio from Soundgasm.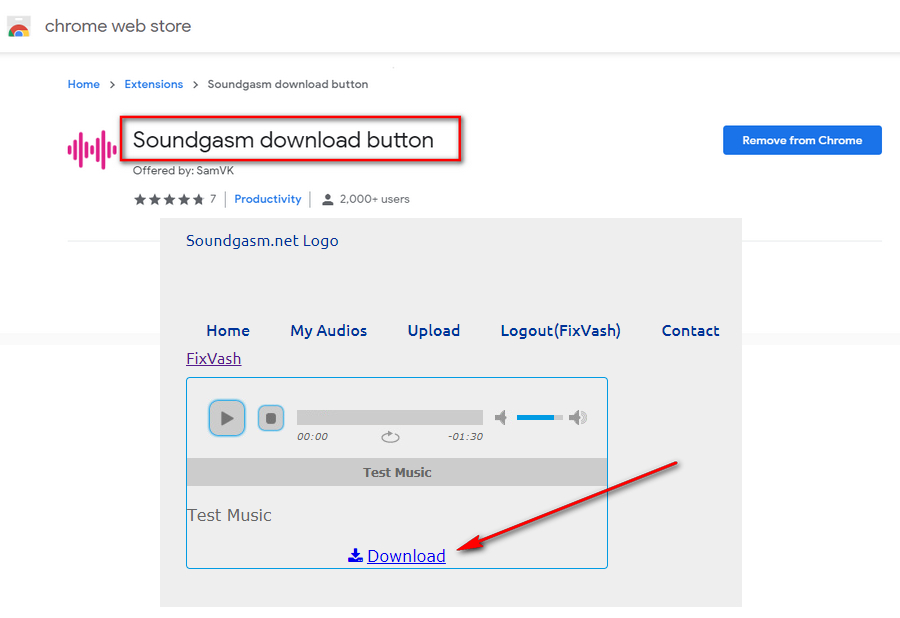 Method 3 - Download M4A Audio with Video DownloadHelper
Video DownloadHelper is a resident extension on both of my Chrome and Firefox for HTML5 video download. In addition to downloading M4A from Soundgasm, it also works well for other video/music download.
Step 1. Install Video DownloadHelper via http://www.downloadhelper.net/install. You'll see a gray three-balls icon in the upper right corner of your browser.
Step 2. Visit Soundgasm audio page, the three-balls icon will become colorful. Now click on the icon and select the audio track to download.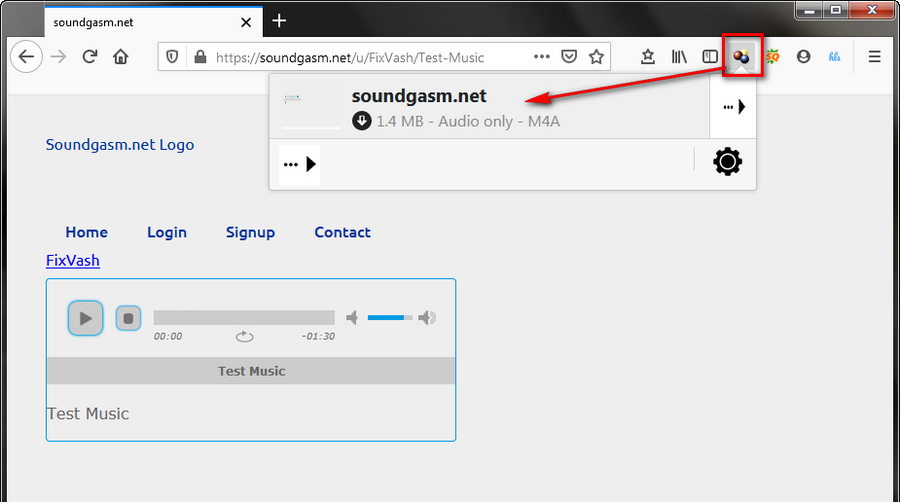 Method 4 - Rip Audio from Soundgasm using Online Soundgasm Downloader
You can also implement Soundgasm M4A download with some reliable online Soundgasm downloaders below in the same procedure: Copy the page URL of Soundgasm audio > paste to the striking for parsing > download M4A file to local drive. Just be careful about various pop-up ads.
https://www.tubeninja.net/how-to-download/soundgasm
https://9xbuddy.org/sites/soundgasm
https://ymp4.download/en2/soundgasm-video-downloader-mp4/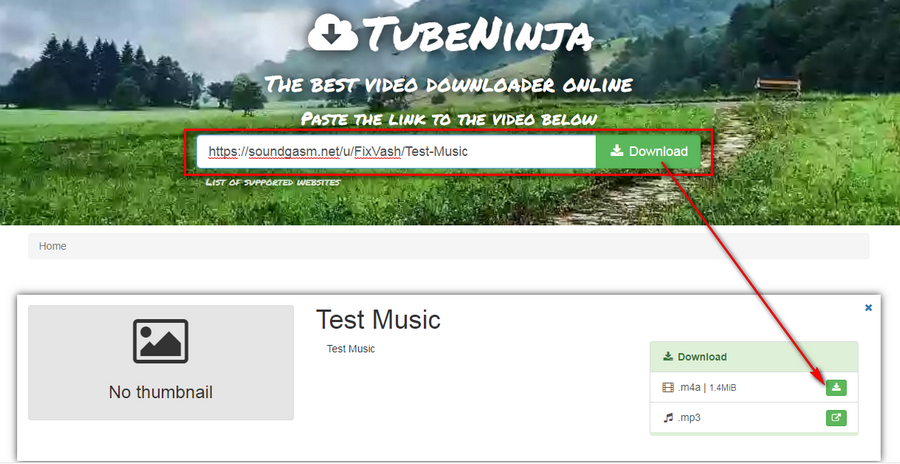 Method 5 - Download Soundgasm to MP3 with Desktop Soundgasm Downloader
Free HD Video Converter Factory comes with an easy-to-use downloader that enables you to download from Soundgasm in batches. Actually, more than that, it also supports downloading video/music from my frequently-visited popular websites and converting to other preferred formats. Before start, please free downloadfree download and install the software.
Step 1. Find and Copy the Soundgasm audio URL you want to download. Launch the program and open Downloader. Click on "New Download" button to create your first download task. Press "Paste and Analyze" button to parse the URL.
Step 2. A few seconds later, you'll find the M4A option right there. Click OK to add it to the download list. Repeat the steps to create multiple download tasks. Assign an output folder to save the downloaded audio files on the bottom, finally, hit "Download All" button to start the downloading process.