The simplest way to loop a YouTube video segment is through extensions. Here are two highly-rated ones that you can have a go at: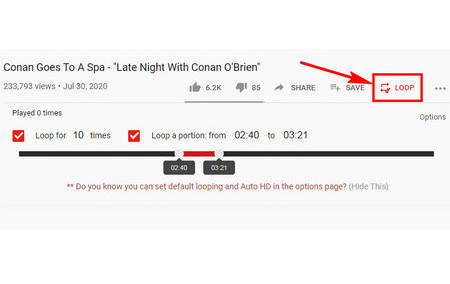 1. Looper for YouTube
This extension is the best single looper to make YouTube loop section. The following passage is how to use this extension:
Go to https://chrome.google.com/webstore/detail/looper-for-youtube/iggpfpnahkgpnindfkdncknoldgnccdg, and add Looper for YouTube to your Chrome.
Then play your target video on YouTube and a loop button will show up under the main video pane. You can click on that button or use the hotkey "P" to turn the looper on, the control panel will appear below the loop button.
Finally, set loop portion/range and loop times as many as you want and you are good to go.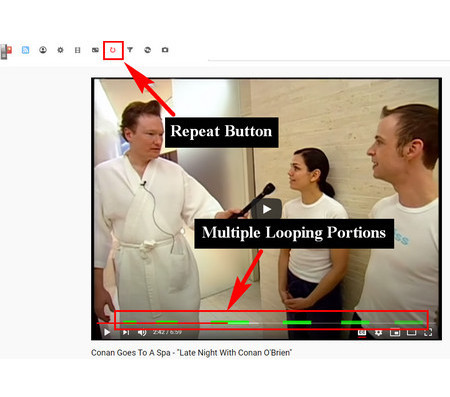 2. Magic Actions for YouTube
This plugin is an all-purpose toolkit designed to enhance your watching experience. And the repeat function covers only a small part of the various useful and cool features. Let's see how it works:
Visit https://chrome.google.com/webstore/detail/magic-actions-for-youtube/abjcfabbhafbcdfjoecdgepllmpfceif/related?hl=en-US, and follow the prompts to install Magic Actions for YouTube to your Chrome. (https://addons.mozilla.org/en-US/firefox/addon/magic-actions-for-youtube/?src=search for Firefox)
Then head to YouTube and you'll see a row of control buttons appear on top of the page. Click on the repeat button (the fourth from the right on the top left side) and play your video.
On the time progress bar, left-click your mouse at a certain point as the start time and right-click at another point to mark it as the end time. You can create multiple loop portions in the time progress bar and the looper will automatically begin the infinite loop of the portions you created.