How to Convert AVI to SWF
SWF is short for ShockWave Flash; it is the small web format and widely used for web video playing. SWF video is the flash format video; it is not so well for standard videos, especially the HD videos. But it's good for the animation videos even some short time videos and small file videos. So SWF is also defined as the animation format. For the mainstream video format, it's hard to tell which one is the most popular one. But AVI videos can be found everywhere and easy to get. For the animation video requirements, you should convert AVI videos to SWF. Firstly, how to convert AVI to SWF is the problem should be solved. And the following tips maybe useful for all users.
The Direct Way to Get SWF Videos
SWF video contains small files, so it is popular for web videos such as YouTube video. Users could download some SWF videos from YouTube directly. Besides, some animation webs and flash video forums may also share the SWF videos. Then in this way, we don't have to know how to convert AVI to SWF; just have to find the right place, and then we can get the right videos in SWF.
But, in this way we cannot get all videos in SWF as we want; after all SWF videos are limited. Then we need a more useful and reliable way to solve the problem.
The Indirect Way - Conversion
Personally, I think convert AVI videos to SWF is the most reliable way for us. In this way, we can get what we want; just convert it! Even it's the new released MTV or video. For how to convert AVI to SWF; here I just take SWF Video Converter Factory Pro as an example. The software is the professional software for SWF video conversion. It provides fast converting speed and keeps the least loss of video. Besides, the advanced functions (merge, clip, crop and effect) are also available for users to edit videos. But all advantages just cost $9.95.
Steps: 1. Download and install the software

2. Click "Add" to import videos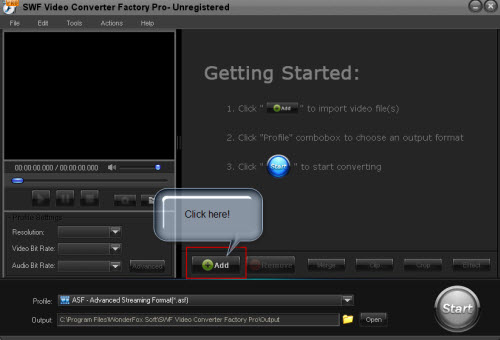 3. Select output format SWF in "Profile" setting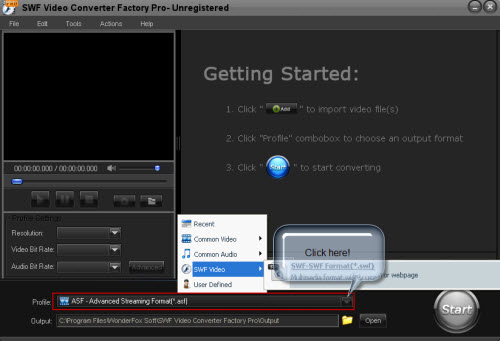 4. Click "Start" to begin converting process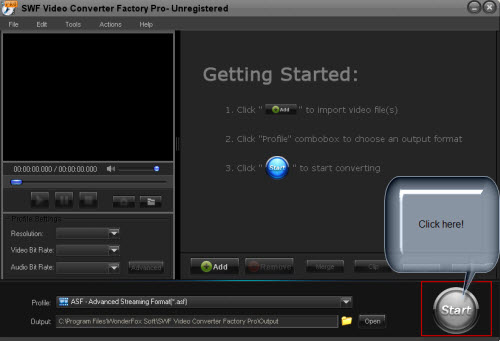 5. Open output profile to get the output video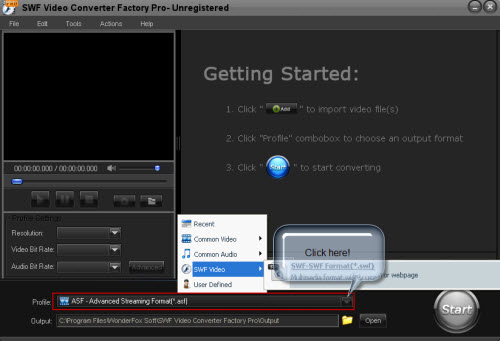 Then, above all are the ways to solve how to convert AVI to SWF for the animation requests.
Screenshot of SWF Video Converter