Music Player Ex is a small audio player designed for playing common audio formats like WAV, MP3, OGG, WMA, and also special audio data in video games including FSB files. Moreover, it is an FSB converter capable of converting audio to MP3, OGG, and WAV. The installation process requires no more than downloading the compressed archives file, unzipping it, and launching the MusicPlayerEx.exe.
Download Address: https://www.mediafire.com/file/hd6ba5atslx41nn/MusicPlayerEx-Full-31-08-2014.7z/file
You need to install Java in advance to ensure Music Player Ex works. Install Java here: https://www.java.com/en/download/
Here is how to play an FSB file and convert FSB to MP3: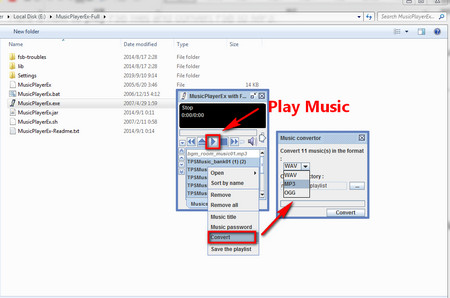 FSB Player and Converter
Step 1. Run MusicPlayerEx.exe, and drag FSB files into the blank playback area
Step 2. Double click the FSB file and all the music data in the file will be listed. Now you can Hit the Play button shown as a triangle to play the music in sequence.
Step 3. If you need to convert FSB to MP3, select all music, right-click to select Convert, and you can convert the music files to MP3, WAV, and OGG.
Step 4. Specify an output path, and click Convert to start the FSB to MP3 conversion process.
Hot Search: Download Video Game Music | Record Gameplay on PC | Free Gaming Intro Maker